Video editing can generally be used for a wide range of purposes, like personal, commercial, or professional use. It's not only limited to a perspective, it's another way to pass a message, communicate, or create content. As a YouTuber, freelancer, business owner, or company, video editing software are essential to have. For your business, you'll definitely need an easy one you can use on your own.
Clean and clear videos are more accepted by the audience. The most important part of video editing is the rendering, edits, and effect that makes your video pass the right message. Video rendering is the systematic processing of data from a coded data source by a computer system in order to convert the data and put it together and show a picture. To put it another way, rendering transforms the original material into the final image or video.
In this post, we'll list the best easy-to-use video editing software to use for your video content in 2022.
It piques your interest and gives you the entire control over turning your 4K footage, GoPro/DJI films, and daily photos into professional-looking vlogs. Begin to create with no limitations! You may add life to your films by changing the pace of your video on a regular or irregular basis with speed ramping.
You may alter the tone and pace of your GoPro/DJI video. In usual videos, allow for focuses and upsurges. Tilt, roll, dolly, and truck are just a few examples of cinematic camera actions that even beginners can master.
Push-in/out and close-up images may be added to vlogs using presets.
Any video or image may be enhanced with motion trails! A graphical audiogram is provided by VideoProc Vlogger for exact audio editing and tone. The three audio analysis methods help you edit a video to the rhythm efficiently. The 10-band audio equalization allows you to enhance or decrease any frequency range. You may also use a single click to add many sound effects.
In the current version, you may quickly reverse the direction of the transition. This increases your creative options while also giving you more freedom when applying these sorts of transitions.
The Multicam viewer now has a new 5 by 5 option that allows you to examine up to 25 distinct viewpoints in a single Multicam film at the same time. This is ideal for big Multicam productions since it enables watching, editing, and switching between numerous angles easier than going between pages.
You can select to automatically produce chapter markers from one set of colored timeline markers when delivering to QuickTime formats or uploading straight to YouTube. This allows viewers to quickly go to the relevant section of your video. It's as simple as adding and renaming markers to your timeline.
Automatic Binaural Rendering Text and Shape Acceleration are two more notable capabilities. Original Footage, After Resolve Beauty, Updated Resolve FX Beauty, and Enhanced Subtitles; Simplified Proxy Workflow, Intelligent Media Management, Remote Monitoring Streaming; Original Footage, After Resolve Beauty, Updated Resolve FX Beauty, and Enhanced Subtitles; video editing software
A free, constantly updated multi-platform video editing tool chock-full of innovative ideas, strong capabilities, and the occasional annoyance. It's definitely worth a shot. Shotcut is a free video editor that runs on Linux, Mac OS X, and Windows. As a result, it may be of interest to people who prefer not to be reliant on large software firms and instead prefer the constant updates provided by a community of enthusiastic and devoted developers.
You may choose from a variety of presets, up to 4K at 60fps, or you can go custom and specify the precise resolution and frame rate you wish to use. From cropping and positioning to three-way color correction, chroma-keying, and everything in between, you have a wide range of effects to pick from. Working with 360 videos even has its own set of filters.
To add variation to your films, use royalty-free stock footage, visual effects plug-ins, and smart themes. Filmora has a number of tools to assist you quickly and efficiently in producing movies so that you can effortlessly communicate your stories.
Tutorials, resources, and a platform to help you make even better films to share with our community.
A valuable tool for 3D video editing, which stands for three-dimensional video, is a motion video that adds a third dimension to the illusion of depth perception.
Also included is Video Stabilization, which removes the annoying tremors and blurriness caught in an action-packed video, resulting in a cleaner, smoother final product. There is a variety of video stabilization methods that you can choose to get the job done.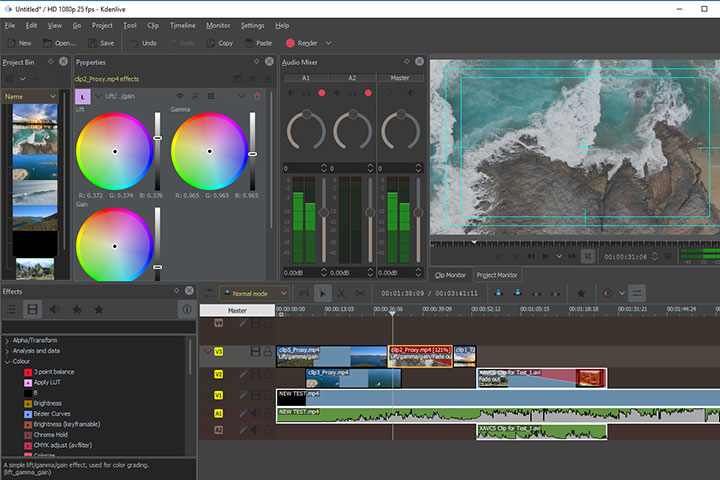 The term KdenLive stands for KDE Non-Linear Video Editor. It is primarily designed for the GNU/Linux operating system, although it also runs on BSD and macOS. KdenLive incorporates a variety of plug-in effects for video and sound processing and production using the MLT architecture.
All video formats supported by FFmpeg are supported, including AVI, MPEG, QuickTime, WMV, Flash Video, Mp4, 3Gp, and others. The program, which is built on the sophisticated FFmpeg libraries, can utilize practically any audio and video format without having to convert or re-encode your files.
KdenLive features tools to assist you to create, trimming, and transferring video and audio clips, as well as the option to remove text and photo clips. A user-friendly interface and set keyboard shortcuts. Users can utilize the basic tools to write and format the title. Also, apply a blur effect to the title for a more aesthetic look, as well as many other quality photo adjustments.
The program comes with a slew of useful functions. One of the most notable features is that you can use Streamlabs to go live on Facebook, broadcast to Twitch and YouTube, and even connect it to Twitter to inform your followers when you begin broadcasting.
While the Streamlabs software is free to use and goes live with basic functionality; the most up-to-date edition of Streamlabs Prime gives you access to the majority of the greatest and newest features.
Numerous streams on Streamlabs allow users to broadcast to multiple platforms at the same time, which is one of the most effective methods to expand your following as a new streamer. At the same time, you may utilize Streamlabs for Twitch, YouTube, Facebook, and custom RTMP destinations.
Blurs, audio and lighting tools, stylistic filters, distortion, color correction, vidgrading, and geometry bending are just a few of the unique effects available; in HitFilm Express. Compositing in 2D and 3D has also been added to add additional dimensions to your filmmaking.
You may even use the program's built-in voice recorder to record voiceover comments. Commentary may then be added to your production as an audio track, making it a useful tool for YouTubers and other media content providers.
The HitFilm Express software ensures a high-quality rendered result as well as a simple media input. Importing material such as video, music, and photographs is a common part of the process, and it's all done using the app's media panel's easy 'import' button.
Aside from being free, it contains a number of capabilities that are similar to those found in premium applications like Lightworks and Adobe Premiere. Lighting VFX, Pro Keying, more color adjustments, and improved 3D Particles; are all among the premium add-on packs available for the more discerning user.
Another free video editing and voice-over software option is Although the free edition of Clipchamp is rather limited, the whole library of functions impressed me. It won't be able to replace Adobe Premiere Pro, but I don't believe it was designed to do so.
This will be useful for you to create a professional business video, with the software which is its primary goal. It offers screen recording, green screens, and video capture, all of which are appropriate for a business environment.
It's simple to understand why two of the priced plans include the word "business" in their names. You can use the program as a Collaboration tool and Customizable branding. Templates, text overlay, text to video, video capture, video creation; drag and drop, and social sharing are all included in the video editing software options.