Your "sound demands" might not be met by the inbuilt speakers that come with your technological equipment. You can only get a certain amount of sound from your TVs, laptops, or smartphones; this is one limitation you won't have if you use high-quality wireless Bluetooth speakers with or without led lights to meet your demands. Aside from that, having too many cords in your office at home might be a pain.
Who wants to speak? Who amongst you likes loud music? Definitely NO. A speaker needs to be loud, but it also needs to produce a clear, solid sound that your primary devices might not be able to achieve, such as bass, clear, high-quality, intelligent, and portable sound equipment. The stereo-like led light could be necessary if you use it at night in a dark place for certain feelings. Let's take a look at 8 of the best indoor and portable Bluetooth speakers with led lights you can get in 2022.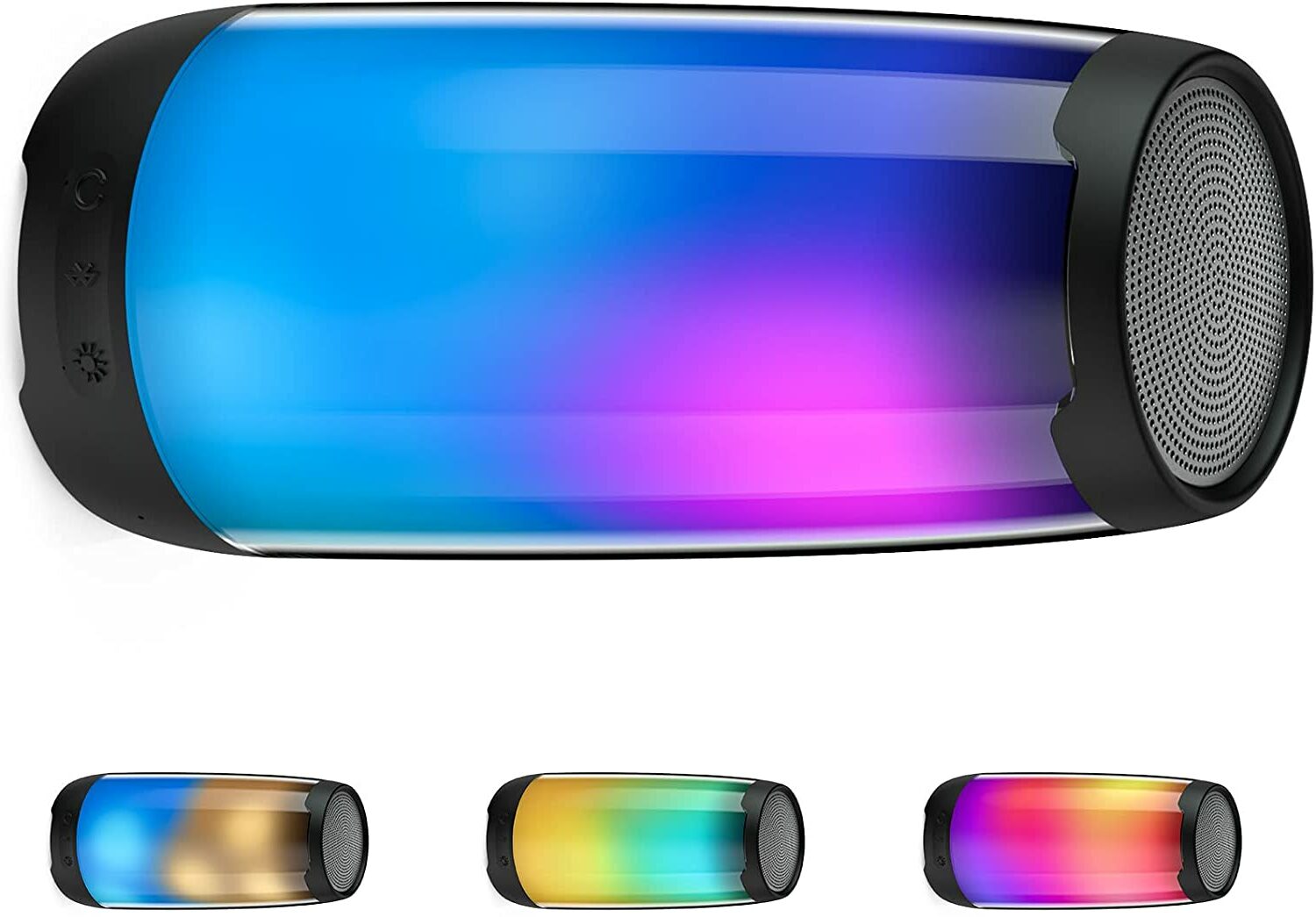 This BUGANI wireless speaker is the finest for both indoor and outdoor use because of its streamlined aesthetic design and compact size (4 x 4 x 9 inches). a portable Bluetooth speaker with a revolutionary 360-degree driver array that produces stereo surround sound and powerful bass. The very potent 20W output rhythms send a crystal-clear, stunning sound your way in every direction. The simultaneous connection of two speakers in TWS mode enables you to enjoy an immersive audio feast.
The water-resistant construction permits splashes of water, dust, snow, and spills, but make sure you clean up afterward. Because of this, it may be used in every setting and for any task. 360° light display that is bright and of great quality to be used in a dark room.
This LED Bluetooth speaker offers you a precise and responsive pulsating light show that dances to the beat of the music you play, rather than merely randomly dispersing 6 various colors.
built-in 4000mAh huge capacity battery with a long life. A complete charge of the battery will allow it to play continuously for up to 24 hours at 50% volume. Additionally, the Type-C quick Charging Port is always available for charging (Type-C are generally fast).
equipped with a Bluetooth 5.0 chip, allowing for pairing and activation up to 30 feet away. You may use the linked devices' audio and voice capabilities for more than just hearing.
Pros
Heavy bass sound quality for both indoor and outdoor
Lighting that rhythm with the Sounds
Cons
No AI or speech command assistance
Has long life battery only at low volume
A portable wireless Bluetooth speaker with strong high-end clarity and deep, rich bass. If you have two of them, you will have a pair of speakers with its most recent TWS capability that can wirelessly play HD stereo music. With its Bluetooth 5.0, you may easily link with any devices within 33 feet of you. Not only does it support Bluetooth, but also TF card and AUX. It is simple to take this portable Bluetooth speaker everywhere thanks to its lightweight design and athletic strap.
comes with a rechargeable Li-ion battery that offers a payback period of up to 6 hours at a volume of 75% with the LED lights on. IPX5 water resistance is only capable of withstanding splashes and sprays of water; it cannot be totally or partially immersed. However, that does not prevent you from using it in outdoor settings such as the beach, swimming pool, or gym.
Not just as Bluetooth speakers with led lights but in addition to 5 various color-changing theme patterns. It may be used for longer than as a speaker if you simply opened it as a led light.
Pro
Loud Bass and great sound lighting
Affordable price with great features
Nice Design and Portability
Con
Low life battery
Not Waterproof (But water resistant)
A speaker with long battery life and power. Although there are just basic treble and bass settings, the sound quality is better than average for a small speaker. It may fit anywhere and is larger and approximately 1 foot tall, however for the optimum sound, set it about 4 inches from a wall. The speaker's output is sufficient for the majority of ranges. Although the touch is weak, the bass is adequate for most indoor and outdoor purposes.
With its built-in Bluetooth 5.0 chip, any Bluetooth-enabled device may be connected swiftly (up to 50 feet away) and easily. It also operated without any problems for us. comes with wired connectivity ports, one of which is a 3.5mm audio aux cable for connecting devices without Bluetooth. An antenna is also provided, and it may be used as a radio, however changing the channel requires some effort.
The speaker's battery life is one of its outstanding features. You may use the power for hours on end with only one charge. With daily use of 1-2 hours, the speaker has lasted about three weeks on a single charge.
Pros
Big Woofer Bass sound
Long life battery usage with fast charge
Cons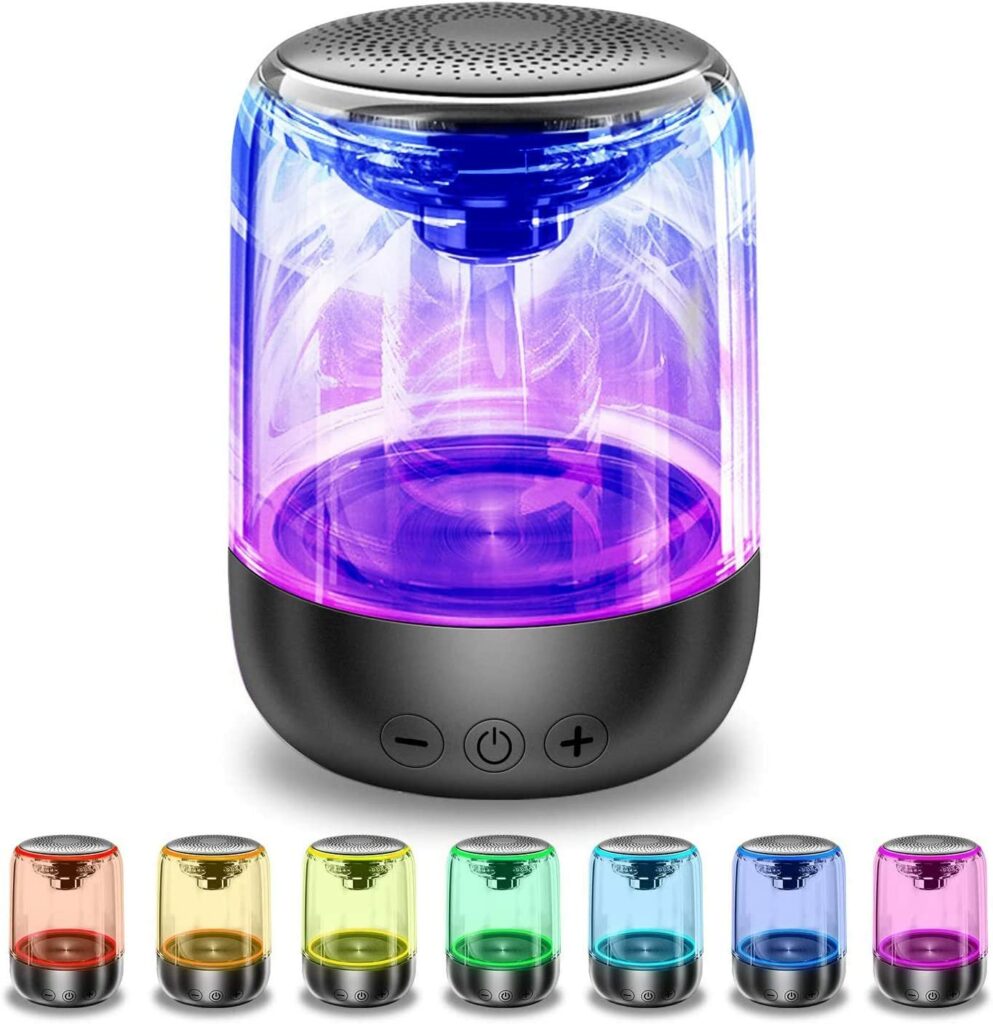 a 200g compact Bluetooth speaker with a remarkable 33-foot range and Bluetooth 5.0 technology. Small speakers that fit in the palm of your hand, these portable speakers produce rich, bright, and natural sound. Two tiny speakers may be connected using Bluetooth TWS pairing, an AUX connection, hands-free mode, and stereo. The wireless speakers offer seven different LED light options. Red, green, and blue are the three theme colors, and the four changeable colors vary in response to the rhythm of the music.
comes with a 1000 mAh battery that can play music for up to 12 hours at a medium level after a full charge. These speakers will satisfy all of your sound demands whether you're inside or outside.
Pro
Lightweight speaker
Multiple connectivity options
Cool and modern design
Cons
Not so loud
The battery doesn't last too long
Here is a speaker that is louder and has more bass than the smaller waterproof speakers that were between 30 and 50 watts. Similar to those speakers, but superior in that it is around 50% louder and larger than the D8 and D9 models before it. Other smaller speakers, such as the W-King D8 and D9, do offer certain advantages over the T9, such as being waterproof or water-resistant and having the ability to charge USB devices.
The sound is clearer, has more bass, and has an EQ profile that is more reminiscent of a true stereo system. Two EQ settings on this speaker should appease those who want more treble and more bass, respectively.  The speaker's strong long-life battery technology enables continuous playback for 24 hours. Aside from being waterproof, it offers all the characteristics you'd find in the majority of high-quality speakers.
With the advanced version of woofers, it can loudly play party music in a space that is 25 feet square. In the next rooms on each side, your music is still playing at pleasant volumes; some of you could want to lower the volume or walk to another room to converse.
Pros
Louder and clearer sound
Outdoor sound saturation
Lasting battery up to 24hrs
Con
Not Waterproof, so keep off the rain.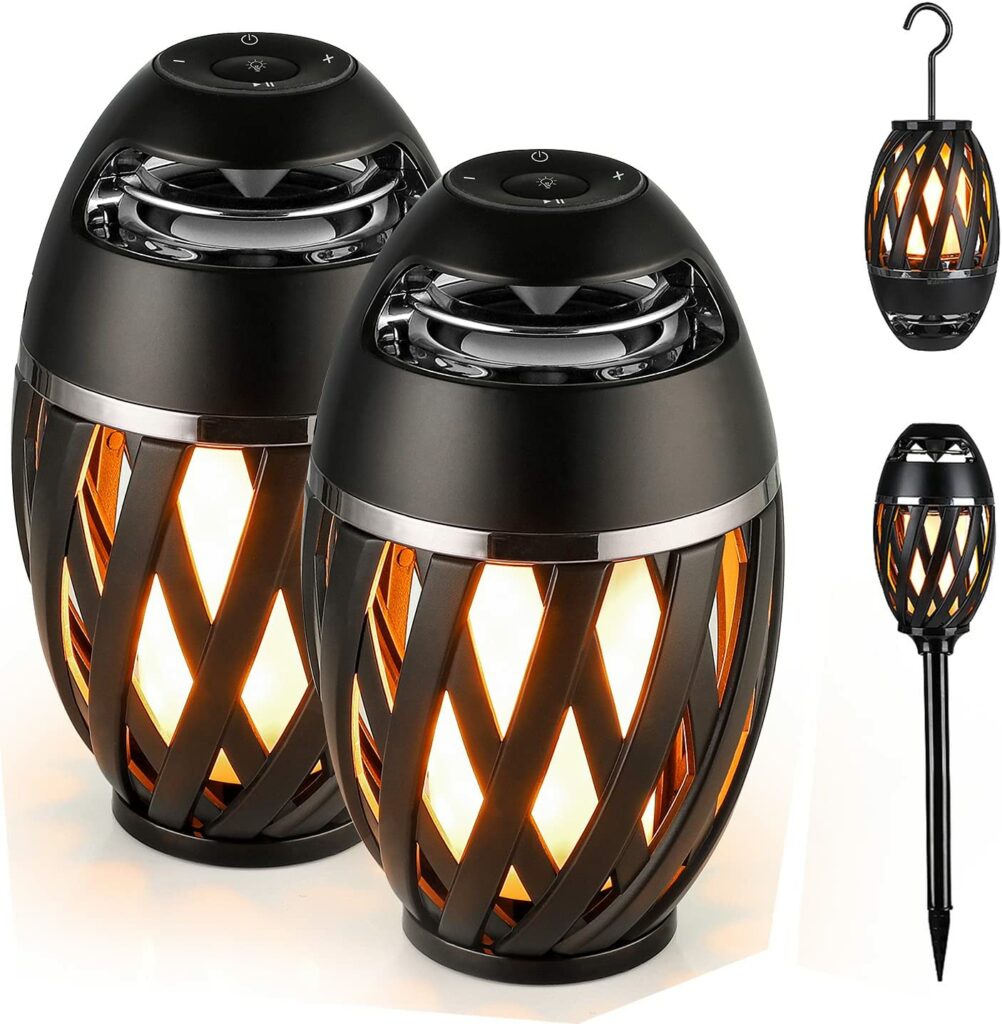 This torch speaker for the garden combines greater loudness and clearer music with LED lights that provide a flame impression. You simultaneously obtain pleasant music and garden or lawn decoration. However, because they are portable for travel, camping, parties, etc., you may use them in various areas.
The outdoor waterproof speaker, which has a built-in 5W driver and passive radiators, has a 33-foot wireless range and produces a shockingly powerful, clear stereo sound with deep bass.
These LED flame lights Bluetooth speakers with built-in new update 3600ma batteries allows you to listen to up to 10 hours of your favorite music continuously, which is ideal for a party night. The standby duration is up to 40 hours.  They are waterproof, dustproof, snowproof, and suitable for outdoor usage thanks to their IP65 water resistance rating. A hanging hook, a small stake, and poles (to set it on the lawn or garden) were packed as extras.
With 96 LEDs that flicker warm yellow lights to form a magnificent flame, the lighting-like flame creates a pleasant melodic ambiance for you.
You can quickly couple the feature, and it will provide you with an unmatched musical experience.
Pro
Waterproof and can be fully used outdoor
Dual purpose for music and garden decoration
Lasting battery life
Con
Not bass and for loudness, you'll need more than one.
More than simply Bluetooth soundbar speakers with led lights, it also has a wireless remote control. A dashboard controller, or a mobile app control that can be customized. A 450-watt Class-D amplifier powers the marine-grade speakers, which include front-firing tweeters and end-loaded woofers. Even though they appear little, they can provide a loud, overall bass sound, especially when two of them are combined. When this system is mounted, it may be rotated 360 degrees sound all over the room, and rail installation offers additional alternatives when end mounting is not an option.
Additionally, the G2 makes use of audio sync technology, which enables the wireless pairing of two G2 Party Bars with a single mobile device. The G2 has an integrated RGB LED lighting system that can flash numerous colors in any sequence and at any tempo, making calls that are hands-free when connected to a mobile device.
Pros
Clear sound and bass
Lasting battery size
Cons
Small in size with small woofers
A speaker and a fan together. Three-in-one fan blade, Bluetooth audio player, and lighting. Additionally, the fan lamp's blades are freely retractable.
Multiple LED colors with adjustable color temperatures are available: 3000K (warm white), -4500K (natural white), and 6500K (cool white). Not just a fan, but one that can be operated and independently adjusted for speed and illumination from a ceiling lamp. Powerful airflow is provided by a high-quality motor. Three fan speeds (high, medium, low) and silent operation.
The timing feature may be used to control both the fan and the light. Through the schedule that the remote-control sets, you may program the fan or light to turn on or off automatically. There is also an automated or remote configuration that lets you create a timetable for the fan or light to turn on or off automatically. You only need to put the fan in your home's ceiling, connect two wires to the house electricity, and rotate the lampshade into place to complete the lamp, fan, and speaker installation.
Pros
Multi-purpose with a ceiling fan and LED
Good lighting and controls
Cons
No bass sound
Quite expensive ($185)