The Evolution of technology can be felt in every aspect. Tech gadgets are the new order of the technology world. They have an influence on most daily activities and productivity. A thing of decades ago when we only have an analog watch, then there comes a time with digital watches. And the last decade, the world improve more into a smartwatch that combines everything in a digital and analog watch. The digital watch is still widely in use and even in new forms and additional functionalities. The major difference is smartwatches are more graphically and technologically inclined than digital watches. However, they both serve their purposes very well and both have downsides utilized by the other. Let's look at the pros and cons of digital and smartwatches.
Digital Watches vs Smartwatches: Definition and similarities
Digital watches are conventional timepieces that show the time electronically rather than with hands on a dial. Smartwatches are similar to our smartphones but include a touchscreen display and are intended to be worn and used on the wrist. They are suitable for fitness tracking and may be used to access various apps, make and receive phone calls, and get notifications. They both check the time, have waterproof efficiency, and come with a warranty from manufacturers
Pros and Cons of Smart Watches
| | |
| --- | --- |
| Pros | Cons |
| Smartwatches are digital and modular | Weak Battery life in most smartwatches |
| They have dynamic look with fully customizable ability. | Not entirely rugged. |
| Both fashionable and technologically advanced. used as a mini mobile phone for calls, music, and other social activities | Expensive compared to digital watches |
| Smartwatches are not only for entertainment but also the best for healthy living and tracking. | They require internet access for the full potential |
Pros
Just like the name, they have technical features and they are like a mobile phone with a small screen. Most smartwatches connect with mobile phones either iPhone or android phones to enhance their capability. When connected to phones, you could do anything like calls, messages, music, and more.
Smart features like voice activation, remote access to your mobile phone, and more advanced settings are all common among all smartwatches. The new apple watch7 could be used at a very long distance where you can control your phone at home from the gym. Smartwatches can also be used as a command for other smart appliances connected especially home appliances using the same AI command assistant.
One of the major reasons smartwatches are more popular is the healthwise features. The standard gadget for health tracking, weight loss exercises, and gym workouts is the smartwatch. With smartwatches, you can track heartbeats, steps walked, running, workouts, and calorie tracking.
Cons
The battery is an essential feature of every gadget, and you'll have to take a break to recharge for an hour or two before you continue. Unlike digital watches where the battery doesn't need charging, smartwatches do need charging. The battery drain of any smartwatch depends on its usage. The more the activities, the less the battery time, but they mostly last up to 12hrs on average usage.
Pros and Cons of Digital watches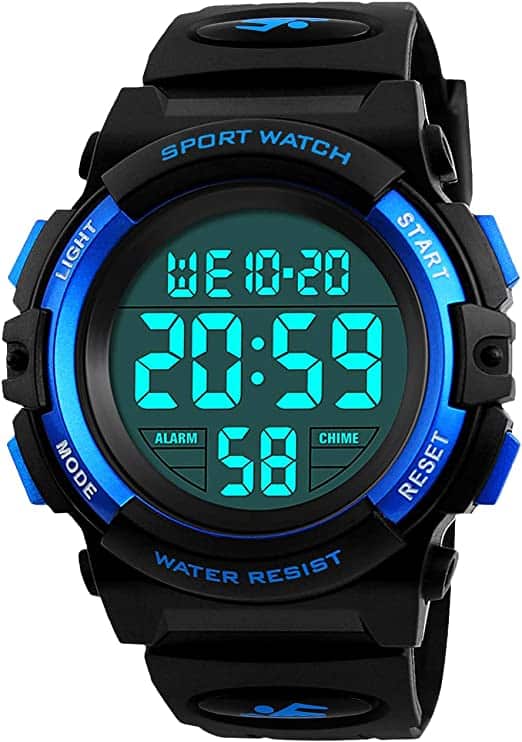 | | |
| --- | --- |
| Pros | Cons |
| Strong battery life that last years before replacement | They lack smart features |
| Cheap and Useful for minimal usage in time and measurement | Compared to smartwatches, it lacks advanced technological features |
| Fashionable and can be used under any condition | They work alone and can't be paired or used with other devices |
| Rugged and resistant against falls and strains | Some digital watches only track time and set alarms while smartwatches can do more with time. |
Digital watches do have an advantage over the cons of smartwatches as they are less electronic but still modern.
Pros
Digital watches do have a durable small battery that works permanently for months and years. They are not rechargeable and not heavily loaded with functions, which makes the long battery life understandable.
They are very rugged compared to the smartwatches as they do have guided casing and stronger glass. The G-shock for example has a very good rugged test and they don't use fragile screens like the smartwatches. The smartwatch requires a touchscreen for its usage which contributes to its non-ruggedness like the g-shock and other digital watches.
Most Digital smartwatches are water or dustproof and resistant. Some digital watches are even more tolerant of water or dust. Smartwatches usually used water-resistance features found in phones which most times cant withstand long usage in water. The IPX6 can stay underwater for up to 50m for just 30 mins. In digital watches, the waterproof is more sustainable because the components are well sealed, intact, and have no electronic features.
They have cheap and durable features; not like they are like $5 but are cheap even if they have more features. An average digital watch could set an alarm, measure… (features of digital watches)
Cons
Digital watches do have fewer features and abilities compared to smartwatches. They are static, non-customizable graphics, no smart features, and more. This places them in a limited role of a time manager or for timing and fashion activity.
Even while being a perfect measurement low-cost watch, it doesn't measure many things like the smartwatch. They don't have measurements like gyro meters, and speedometers but some do have weather tracking features.