In this article, we will be comparing Google Pixel 7 Pro vs. Samsung Galaxy S22 Ultra. These two phones are the latest flagships both from Google and Samsung. Many are debating on the phone to buy, considering their features and abilities. Let us review both phones, which is better, and why. We will walk you through every detail in performance, camera, specifications, design, and display. And at the end of this article, we will conclude which phone is better.
Related Article: Pixel 6 Pro VS iPhone 13 Pro Max
Samsung Galaxy S22 Ultra Review
The Galaxy S22 Ultra is Samsung's flagship phone for 2022. Unlike the other Samsung series, this phone is designed and features more like a galaxy note. The most obvious feature of this is the S-Pen feature which is even now more responsive, as Samsung has it 70% faster with much less latency.
The S22 Ultra is quite identical to the S21 Ultra in terms of design and dimensions, but the cameras are positioned differently. Samsung has upgraded the glass all around with 12.5% more strength. The S22 ultra also appears larger and heftier than the regular Samsung series.
Samsung has proved to be the largest display company once again with the S22 ultra. The S22 ultra features two incredible display upgrades we are not used to. First is that the screen's peak brightness is 1750 nits which is the brightest ever seen. Also, there is a new Vision Booster that can adjust the screen's brightness.
The Galaxy S22 Ultra is powered on Samsung's OneUI 4.1 which comes with some interesting features. One interesting feature is the color palette which automatically matches your phone's theme to your wallpaper. The new design language is more transparent, also the camera is now sleeker and works faster.  The battery has a capacity of 5000MAH but is expected to last longer due to some sufficiency improvements. The Galaxy S22 ultra also supports fast charging with up to 45W from the original 25W.
Pros
It has a very bright display.
More efficient S Pen built-in.
Cons
It is expensive.
Lesser RAM compared to the previous model.
Google Pixel 7 Pro Review
The Pixel 7 Pro is Google's flagship phone for 2022. The Google Pixel 7 Pro is well-designed, pocket-friendly, and easy to hold. It feels pretty similar to the Galaxy S22 Ultra, but instead of the sharp corners, it is smoothly curved. The camera housing is part of the frame making it sleeker than the previous Pixel series, which adds to the overall beauty of the phone.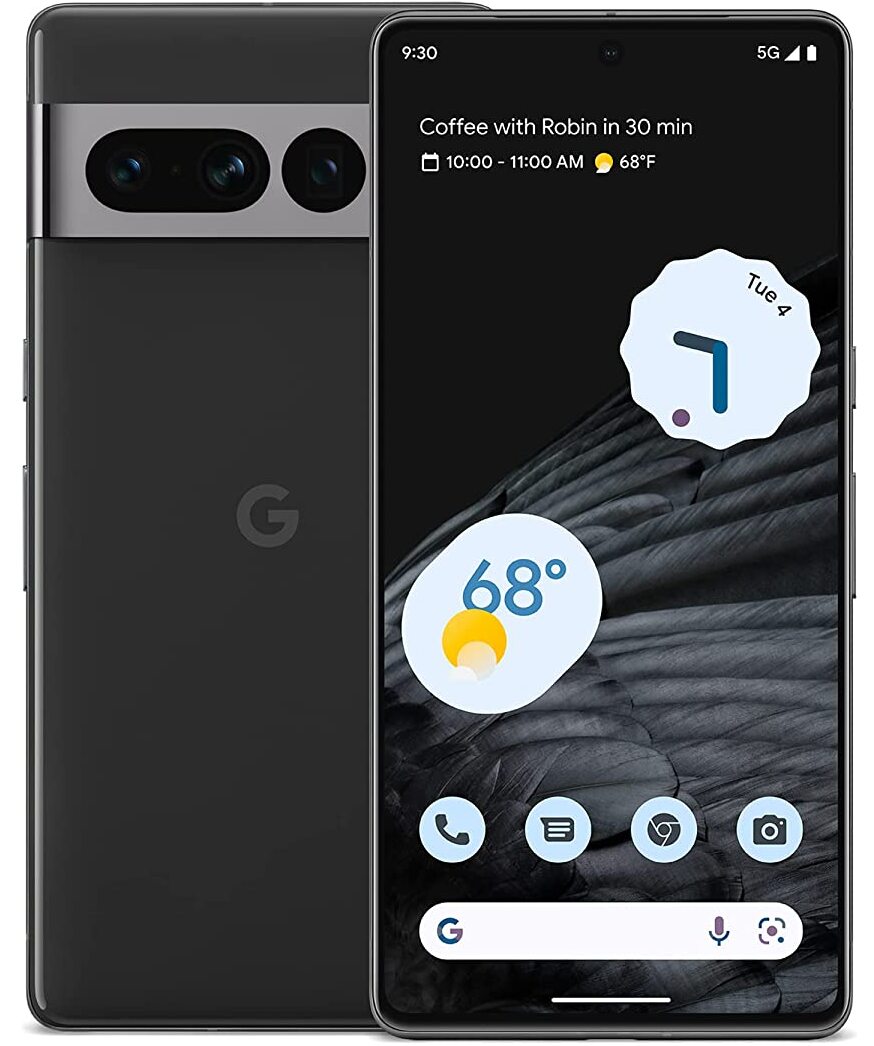 Google Pixel 7 Pro is powered by Google Tensor G2 which comes with many great features. It features a better GPU which enhances graphics, workloads, and gaming experience. The Tensor G2 is expected to be 60% faster at machine learning-related tasks and 20% better at machine learning efficiency. The Tensor G2 solves all the Pixel hardware shortcomings with machine learning to enhance user experience. With this feature, you can easily transcribe voice notes so fast, use Google Assistant to direct calls, and have a clear calling feature that eliminates background noise on phone calls.  The phone's screen has a 25% higher peak brightness of 1500 nits.
The Pixel Pro 7 has a capacity of 5000MAH but is expected to last longer because of the adaptive learning that trains the battery with usage patterns.
Pros
Attractive Design.
More exciting software features.
Cons
Battery life is not impressive.
Only 3 years of OS updates.
Samsung Galaxy S22 Ultra vs. Google Pixel 7 Pro: Specifications
| | Samsung Galaxy S22 | Google Pixel 7 Pro |
| --- | --- | --- |
| Price | $1200 | $900 |
| Dimensions | 163.3 x 77.9 x 8.9mm | 162.9 x 76.6 x 8.9 mm |
| Weight | 229 g | 212g |
| Display | 6.8-inch Super AMOLED (3088 x 1440) | 6.7-inch OLED (3210 x 1440) |
| Front Camera | 40MP | 11MP |
| CPU | Snapdragon 8 Gen 1 | Tensor G2 |
| Software | One UI 4.1 over Android 12 | Android 13 |
| RAM | 8GB, 12GB | 12GB |
| Storage | 128GB/256GB/512GB/1TB | 128GB/256GB/512GB |
| Battery | 5,000mAh | 5,000mAh |
Table showing the comparison of Samsung Galaxy S22 Ultra vs. Google Pixel 7 Pro
Conclusion – Samsung Galaxy S22 Ultra vs. Google Pixel 7 Pro
Many will choose the Galaxy S22 Ultra over the Pixel 7 Pro considering the features and designs. The Galaxy S22 Ultra is built better, features more software customization, and has a better User Interface.
In terms of smoothness and optimization, the Google Pixel 7 Pro is better and has a better user experience.
One thing to keep in mind is the pricing difference, Pixel 7 Pro is quite reasonable (only $900) with many flagship qualities. On the other hand, the pricing on the Galaxy S22 Ultra starts from $1200. For a phone (Pixel 7 Pro) that is $300 less than the S22 Ultra with pretty close features and abilities, the Galaxy S22 Ultra seems to be a better phone, but the Pixel 7 Pro appears to be the better deal considering all the right parameters.