Since the 2020 pandemic, working from home has become more popular and practical. It has become a thing for the vast majority of independent contractors, particularly those who solely use computers, phones, and routers while working. Using a range of skills, you might be able to find a rewarding remote job. Most of them fall under the "tech space" category, which either necessitates coding or doesn't. Even if you try to focus on your computer while working from home, it can be tedious at times, and you might lose focus and become distracted. People working from home are will appreciate some gifts to keep their morale high and gain more focus at work. Even as the holidays approach, these gifts will be much more appreciated, who knows, they might be planning to have one.
Legs that lie flat on the floor put stress on the back and hips. A useful pain reliever for those who sit for long periods is a heat-responsive pure foam foot gear. Elevating the legs places the hips and knees in the same plane, relieving pressure on the muscles and joints, and making you feel better all over. You can use the computer or spend your full 8-hour workday in complete comfort. No matter your height, the distinctive graded teardrop shape promotes a natural sitting posture, improves ergonomics, and follows the contours of your feet' arches.
2. Phone and Accessories Holder
You can lay your phone comfortably on this docking station as it charges, keeping other frequently used goods nearby as well.
Made from pure ash wood and protected with a non-toxic treatment, the smooth, polished surface blends in beautifully with both traditional and contemporary designs.
The stand features pockets for stationery, stationery, wallets, papers, watches, fitness trackers, glasses, bracelets, keys, and all cell phones.
3. Computer Desk Mat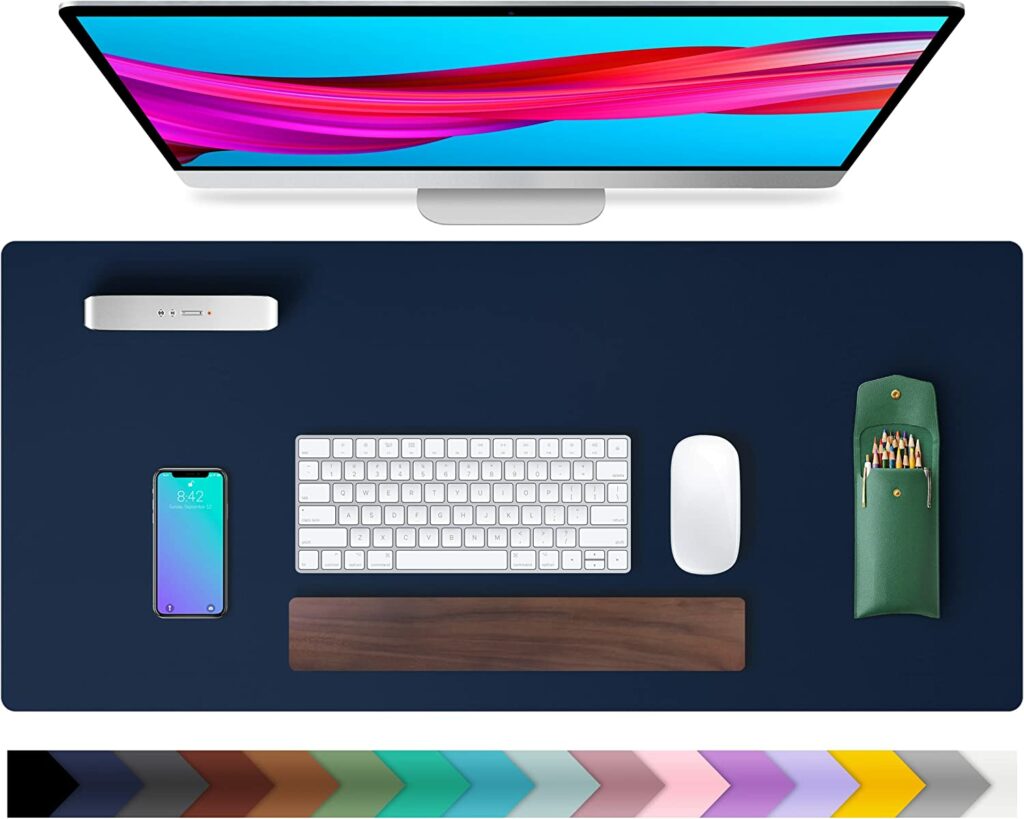 A desk mat that protects your desk from heat, scuffs, spills, and scratches and is constructed of durable PU leather. A sturdy mat made of water-resistant PU leather, and To clean, merely wipe with wet paper or a towel. When put on a desktop, it also gives your office a modern, polished look. Its smooth surface is pleasant to write on, type on, and surf on. Wide-inch mats have enough room for a laptop, mouse, and keyboard.
A person who is working has to rehydrate frequently. While they are working, they take quick breaks to drink coffee and refuel. According to studies, consuming up to 5 cups of coffee a day in moderation can improve energy levels, performance, and endurance. Caffeine use regularly can enhance performance by up to 12%. Additionally, it awakens people and improves their focus while working. This is the ideal present for them, particularly with the impending winter or if they have just begun working from home.
5. Coffee Warmer
To get the most out of coffee, it must always be kept warm. Even though the majority of mugs do so, they only do so briefly. To guarantee that your beverage is always at the ideal drinking temperature, this coffee cup warmer has two distinct temperature settings. The P1 mode (104°F-122°F) or P2 mode (122°F-140°F) to pick from for warming the beverage are both displayed on the LCD. It boasts a smooth touch control, heats up rapidly, is splash-resistant, and has a cleanable surface. Automatic shut-off after 8 hours of use or after a programmed interval of 12 hours to prevent hidden risks and waste from electricity.
6. Wireless Charging Station
For those who work from home, a nice present that makes charging simple and the workspace less cluttered. Your phone, watch, and AirPods can all be charged at once with this slim, practical charging station! They are all quite rapid to charge; the phone was finished in about three hours (iPhone 12 pro).
This wireless charging station is Qi-certified and features intelligent protection technology, a built-in smart chip. Also with many protections, including over-voltage protection, short-circuit protection, temperature control, and more. When charging, merely put the devices in the proper charging spot without taking off your phone case.
7. Headphones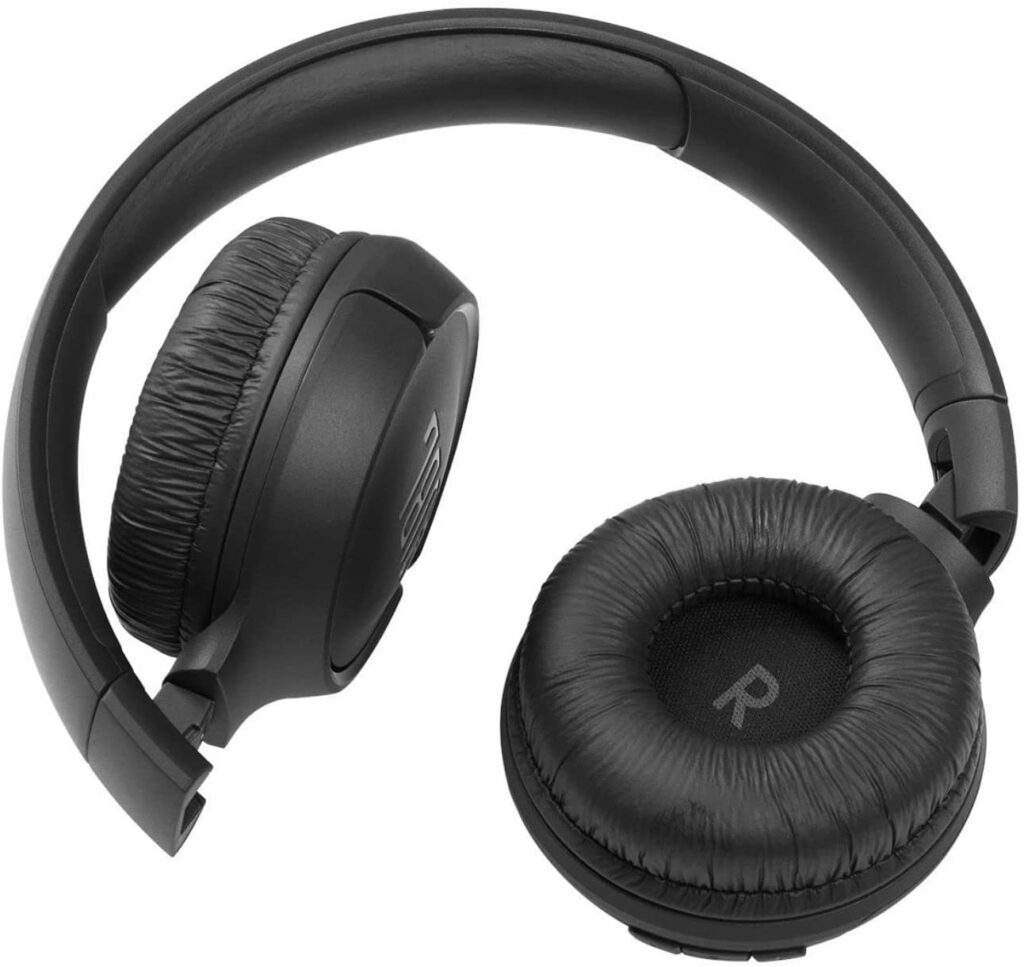 While working, listening to music could be a tremendous source of inspiration. When working from home, the sound is just as crucial as visuals. The Razer Blackshark V2 is a wired headset that is regarded as one of the best Razer has ever produced. The sound quality of this gaming headset is suitable for both listening to music and playing games. The Razer headset has a decent design with a flexible and removable microphone, making it more portable than most Razer items at 260 grams. Here are the additional top 5 inexpensive headsets for 2022 that you can check out.
8. Stereo Speakers and Bars
If you dislike listening to music through headphones, here is a Bluetooth speaker with long battery life and plenty of power to make work fun. Although the treble and bass settings are very simple, the sound quality is above average for a little speaker. The output of the speaker is appropriate for the majority of ranges, with bass that works well for both indoor and outdoor applications. Any Bluetooth-enabled device can be connected quickly and effortlessly (from up to 50 feet away) thanks to its built-in Bluetooth 5.0 chip.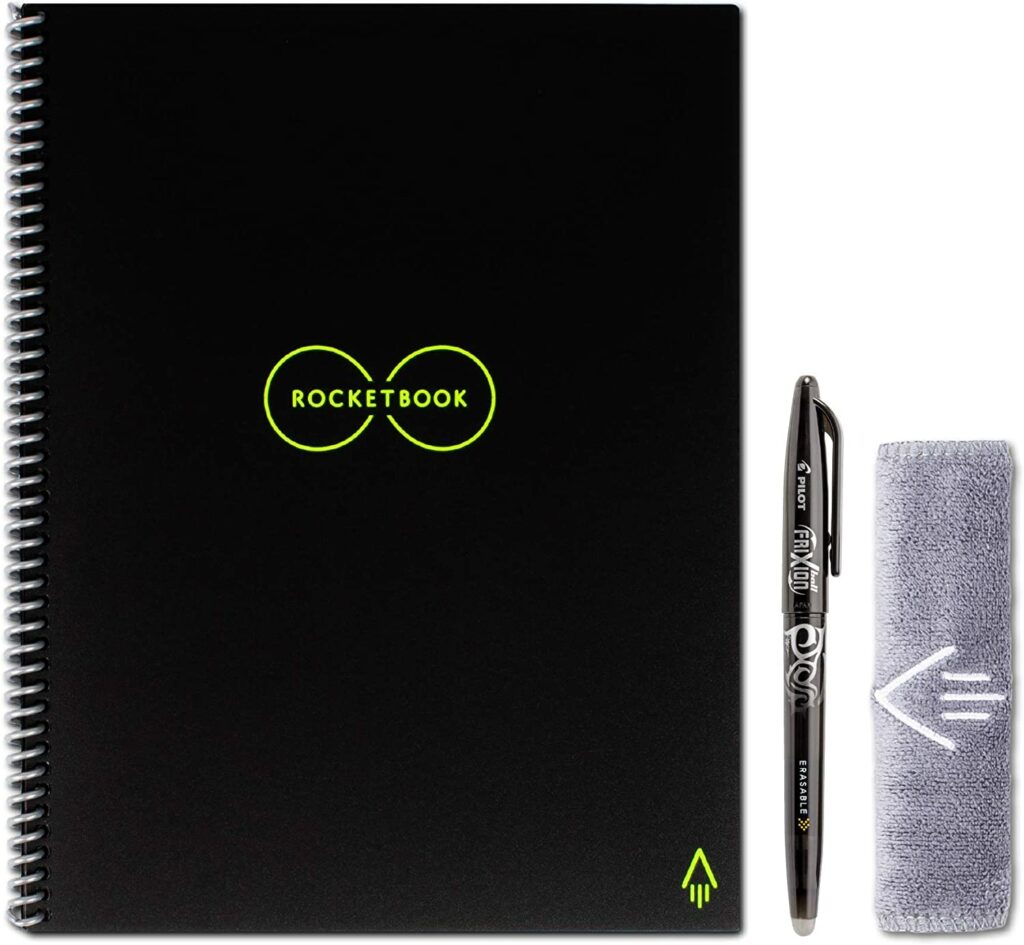 Not just a notepad, but a 36-page notebook with a dotted grid that you may keep using simply wiping clean with a moist cloth. Rocketbook Core, Executive Size is included (6″ x 8 8″) Notebook 1 Microfiber Cloth and 1 Pilot Frixion Pen Using the free Rocketbook app for iOS and Android, this can also be used to send notes to well-known cloud services like Google Drive, Dropbox, Evernote, OneNote, and more.
You can add a love inscription to the notebook to serve as a keepsake present to make it even more beautiful.
Sticky notes placed on the edge of their books or laptops can help children stay on schedule and remember tasks without having to worry about forgetting them. This package contains various types of planner dividers. Ruled There are colored tabs for lined, plain, dotted, and index bookmarks. 410 papers altogether. These colorful self-stick notes can be used to label and quickly and readily recall information by categorizing information using specific colors. can be kept on a desk or in a drawer for easy access and removal without tearing the paper or page.
11. Phone and Laptop Stand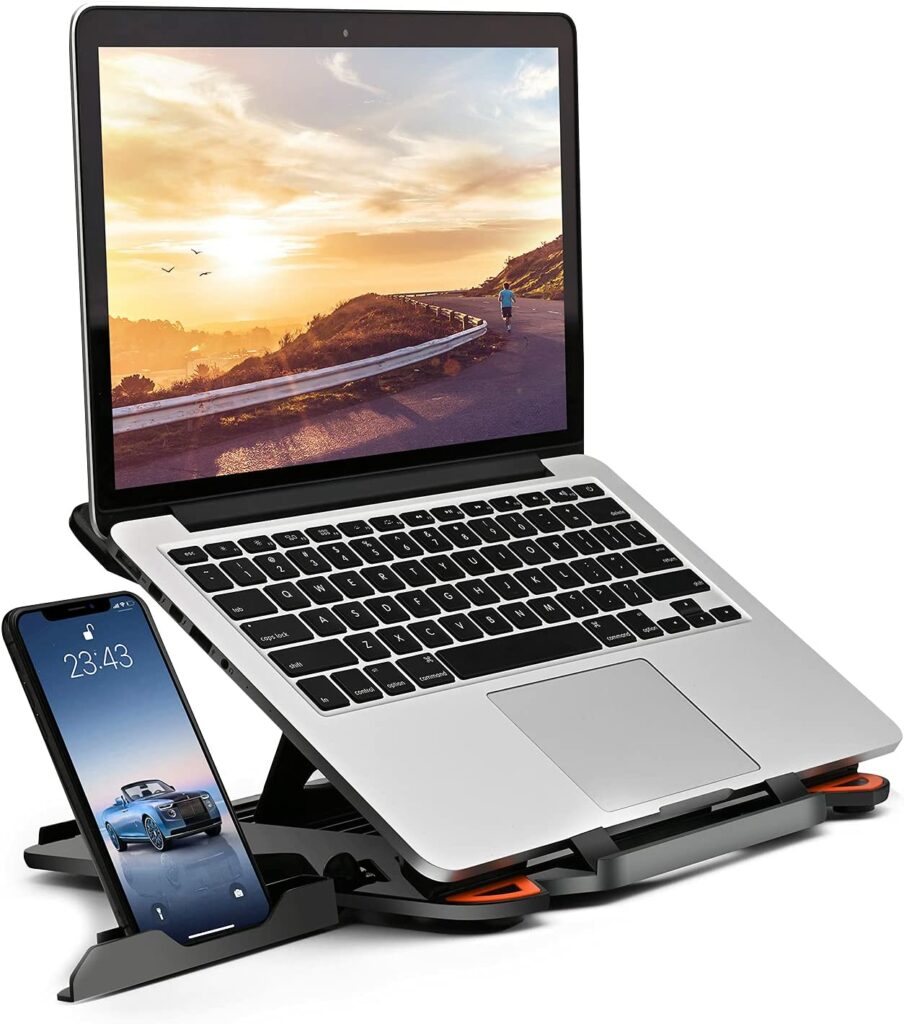 You can feel more comfortable while working and lessen neck and cervical fatigue by adjusting your waist. These laptop stands are portable, foldable, and convenient for use at home, at work, or elsewhere. A non-slip rubber surface cushion and durable, trustworthy, and fading-resistant lightweight ABS are also used to keep the laptop in place. Compatible with any laptops between 10.6 and 15.4″ in size, capable of supporting 44 lbs (20 kg), and included with a spot for a phone.
A set of gallery frames in various sizes that may be hung both together and independently to add some personality to the workspace. By allowing the walls to speak for you, this inspirational wall art may give you the aura and vitality of character, keep your mind active, and aid in maintaining your concentration on the important things. The picture frame is composed of lightweight, long-lasting wood. It also has a clear acrylic screen to shield the picture from harm. It's a gift that fills the workstation with daily inspiration and elevates its aesthetic appeal.
13. Desk Deco
A few items for the computer gaming desk would be a welcome addition and make a motivating and productive gift. These features both simplify work and increase the comfort of your computer workstation. When you purchase the majority of gaming gear, you'll need a place to put them frequently after usage so they don't clutter up your desk. You can put your phone, headsets, wires, and pods in a wooden safe keep, for instance.
14. Blue Light Blocking Glasses
The only places where using a low computer brightness is comfortable are dimly lit rooms or poorly lit offices. The majority of blue light, especially while working for long periods, goes straight to the retina. Blue light may increase the risk of the retinal illness macular degeneration, according to several research. Blue light exposure has been linked to AMD or age-related macular degeneration. For eye protection, important to wear glasses that can block up to 70% to 80% of blue light. You can select from this list of top 8 blue light protection eyewear items. You may buy as a present for those who spend a lot of time to work from home.
15. Gadget's Cleaning Kit
When people work from home for an extended period, there is a tendency for their computers and other devices to become dusty. As it causes hardware devices to malfunction or be damaged, assist them in avoiding this. This cleaning kit, which has seven different purposes. May be used to wipe fingerprints from camera lenses, dust, and debris from headphones, earphones, and screens on computers. Also, as well as grease and grime from laptop keyboards.
Airport Cleaning Pen with Silicone Clip, Plastic Clip, Flocking Sponge and Brush, Screen Cleaning Solution Spray. Also, high-Density retractable keyboard brush with ultra microfiber cloth, Keychain, are all included in this all-in-one laptop and earbuds cleaning tool.