In times like this, we experience a full house of distant families and friends. Bringing people together to celebrate the holiday season involves both indoor and action activities. For both types of activities, I don't think anyone will want a dull moment even when having the snow part of the activities. (examples of indoor and outdoor events in holiday) Music is the heart of such gatherings and needs to be propagated via an acoustic and quality model. Portable speakers and soundbars are cool choices for outdoor event music, while the home theater audio is the best option for indoor events. Both produce good quality sound and will serve the whole holiday celebration occasion and are satisfactory in all kinds of weather. The best 10 choices are what you find below, which will serve both large and small family gatherings during the holiday. 

A subwoofer theater pack that offers good sound coverage over a wide area. Pure bass and high-quality sound are produced by the Klipsch's aluminum tweeters and Tractrix Horn technology. The cordless down-firing subwoofer is designed to create low frequencies that can fill an entire room, making it appropriate for both indoor and outdoor gatherings. The woofers' Volume Booster watt power AMP pushes out additional volume while playing your movies, even at maximum volume. The wireless subwoofers are simple to install and may even be utilized for outdoor cinema events thanks to the mounting choices.
2. Sony XRS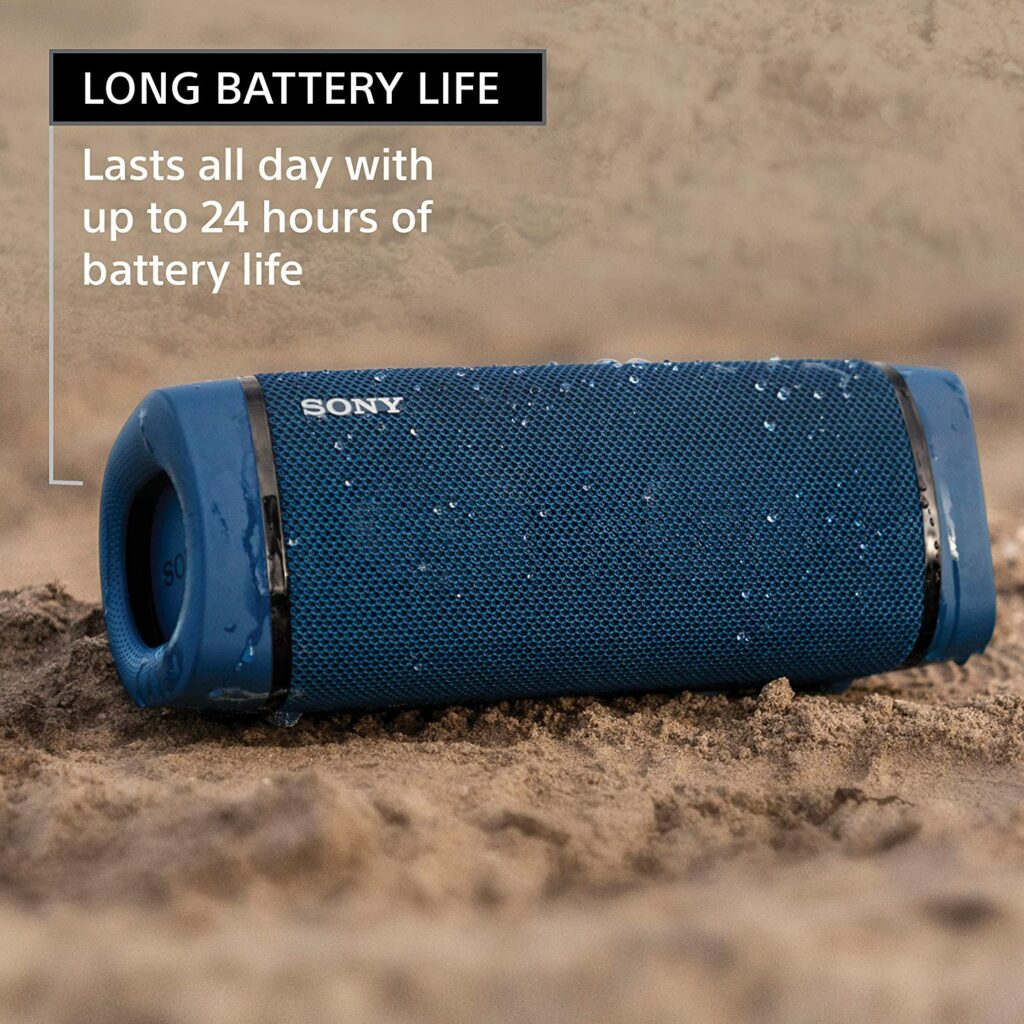 This cordless Bluetooth speaker has multiple uses and can serve multiple purposes of soundbars. As it provides a robust, clear sound with a very low THD, it is suitable for small-scale video/sound editing and is portable, good for both indoor and outdoor use. The option to use a loudspeaker makes it simple to communicate hands-free whether you're having a family Christmas party inside or outside. prolonged battery Up to 24 hours, excellent sound, water, dust, and shock resistance.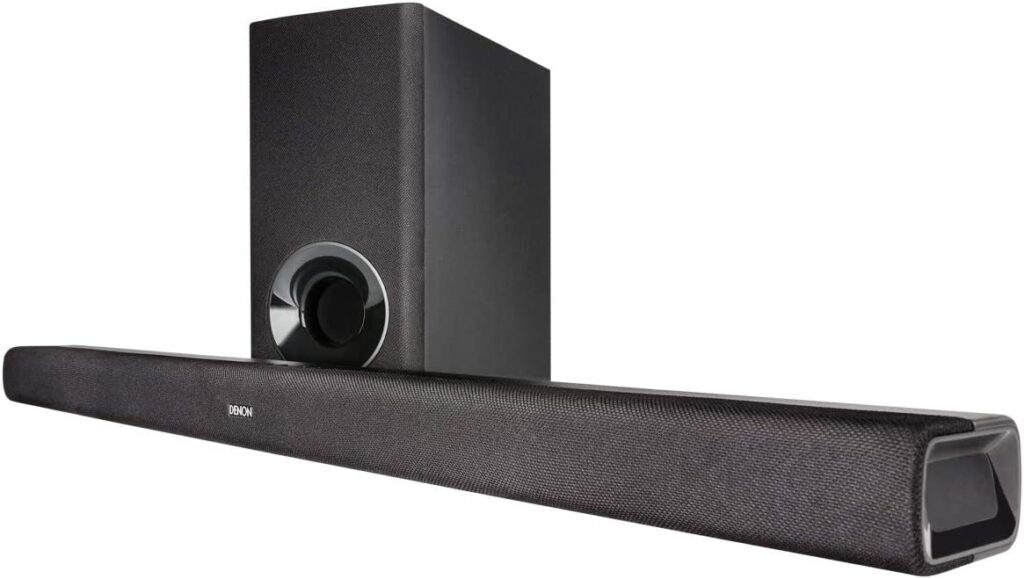 Give the deep, rich bass your favorite family movies, songs, and television shows need. This also contains a wireless subwoofer for usage in the room and outside viewing. The subwoofer comes with a 2″ tall sound bar that fits the sound accompaniment. They produce Hi-Fi surround sound and three-dimensional sounds that fill the room with this soundbar and subwoofer. This combination allows complex audio recordings to be heard and seen clearly. To connect wired and wirelessly, use the HDMI port, optical digital input, or in-built Bluetooth.
Compared to the smaller waterproof speakers that were between 30 and 50 watts, this speaker is louder and has more bass. The W-King D8 and D9, which are smaller speakers, do have certain advantages over the T9, such as being waterproof and having USB device charging capabilities. The speaker's powerful long-life battery technology allows for 24 hours of nonstop listening. It can play loud party music in a 25 foot square room thanks to the upgraded woofers. Your music is still playing in the adjacent rooms on either side at a reasonable volume;
a speaker with long battery life and plenty of power, allowing you to use it continuously on a single charge. Although the treble and bass settings are very simple, the sound quality is above average for a little speaker. It is larger and roughly one foot tall, so it can go anywhere. However, for the best sound, place it about four inches away from a wall. This will work for most ranges. Any Bluetooth-enabled device can be connected quickly and effortlessly (from up to 50 feet away) thanks to its built-in Bluetooth 5.0 chip.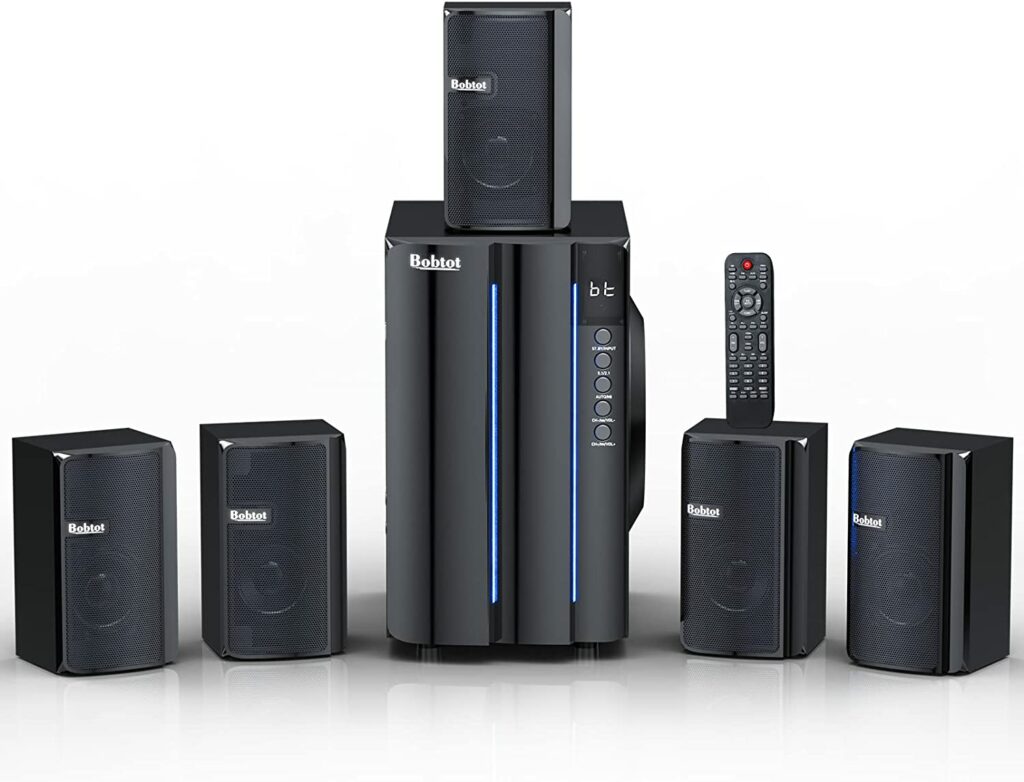 Speakers for home theater systems with an 800-watt maximum power output 6.5-inch subwoofer with LED lights that are bright enough for use both inside and outside. When a family is viewing movies together to enjoy drama, any cinematic depiction is achievable with high volume, professional sound quality, great bass sound, and natural sound. Many smart devices can be connected wirelessly and by cable options like HDMI, CD, USB, etc. with 5.0 Bluetooth speakers. High-quality sound from connected devices will be delivered to projectors, home DVD players, gaming consoles, and Ultra HD 4K TVs.
7. Soundbar with Subwoofer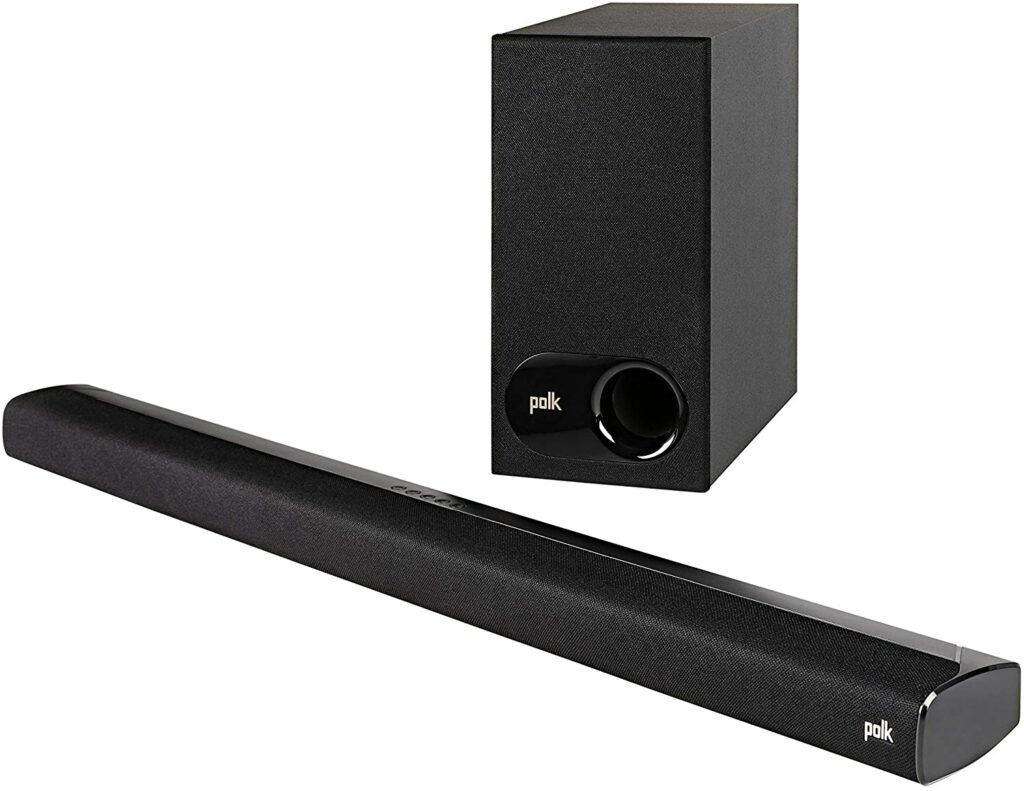 An affordable wireless Bluetooth soundbars option for TVs and desktop computers in place of home theater systems. Included are one 2.5-inch full-range, ultra-slim soundbar speaker and one 5.5-inch, powerful subwoofer bass. For you and your family, a superb dynamic home theater audio system, With a maximum volume of 110 decibels, it supports 4 EQs, including music, movie, news, and 3D modes. It also automatically adapts the sound to give you the best possible quality for your sound source. This is our #1 choice if you're looking for a fantastic present for a techie.
8. Dynamic RGB table soundbars
Elegant and vibrant led Bluetooth-wired dual connectivity soundbar ideal for usage indoors and in homes during the day and at night. No batteries or wall outlets are needed; simply stream your music, games, or movies by connecting directly via 3.5mm AUX cable or wirelessly via Bluetooth.
With a special feature that enables you to switch between wired and wireless speaker modes using the "mode" touch sensor.
9. Doss soundbox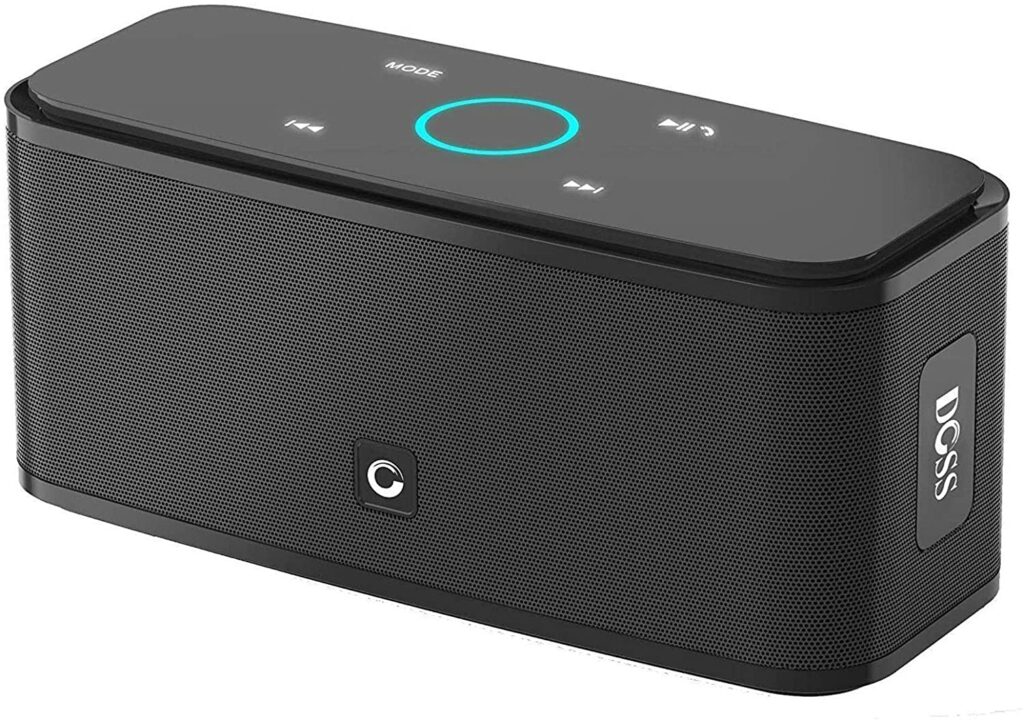 This speaker system has two high-performance drivers, a special bass boost, and high-definition stereo sound with a wide volume range. You may adjust the volume, pair, and change the song with just a clever, simple touch. This speaker supports Bluetooth and SD cards, and it can survive brief drops of water and other liquids.
Holiday parties, camping, hiking, and riding are all appropriate indoor and outdoor activities. With its integrated Li-Ion rechargeable battery, the inside volume may be played for up to 20 hours and outdoors for more than 10 hours.
10. Enclave cineHome II
Trying to get a cinematic sound this holiday and winter season when watching movies or playing games at home? This affordable luxury provides movie-theater quality sound right in your living room with 11 Class-D 24-bit amplifiers. An AVR or WiFi are not necessary for the plug-and-play surround sound system known as the Enclave CineHome II. Any modern TV may be connected to a surround sound system with just a basic cable hookup.
Utilize for a variety of purposes, such as a smarthome theater for TVs or an indoor speaker for music and an acoustic cinematic experience.