Most used daily gadgets evolve around our phones, tablets, and laptops. They all serve a different purposes and have limitations that the other takes advantage of. Mobile phones compared to a tablet has a smaller screen which might not be interesting for watching movies. On the other hand, the mobile phone has many capabilities above the tablet in its specifications and also its mobility. Though tablets are mobile but could be unattractive picking calls with them without a headphone. Some tablets like the iPad now work as a mini computers when combined with the magic keyboard and mouse.
This doesn't shift the major purpose of laptops themselves as they are the best to use when running programs and software. Even though the tablets are somewhat computer-like, they still have limitations in the software they can run, operating systems, and hardware capability. However, there are 2-in-1 laptops that can switch modes between being a full laptop and being a tablet. Laptops are usually heavier of course, but the 2-in-1 laptops do have lightweight features that make them take a such good role as tablets. Let's have a look at the top 8 picks below $1000 you can buy in 2023
The IdeaPad Flex 5 is a portable notebook that can serve two purposes and has strong hardware. With an elegant appearance and feel, a 360-degree flip-and-fold design, a 2.2K QHD 300-Nits display, and an integrated 720p touchscreen, the AMD Ryzen 7 8-core processor AMD R7-5700U operates at a 4.3GHz speed. comes with 512GB PCIe Solid State Drive and 16GB DDR4 Memory, which provides enough capacity for heavy laptop users and gamers. With IPS technology for wide viewing angles and a 14″ (2240 x 1400) IPS display, the 2-in-1 features allow for touch, tap, glide, a backlit keyboard, and a fingerprint reader.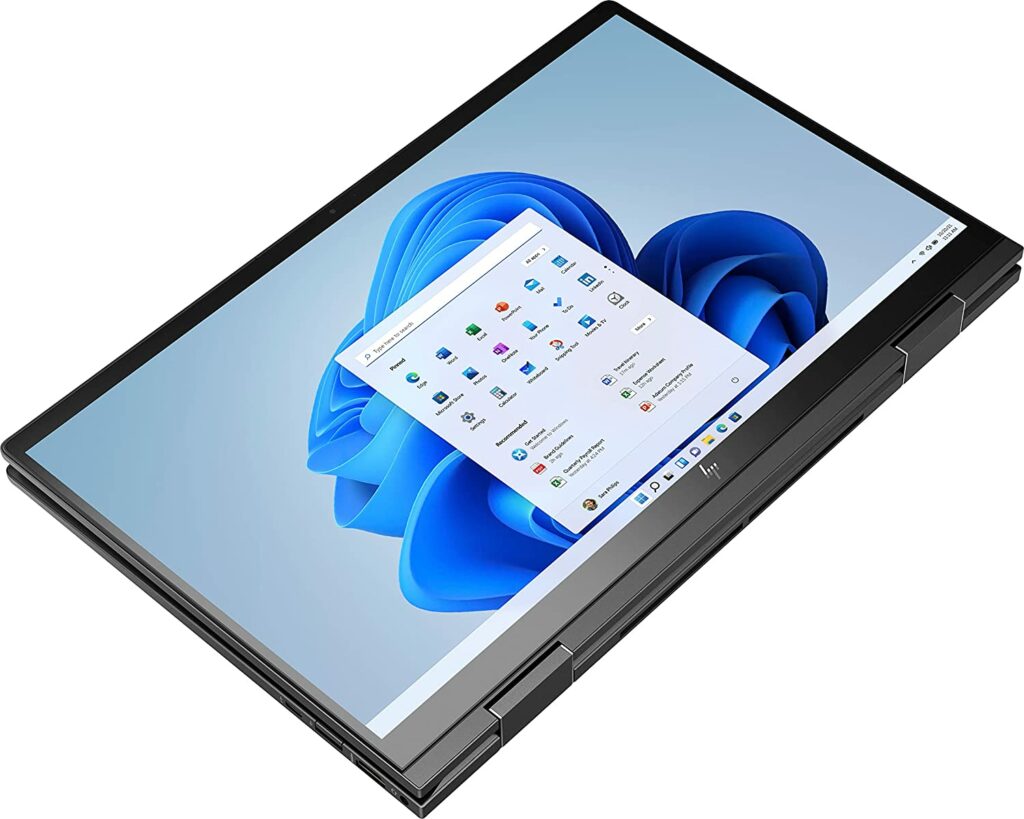 Edge-to-edge glass, multitouch 15.6″ FHD (1920 x 1080) laptop with three modes—laptop, "stand," and tablet—for convenience when used for various purposes
AMD Ryzen 5000 series R5 5625U with clock speed 2.3GHz, max turbo to 4.3GHz, a storage capacity of 32GB, 1TB NVMe PCIe M.2 SSD, and gaming graphics with Integrated AMD Radeon graphics. Expandable to one display via HDMI, and 4K (3840*2160) at 30Hz
14-inch touchscreen NanoEdge display with exceptionally tiny bezels on each side and Full HD 1920×1080 resolution. Full HD touchscreen displays with 360-degree hinges that allow for tent stand, and tablet modes are available. has 64GB of eMMC storage and 8GB of LPDDR3 RAM, which, while having a little amount of capacity, makes the device operate quickly. comes with an Intel Core m3-8100Y processor, which has a top speed of 3.4 GHz and is suitable for multitasking and gaming. additional attributes A chiclet keyboard with backlighting and three USB ports.
Powered by an AMD Radeon integrated graphics for gaming and a 6-core AMD Ryzen 5 4500U processor clocked at 2.3 GHz with a maximum speed of 4.1 GHz. sufficient and quick memory space with 256GB PCIe NVMe SS and 8GB DDR4-3200 RAM. A 14-inch FHD LED-backlit touchscreen with Active Pen Support and a 360-degree flip-and-fold design is used for the tablet mode.
Other crucial characteristics of this 2-in-1 laptop include a Backlit keyboard, dual speakers, a 720p HD webcam with an integrated microphone, and a built-in fingerprint reader.
An upgradeable 2-1-in-1 Windows 11 laptop with memory capacities of 512GB SSD and 8GB DDR4 RAM and an AMD Ryzen 7 5700U processor (8M Cache, up to 4.3GHz, 8 cores). The 16:9 aspect ratio and up to 178° viewing angle on the 14″ Full HD Wideview touch display make it ideal for entertaining. The 3.31-pound body is lightweight, and the tablet-compatible screen is likewise tiny. With a spectacular 82% screen-to-body ratio and a 12.8″ broad, 0.7″ thin screen.
Another 14″ Chromebook with a frameless FHD IPS Touchscreen is the greatest option for students. Comes with a 360 Flip for use as a tablet, stand, or laptop. Despite having AMD Graphics that are suitable for light gaming. This laptop is still suitable for students' fundamental needs because it has a modest storage space. With a Ryzen 3 processor running at 3.35GHz, 4GB of RAM, and a 64GB SSD for memory storage.
Numerous transfers are among the additional hardware features. Backlit Keyboard, 2 USB Type-C ports, and 2 USB Type-A ports. Featuring Bluetooth 5.0 and Super-Fast 6th Generation WiFi, connectivity
A 12.3″ touchscreen 2-in-1 detachable Windows laptop for general tablet and laptop use. When you only require the tablet's screen or read mode, you can remove the keyboard section. The 1.7-pound B12 tablet is a small, lightweight device. The display has a crisp, colorful, and bright IPS display with a 3K resolution. A tablet-like laptop with 256GB SSD, 8GB RAM, and a ton of storage. equipped with a 2.7GHz Intel Core i5 processor and an Intel graphics card for gaming.
Powered by an Intel Core i5 processor running at 1.9 GHz with a maximum speed of 2.9 GHz. Also Intel Core integrated graphics for gaming. Adequate and speedy memory space with 8GB DDR4-3200 RAM and 256GB PCIe NVMe SS. The tablet mode uses a 12-inch LED-backlit display with Active Pen Support and a flip-and-fold detachable design.
This 2-in-1 laptop's other essential features include detachable keyboards, two speakers, 5MP front-facing 1080p HD cameras, and integrated front- and rear-facing microphones.