In 2019, Apple unveiled the Apple Pro Display XDR, a display monitor of the highest caliber for graphics professionals. It has a 32-inch Retina 6K display monitor with a broad color gamut and a resolution of 6016×3384 pixels. For fluid scrolling and playback, it also has a high contrast ratio, a high refresh rate, and minimal latency.
The Pro Display XDR has been modified to meet the needs of HDR, HD, SD video, digital cinema. Also, more general usage including photography, web development, design, and print. Built with connectivity options like Thunderbolt 3 and USB-C for use with Macs. It is designed for use in applications like 3D design, photo editing, and video editing and aimed at creative professionals. The display automatically adjusts to a specific color space, white point, gamma, and brightness just by choosing a mode.
Apple Pro Display Specifications
A high contrast ratio, low reflectivity, and compatibility with high dynamic range (HDR) content are just a few of the attributes that the Pro Display provides to make it suited for graphic rendering and professional use. It is intended for use with professional-grade tools like the Mac Pro.
LCD screen with a 32-inch size and Retina 6K-Resolution (6016 X 3384 pixels), comes with Stand and VESA Mount Adapter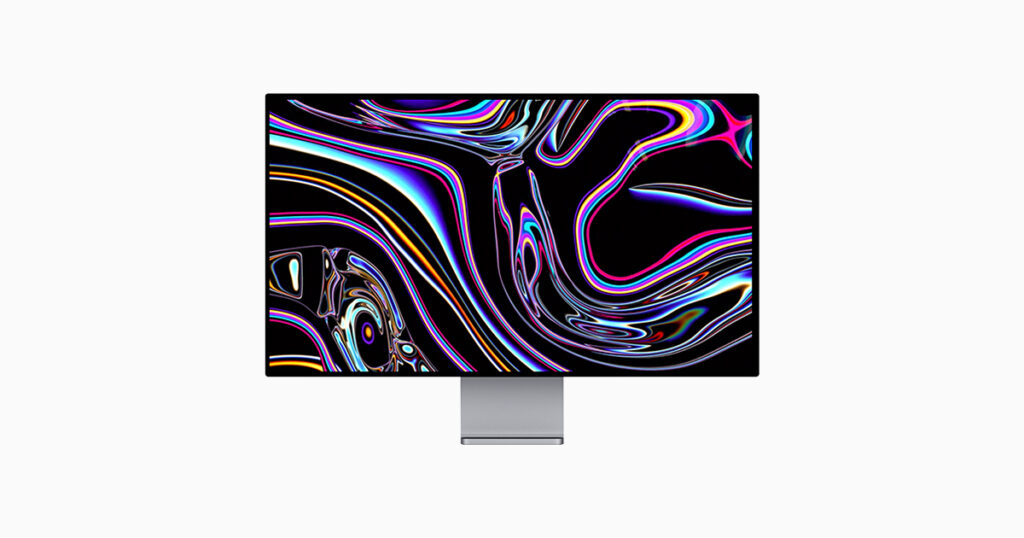 A very wide dynamic range (XDR) (It gives you the power to maintain extreme brightness without ever dimming). With 1000 nits steady, 1600 nits peak brightness, 1,000,000:1 contrast ratio, P3 broad color gamut, 10-bit color depth. Also, 218ppi Pixel identity, extremely wide field of view Normative modes, and three USB-C ports and one Thunderbolt 3 port.
Pros and Cons of the Apple Pro Display
Pros
The Pro Display's Retina 6K display, which boasts a resolution of 6016×3384 pixels, show incredibly finely detailed and excellent video.
A top-notch building that is made to last for a long time. In order to ensure that colors are true and visuals look lively, it also boasts a wide color gamut and a high contrast ratio.
The Pro Display supports high dynamic range (HDR) content, making it more able than many other displays to display a wider spectrum of colors and luminance. Images and videos may appear more realistic and immersive as a result.
The Pro Display makes it simpler to use in a variety of lighting situations. This is because it has a 1.8% reflectivity, which is lower than many other displays and makes it less susceptible to glare and reflections.
With its three Thunderbolt 3 connections, which offer high-speed data transfer. It let you connect a variety of devices, and has very quick connectivity.
Cons
The pro display is not a typical monitor because it primarily has graphics capabilities, an integrated webcam, and no speakers. Users will need to buy a separate webcam and an additional speaker or headset if they want to use it for video conferencing.
It has a fixed stand and cannot be tilted, angled, or pivoted, which may be a hassle for certain users, especially if you are accustomed to using an Apple Studio Display. And to top it all off, it only has three Thunderbolt 3 ports for connectivity and costs up to $3800. That is a lot of money for only being able to "monitor."
Apple Pro Display: Does it Worth the Price?
Every device is worth its price, but it always relies on the buyer's budget and intended use. The Pro Display's image and construction quality are literally the best in the computer industry for professional use, but they come at a very premium cost.
Therefore, this might not be worth it if what you need is a moderate monitor for screen extensions, coding, or gaming as there are other monitors for such purposes at a reasonable cost. The Pro Display, however, can be a suitable option if you require a high-quality monitor for professional use and have the necessary funding.