Being a gamer isn't complete without convenience consideration. The first thing that comes to your mind when setting up your gaming room either as a streamer or casual gamer is to make your sessions convenient. You probably would be thing more about the console, and streamer's gadgets, but not to forget you can't enjoy gaming for long if you sit on the floor or play from the couch. Aside from convenience, if you are a long-time gamer, you definitely need good gaming chairs to place your head and adjust your spine to avoid pain or health issues. Here are the top 8 gaming chairs that meets your convenience and long time needs as a gamer or streamer.
This chair is designed with your comfort in mind, providing four support points and proper lumbar support. Its adjustable seat height, headrest, and backrest make it perfect for people between 5'4″ to 6'4″. Comes with wheels made of durable and quiet PU material that won't harm wooden floors. The cushion is resistant to abrasion and deformation, ensuring long-term comfort and preventing fatigue. The armrests are adjustable and detachable, giving you more options to customize your experience. Easy to install with clear instructions and tools, and backed by a professional after-sales service team.
With a car-seat-inspired design that includes thigh support side bolsters and waist and shoulder padding that resembles a race seat, the Soontrans PC Chair is the ideal combination of style and comfort. You may customize the height and rotation of the backrest to meet your preferences.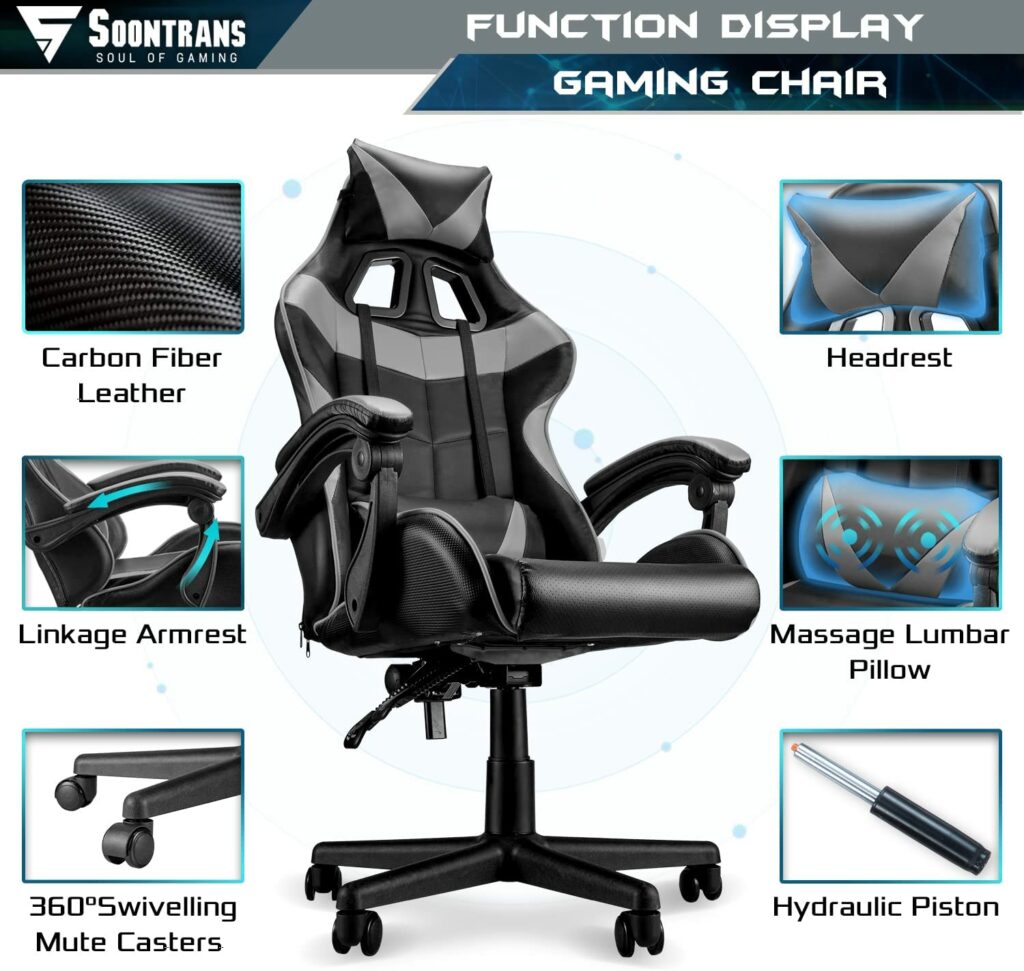 Additionally, it has a headrest that is detachable and adjustable as well as lumbar cushion support. The 360-degree swivel and silent casters provide smooth and silent mobility. The armrests are padded, and the seat cushion is wide and thick, providing all-around comfort. The carbon fiber construction assures wear resistance. This reclining chair promises a comfortable experience that can double your effectiveness, whether in the office or when playing a game.
An upgrade for your gaming setup with this high-quality, ergonomically designed racing gaming chair. With memory foam padding, a high back, and padded armrests, this chair provides unmatched comfort and support while gaming.
FANTASYLAND chair features full 360° rotation for dynamic motion, as well as smooth and quiet wheels that won't damage your floors. The chair is fully adjustable to fit your body type and height, making it perfect for immersive racing games. With a removable headrest and lumbar massage cushions, this chair supports your neck and spine and helps prevent the dreaded "computer hunch".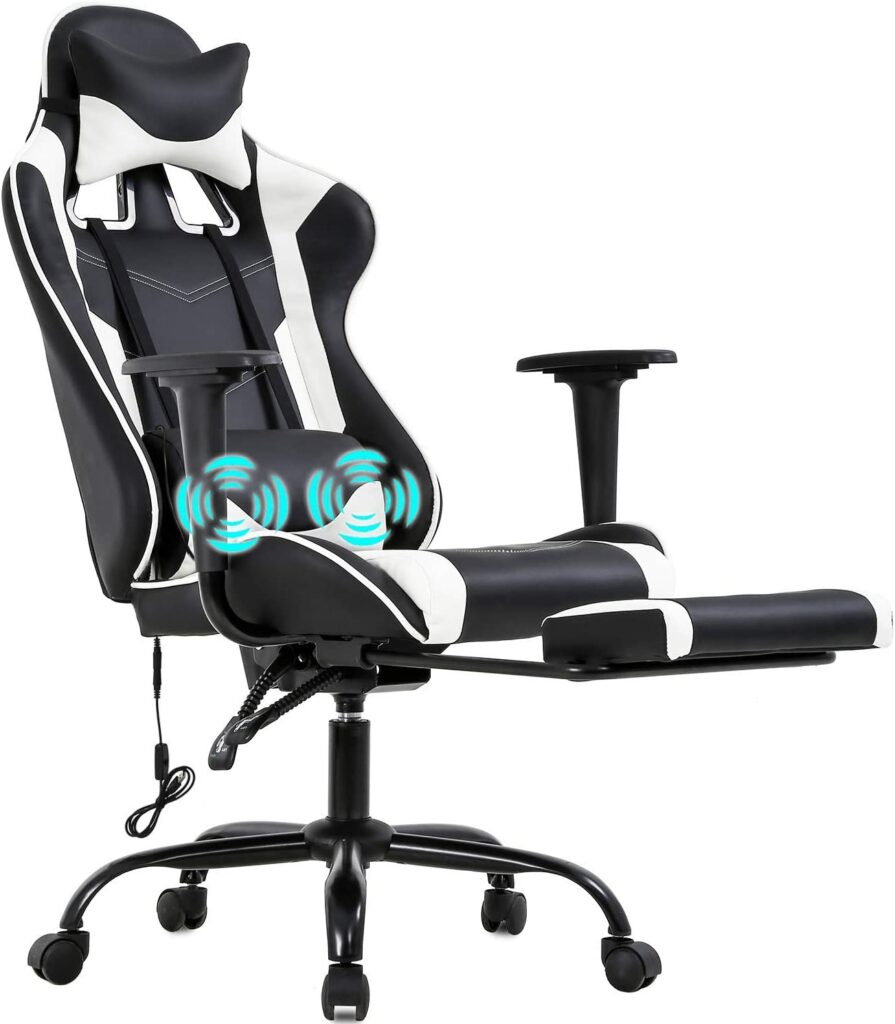 This gaming chair comes fully equipped and is simple to put together. It has a remote-controlled massaging function to help with fatigue reduction during lengthy workdays. Along with a safe reclining angle of 90–135 degrees, the chair also has a headrest, lumbar support, footrest, and other features. A comfortable seating experience is provided by the ergonomic architecture and 360-degree swivel design. Oil- and water-resistant PU leather that is comfortable and sturdy is used to make the chair. It is ideal for usage at home, at the office, or for gaming.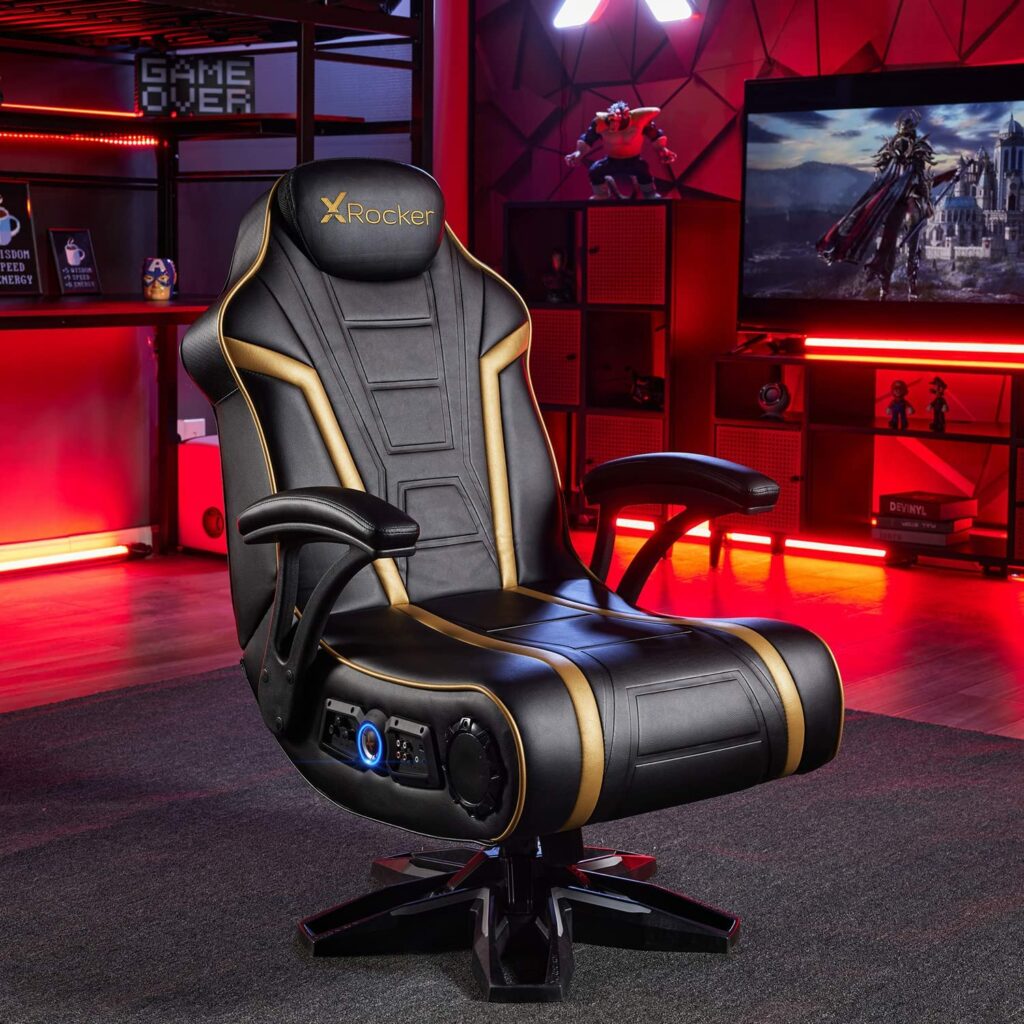 This gaming chair has a speaker on the headrest and a subwoofer on the backrest, providing immersive audio for games, movies, and music. It connects to various gaming consoles and audio devices, with wireless Bluetooth connectivity. The chair is ergonomically designed, with a sturdy base for support and mobility during long gaming sessions. It's easy to assemble, foldable for storage, and suitable for smaller spaces, making it ideal for younger players.
With Primary ergonomic gaming office chairs, your lumbar spine, head, and neck are all protected by their ergonomic lumbar barrier design and 3D elastic lumbar pillow. These chairs are distinct from regular chairs since they have a built-in button that makes adjusting the height simple. To make building them simpler, they include specialized assembly instructions and videos.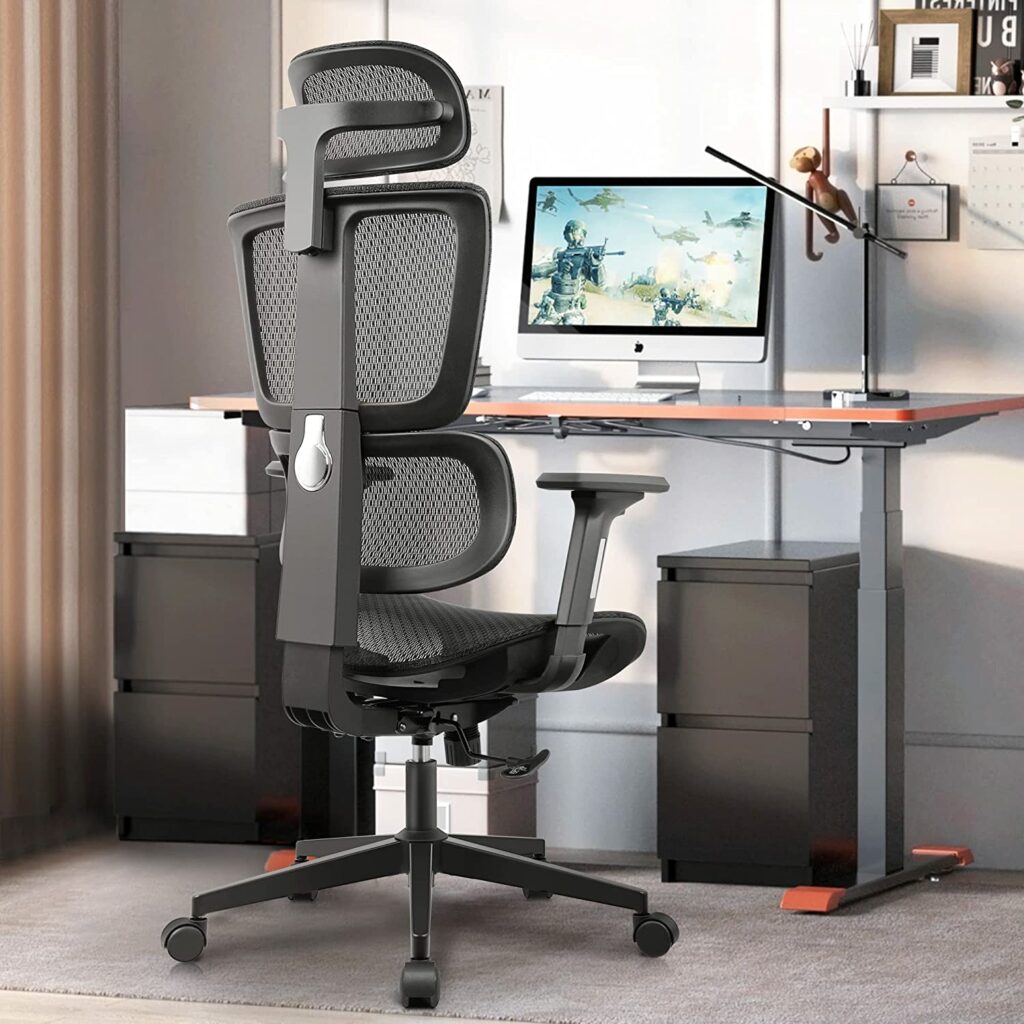 The backrest and seat cushion are made of a double-woven cowhide mesh that fits the human body to relieve pressure and a sense of oppression. The armrests may be adjusted to support your arms in any position, while the headrest can be adjusted to follow the contours of your neck. Moreover, these chairs include smooth racing casters and also 360-degree swivels.
This gaming chair's memory foam seat cushion has been thicker and broadened to relieve pressure on your hips and waist, making it ideal for office games. High-quality PU leather, which looks and feels fantastic, is used to cover the chair. This chair transforms into a bed with ease thanks to retractable pedals and the ability to lie down at a steep angle.
The backrest may be locked at any angle using the tilt/rock locking system, which incorporates a 7-inch height adjustment mechanism. The 3D armrests can be moved forward, backward, and left to right. The chair can support up to 350 pounds and is composed of premium materials.
This is a luxurious and very expensive gaming chair with a scorpion-shaped large sit with multiple computer screens hanging space with it. The Scorpion-shaped computer cockpit game chair is the perfect choice for both professional players and office workers who spend long hours at their desks. With the ability to hang up to three screens and built-in RGB light strips, this gaming chair creates an immersive and stylish experience.
The cockpit game chair also offers various postures and electric adjustments, allowing you to find the perfect position to stay comfortable during extended periods of use. Made with high-quality PU leather and a thick steel frame, this chair is both comfortable and durable. It's ideal for gaming, watching TV, and even taking a break.
What to look for in Gaming Chairs?
To accommodate various body shapes and postures. It needs to have elements that can be adjusted, such as height, armrests, and backrest angle. To give your body the most comfort and support, the chair parts should all have plenty of cushioning. The chair should also be able to rotate 360 degrees and recline at different angles. With that, you can find the position that is most comfortable for you.