Smartwatch has become one of the most sorted after wrist techs, tips all over the world. We could relate two factors, which are the fitness, and mobile phone industries incorporating them into their devices. Many people that go to the gym, or intend to go, usually have a higher desire for smartwatches. It not only helps them monitor their daily progress but also gives insight into their health and improvement over a certain period of time.
On the other hand, thanks to apple and Samsung for incorporating watches into their mobile phones, they make them more attractive to buyers. With them, they even make phone usage easier without having to always hold your phone before doing basic phone stuff. Thankfully, the watch features get fascinating every time new versions come out. However, there are many of these watches nowadays, both from phone companies, and independent manufacturers, especially for fitness and android phones. Now, it comes down to how to get the perfect one that fits your taste. Well, there are things you could look at before choosing your smartwatch, and here are the top tips for you.
1. Screen Size and resolutions
Though their screen always appears small, they vary, by size and by graphics representations. This is one of the first sets of things to look at, especially if you intend to reply to messages with it or operate it often. For the majority of users, a smartwatch screen size of 1.2 to 1.4 inches is deemed ideal because it is substantial enough to display pertinent information effectively without adding undue thickness to the wrist.
Also, while considering this, the resolution is another important factor of a smartwatch screen which is the number of pixels the screen can show horizontally and vertically. For presenting text and images with higher clarity and detail, the more resolutions, the better. For the majority of smartwatches, a resolution of about 240 × 240 pixels is regarded as typical.
2. Supported Features
Any wristwatch you purchase should be able to receive notifications, answer calls and messages, track your fitness, use GPS, accept mobile payments via NFC, provide voice help, and play music. A paired smartphone's notifications, including incoming calls, messages, and app alerts, are shown. You can respond to these notifications without having to look at your phone.
The smartwatch you choose should have sensors to monitor physical activity, including step counts, heart rates, workouts, and fitness features. GPS capabilities are crucial for locating users and creating 2D and 3D route maps. Your wearables Every wristwatch you wish to purchase in 2023 should be able to accept contactless payments, enabling customers to utilize their device to make transactions. Moreover, you may stream music from a connected smartphone or save and play songs using the onboard storage.
3. Connectivity
For smooth engagement and the best user experience, a decent smartwatch should have strong voice assistance capabilities and dependable connectivity. The majority of smartwatches use Bluetooth connectivity to communicate with a smartphone.
This grants access to features like voice commands, messaging, and notifications. Wi-Fi connectivity is a requirement for your choice in order to access the internet and online capabilities like app updates and music streaming. Smartwatches with both built-in and external cellular connectivity are another option. They may now operate without a paired smartphone thanks to this. Fitness enthusiasts who don't want to carry a phone along can really benefit from this function.
4. Voice assistance
You can communicate with your smartwatch without touching the screen by using voice help. Amazon Alexa, Google Assistant, and Siri are the most well-known voice assistants. Customers have the option to make calls, create reminders, ask inquiries, and operate smart home appliances. It's crucial to find out what voice assistance your chosen smartwatch offers and whether it can be integrated with voice assistants on your mobile phone.
5. App Support
The more apps a smartwatch can support, the more likely users are to use them because of the increased features. Fitness and health apps, communication and messaging, music streaming apps, productivity apps (calendars, to-do lists, time management tools, note-taking tools, etc.), social media apps, educational apps (on-the-go language learning and brain games), map and finance apps are just a few of the essential apps that every good smartwatch should have.
Many fitness and health apps that measure heart rate, calculate calories, track activity, and give workout plans are supported by smartwatches. Navigation and mapping software is another crucial one that makes it simpler to get about a place. Advanced Smartwatches like apple and Samsung can also support apps that let users operate IoT devices like smart homes and other gadgets right from their wrists.
6. Battery Life
All gadget features would be technically useless if their battery is faulty or doesn't last long. Literally, in every gadget, you'd definitely need good battery life, and should be one of your top priorities when choosing them. Battery capacities are directly proportional to their sizes and also directly proportional to the operations of the devices.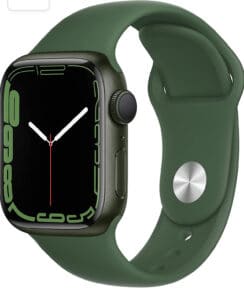 For watches, they obviously use a very small battery, but they are well optimized as they are still capable of staying up for a day on a single charge. Depending on usage patterns, battery size, and software optimization, some smartwatches can last up to several days or even weeks on a single charge. Reduce screen brightness, turn off pointless notifications, and use power-saving settings as much as you can extend the battery life of your smartwatch.
7. Water and scratch Resistance
The majority of smartwatches have varied degrees of water-resistant ratings. The Ingress Protection (IP) rating system was developed by the IEC to describe a device's water and dust resistance. For instance, a smartwatch with an IP certification of 68 can withstand submersion in water for a specific amount of time and at a specific depth. If you want a top resistance watch that can be submerged deep inside the water, then the IP68 is the best and latest. However, no smartwatch is available for diving or staying longer than 45 minutes underwater.
The best smartwatches to search for are those that include materials that are resistant to scratches, such as sapphire crystal, which is frequently used in high-end models. To shield the watch face from scuffs and other damage, some smartwatches might utilize toughened glass or other materials.
8. Price
The price of the smartwatch you get depends on the purpose you are getting them. You would pay less for fitness-specific smart watches, and you'd pay more for the ones with more functionalities. A good quality smartwatch can typically be found for between $150 to $300. Some high-end versions going for as much as $500 or more.
Prior to buying a smartwatch, it's crucial to think about the features and functionalities you require. For between $100 and $150, you might be able to locate a high-quality smartwatch. They can track your fitness activities and provide notifications.