Lenovo is unarguably one of the most versatile brands of laptops around the world today. Aside from HP, and Dell, it comes in many specifications according to the need. Lenovo IdeaPad laptops satisfy student needs, gaming, office work, and even for heavy-duty performance work. Not only do they have varieties of laptops based on performance, but they also use other OS for their laptops other than the common windows OS.
Chromebooks are generally laptop devices that run on the Google Chrome OS. Though the accessible apps are quite restricted compared to the window OS, the laptops are unique in their portability and ability to meet all student's needs.
Chromebooks: What type of Laptop are they?
Chromebooks typically come with a suite of Google apps pre-installed, such as Gmail, Google Drive, Google Docs, and Google Sheets. They have a reputation for having a long battery life, quick boot-up times, and simplicity of use due to their not-so-heavy inbuilt programs. With regular automated updates and built-in virus protection, it is intended to be extremely safe. Though they were designed to be basic, things are changing fast in an advanced way with laptops that comes with this OS. We now have Lenovo IdeaPad laptops that run on ChromeOS but are also good for gaming.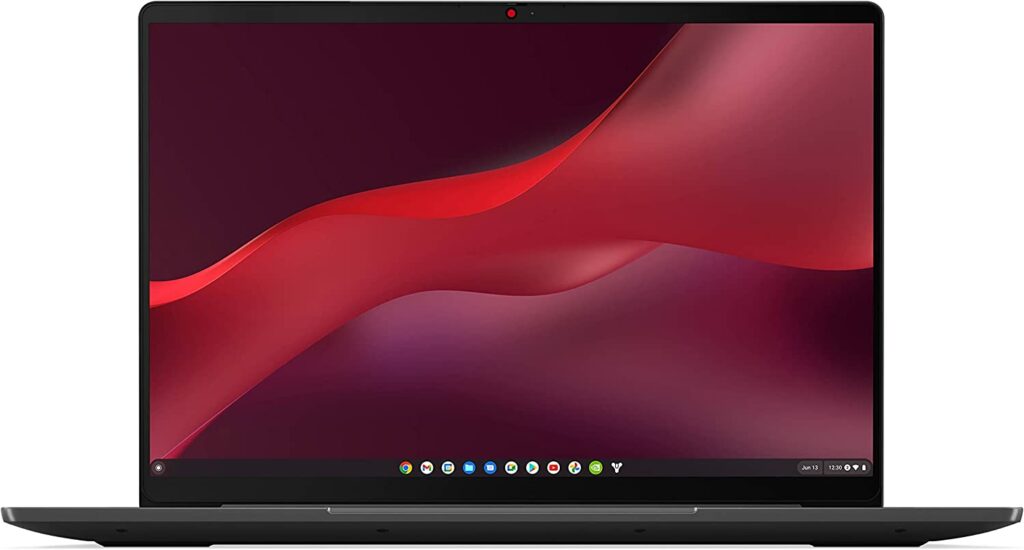 The Lenovo IdeaPad gaming Chromebook is a gaming laptop that was introduced in September 2022 and utilizes Google's Chrome operating system. Similar to a laptop running a different OS, it has gaming capabilities. Its memory capacity (RAM and ROM), graphics card processor, CPU, screen resolutions, battery life, versatility, and ultimately, its affordable price are examples of these capabilities. Let's have a look at its review, and why you should consider it for a gaming laptop choice… or not.
Lenovo IdeaPad Gaming Chromebook: Important Specifications
Screen Resolution and Display
The Lenovo IdeaPad Gaming Chromebook has a 15.6-inch Full HD (1920 x 1080) IPS display with a 120Hz refresh rate, a very narrow bezel, and a large screen-to-body ratio. The anti-glare coating and slim bezels help to cut down on reflections and offer a more immersive viewing experience.
The display can refresh up to 120 times per second thanks to its 120Hz refresh rate, which makes it perfect for action-packed video games because it can display better animations. As IPS technology offers wide viewing angles, you can plainly see the screen even when positioned off-center.
Design
The Lenovo IdeaPad Gaming Chromebook is stylish and cutting-edge in appearance. Featuring a hinge that enables the display to be opened up to 180 degrees, the display has a black plastic body and an aluminum cover. 4.6 pounds, 14.18 x 9.86 x 0.74 inches (359.5 x 250.8 x 18.95 mm), and has a reasonably small profile (2.09 kg).
The WASD keys on the backlit keyboard of the IdeaPad Gaming Chromebook are highlighted in red to make them easier to find while playing games. Large and responsive, the touchpad also enables precise cursor movements when gaming.
Memory Capacity
With 8GB of DDR4 Memory, the Lenovo IdeaPad Gaming Chromebook should perform admirably for the majority of games and multitasking. Compared to DDR3, DDR4 RAM is a faster memory type that uses less power.
The 128GB solid-state drive (SSD) that the IdeaPad Gaming Chromebook has storage capacity. This provide speedy load times and snappy performance as it's the best memory type for gaming generally. But, if you need to save massive files, 128GB of storage might not be enough. Files can be kept on external hard drives or in the cloud using programs like Google Drive.
Processor and Graphics
An Intel Core i5-10210U CPU, a quad-core processor with a base clock speed of 1.6GHz and a maximum turbo frequency of 4.2GHz, powers the Lenovo IdeaPad Gaming Chromebook. The processor also includes Intel's Hyper-Threading technology, which enhances performance by enabling each core to manage two processing threads concurrently.
The inbuilt Intel UHD Graphics 620 GPU in the IdeaPad Gaming Chromebook is a relatively entry-level graphics card that is appropriate for less demanding games and simple video editing applications. It's important to note that the IdeaPad Gaming Chromebook lacks a dedicated graphics card, which can affect how well it performs particular tasks.
Battery Life
A 3-cell, 57Wh battery is included with Lenovo IdeaPad Gaming Chromebook, which is a sizable battery. The laptop has a battery life of up to 12 hours. This should be plenty for most people in an entire day of work or school without needing to plug in. Moreover, the IdeaPad Gaming Chromebook has quick charging capabilities. This enables users to complete 80% of the battery's charge in just one hour.
Gaming Chromebook: Specialty and Review
Both customers and reviewers have typically had favorable things to say about the IdeaPad Gaming Chromebook. While some reviews bemoan its limited storage and integrated graphics, the majority of them commend its performance, display, and keyboard. In terms of physical appearance, screen resolution, display, refresh rate, and memory capability, it is on par with other laptops with window OS.
Being one of the few ChromeOS laptops with gaming capability, most of the specifications and performance are on a great level except for the graphics limitations. Users may need to lower the graphics settings or choose a separate laptop with a dedicated graphics card for more graphically demanding games. One of the best features aside from the display and memory is the battery size which last long and even on heavy duty and all these for $529
Lenovo IdeaPad Gaming Chromebook: Worth the Price?
Overall, this is a laptop for students who enjoy gaming, which is likely at the medium level. This laptop will play effectively most of the popular games among students like(PUBG, Minecraft, Apex Legends, Fortnite Battle Royale, Counter-Strike. HearthStone, etc.). In terms of portability, purpose, and convenience of usage, it will effectively serve its purpose.
However, this is not made for very heavy gamers or on an Alienware game level but on an HP Windows game level at a cheaper price. Also can be especially useful for users who are always on the go and need to charge their laptops quickly.
The IdeaPad Gaming Chromebook is quite pricey when compared to other Chromebooks as it is between $500 – $600. It also has certain features that set it apart, such as its 120Hz display and backlit keyboard. The IdeaPad Gaming Chromebook can be a fantastic choice if you're searching for a Chromebook designed for gaming. This boasts respectable performance and a dedicated gaming design.