It's no doubt the iPhone rolling out almost every year, or a couple of years at most. The latest, being of 2022 is the iPhone 14 series. They rolled out in 4 versions with, not just different specifications and sizes like before, but also different designs, especially on the screen part. Three of them are the iPhone 14, iPhone 14 Plus, iPhone 14 Pro, and iPhone 14 pro max, in that order of advancement.
As we know, as advanced they are, as expensive they'll be, which means the 14 and 14 plus would be the cheapest among the four. Being budget-friendly and having good, modern specs and chips sounds like a good deal, so let's talk about them first. Technically, the iPhone 14 ordinary shares the same specs as the iPhone 13 pr, even better, and at a cheaper price. L
et's have a clear view of the iPhone 14 Plus from a 2023 point of view. Considering its specifications, and features, relate the feature with its price and determine its worth in 2023. Also, a brief comparison with Android phones with the same price, or the last released phones of the same price range.
Related: Ipad 10.2 gen Review: Does it still worth it in 2023?
iPhone 14 Plus: Specifications
1. Design
The iPhone 14 Plus has a slim and stylish design and measures 160.8 x 78.1 x 7.8 mm (6.33 x 3.07 x 0.31 in), making it easy to hold and use. The iPhone 14 Plus weighs only 203 g (7.16 oz), making it portable and lightweight.
With high-quality construction, it has an aluminum frame and a glass front and back made of resilient Corning glass. Additionally, it supports both Nano-SIM and eSIM, giving consumers a variety of options.
2. Display
The Super Retina XDR OLED display of the iPhone 14 Plus offers outstanding visual clarity, rich contrast, and deep blacks. It has improved color accuracy and dynamic range and supports HDR10 and Dolby Vision.
Related: Why is it Expensive to Replace an iPhone Screen?
A 6.7-inch display with an average screen-to-body ratio of 87.4%. With a pixel density of about 458 per inch and a resolution of 1284 x 2778 pixels, the display provides clear and sharp graphics. Glass protection with Ceramic Shield, offers improved toughness and resistance to dings and drops.
3. Memory and CPU
Depending on your preferences, the iPhone 14 Plus offers a variety of internal storage options. With its 128GB, 256GB, or 512GB of storage, you can worry-free store your files, programs, pictures, and movies. It has 6GB of RAM, which is a sufficient amount of memory for effective program performance and seamless multitasking. includes a Hexa-core CPU option as well.
Related: Functions of CPU in Computers
It has two Avalanche high-performance cores running at 3.23 GHz and four Blizzard energy-efficient cores running at 1.82 GHz. The iPhone 14 Plus produces amazing graphics rendering and fluid visuals thanks to its 5-core graphics processor, the Apple GPU. Suitable for all mobile gaming, video watching, and graphically demanding apps. powered by the cutting-edge Apple A15 Bionic chipset manufactured using a 5nm process, and it ships with iOS 16.
4. Camera
The camera on the iPhone 14 Plus is outstanding. A 12 MP wide camera with sensor-shift optical image stabilization (OIS) and dual pixel phase detection autofocus (PDAF) for improved photo clarity and stability is part of the dual camera system on the rear. A 12 MP ultra-wide camera with a wide field of view of 120 degrees is also available. Both cameras are capable of using technologies like dual-LED flash and HDR, which guarantees outstanding image quality in a variety of lighting situations.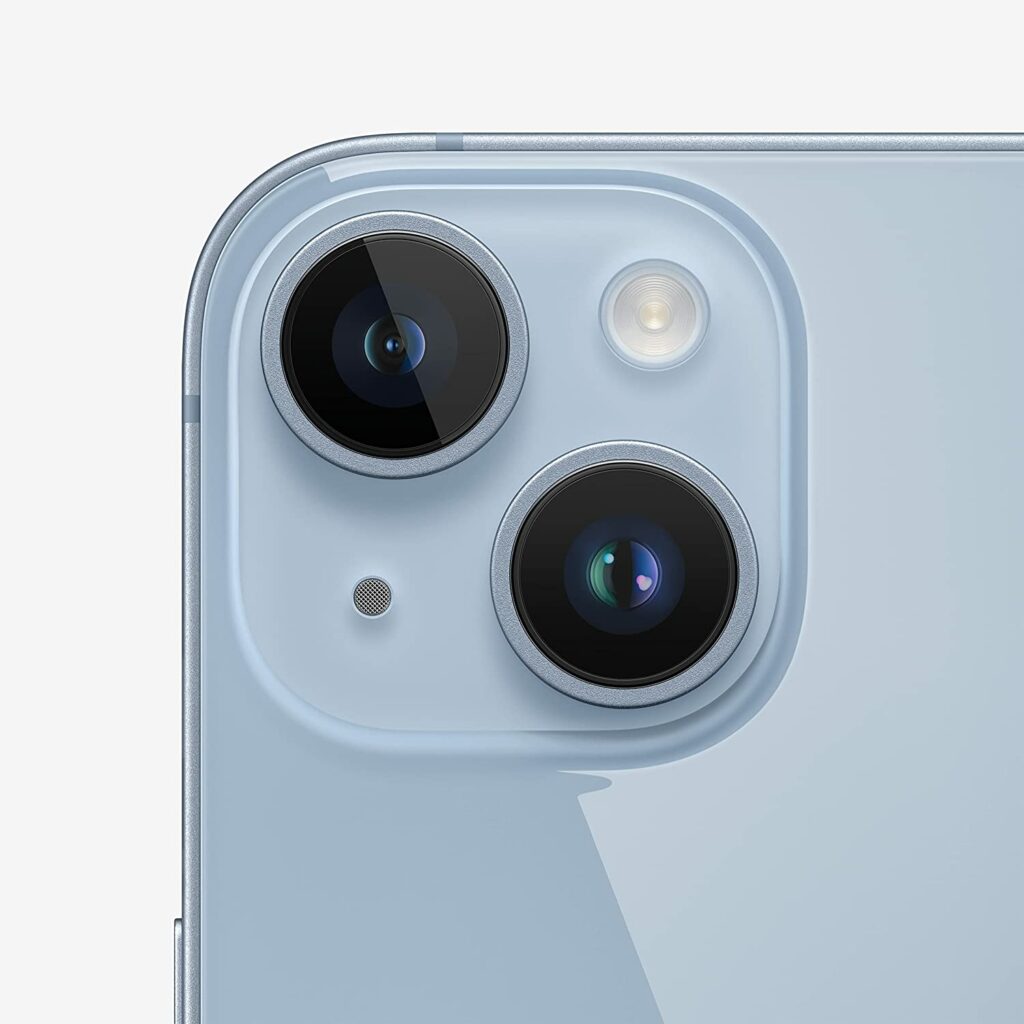 Related: iPhone Camera Settings: How to Reset iPhone Camera Settings
A 12 MP wide-angle front camera with HDR capabilities and an SL 3D depth/biometrics sensor for facial recognition allows for beautiful selfies. The camera system also offers capabilities like Cinematic mode and stereo sound recording, as well as the ability to shoot video in a variety of formats, including 4K and HDR. The iPhone 14 Plus allows consumers to take comprehensive pictures and high-definition videos with exceptional clarity and superior stability.
5. Battery and Charging
A non-removable Li-Ion battery with a capacity of 4323 mAh and a power output of 16.68 Wh is included with the iPhone 14 Plus. The device is capable of fast charging and supports cable charging with PD2.0 technology.
It claims to charge up to 50% in under 30 minutes. The iPhone 14 Plus also supports wireless charging, including 7.5W wireless charging with Qi standard and 15W wireless charging with MagSafe technology. The gadget has an outstanding battery life, with 23 hours and 38 minutes of 3G call time, 16 hours and 20 minutes of web surfing, and 19 hours and 23 minutes of video playback, according to battery performance tests performed by GSM Arena.
The iPhone 14 Plus offers users extended usage and convenient charging thanks to its strong battery and effective charging choices.
6. Other Specifications
Several amazing features and connectivity choices are available with the iPhone 14 Plus. For quick and flawless wireless communications, it supports Bluetooth 5.3 and cutting-edge Wi-Fi protocols.
See Also: Pixel 6pro vs iPhone 13 pro-Max
GPS and other positioning systems provide accurate navigation and location tracking. Contactless payments are convenient because of NFC technology. The device has a Lightning connection for data transfer and charging.
It features several sensors, including Face ID for safe facial identification, and it works with Ultra-Wideband (UWB) technology to improve spatial awareness. The iPhone 14 Plus also comes with emergency SOS via satellite for SMS sending and receiving in dire circumstances.
The iPhone 14 Plus is a technologically cutting-edge and adaptable gadget thanks to these features, which cater to a variety of connectivity, security, and navigation requirements.
iPhone 14 Plus: Top Hidden Features
1. Camera special features
Camera stabilizations: To improve stabilization while recording in video mode, moving, and cinematic mode, the Enhanced Stabilization setting significantly zooms in. Standard settings turn on Enhanced Stabilization. Go to Settings > Camera > Record Video, then switch off Enhanced Stabilization to disable it.
See Also: How to Connect Airpods to Dell and window Devices
Low light Camera: The camera automatically enters night mode when it notices a low-light situation. When the feature is engaged, the Night mode icon at the top of the display glows yellow.
2. Video special features
Cinematic modes: Cinematic mode supports Dolby Vision HDR. In Cinematic mode on iPhone 14, you can switch between HD or 4K and 24, 25, or 30fps. You can now produce videos with a lovely depth-of-field effect thanks to cinematic mode. This effect lets the main subject of your video stand out against a blurry background.
Smart HDR 4: This feature optimizes the brightness, contrast, and color of your movies to give them the greatest possible appearance.
Night Mode: You can capture excellent films in low light thanks to the night mode option.
Time Lapse Video: A tool that lets you make videos that demonstrate how something evolves is called time-lapse video. Setting the iPhone's camera to record video and then accelerating the video playback is all that is required to produce a time-lapse video. A plant's growth or the motion of the stars are two examples of things that can be captured in time-lapse videos.
Related: Everything you need to know about the iOS16
3. Editing tips
Remove background on multiple pictures: You can select multiple images on the iPhone files, and click on the remove background from the selected image. This will give a clean background removal to images, and make them maintain their quality.
Removing unwanted objects: With the aid of the iPhone's AI, you can eliminate undesired items from your images and videos. Open the Photos app and choose the picture or video you want to modify to get started. After that, select the Object Eraser tool by tapping the Edit button. Trace around the item you want to eliminate using the tool. The item will subsequently be eliminated by AI from your image or video.
Adding text and stickers: Using the text and sticker tools in the Photos app, you can add text and stickers to your pictures and videos. Tap the Text button and enter the text you want to add there. Press the Stickers icon, choose the desired sticker, and then press the Add Sticker button.
See Also: iOS16 Problems and Solutions
4. Live caption
The iPhone 14 Plus has a function called Live Captions that instantly converts audio to text. People with hearing impairments or those who are in noisy situations may find this useful. English, Spanish, French, German, Italian, and other languages are among the ones that Live Captions is accessible.
See: Sony Zv-E1 Review in 2023
Open the Settings app and select Accessibility > Speech > Live Captions to activate the feature. Select the languages you want to use and turn on Live Captions. Then, Live Captions will be accessible in all audio-playing apps.
Whatever audio is playing will be captioned in the caption text box. The text box's dimensions and color can be changed, and it can be hidden.
5. emergency SOS with satellite
You can use this feature to call emergency services when there is no cellular or Wi-Fi coverage. Press and hold the side button, together with any volume button, to activate Emergency SOS via satellite. To contact emergency services, slide the slider. Your iPhone will attempt to connect to a satellite to make the call if you are in an area without cellular or Wi-Fi coverage.
See Also: iPhone Apps to improve productivity in 2023
iPhone 14 Plus: Does it worth it in 2023?
With a price of $799 and characteristics like battery life, new functions, and improved display and camera capabilities, it is well worth buying in 2023. Although it offers nearly identical features to the iPhone 13 Pro Max, the iPhone 14 Plus will be preferred and worthwhile to purchase in light of upcoming updates and longevity.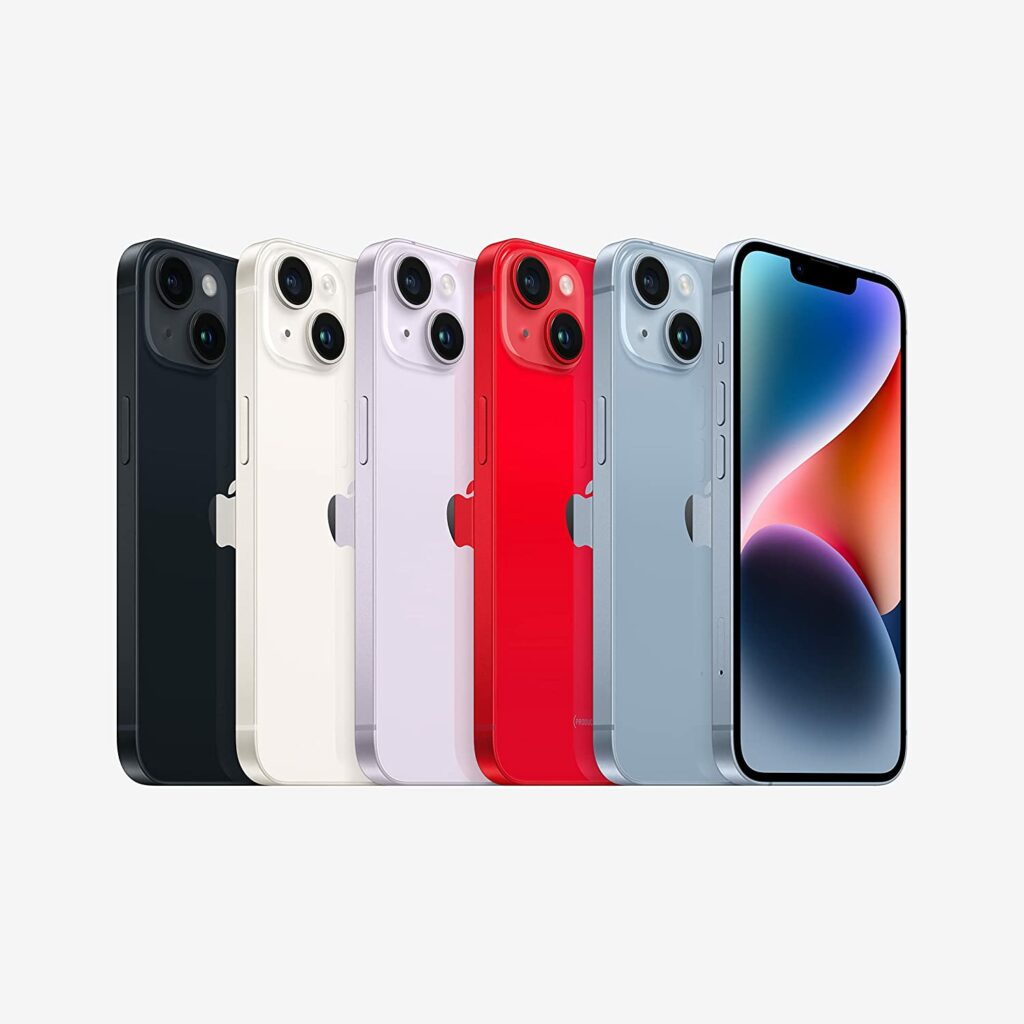 Additionally, if it fits your budget, the dynamic screen and battery life make it worthwhile. Although the iPhone 14 Plus is a fantastic phone with lots to offer, it is also more expensive than some of its rivals. The iPhone 14 Plus is a fantastic choice if you're searching for a high-end phone with all the newest features.
Pros and Cons
Here is a more detailed breakdown of the pros and cons of the iPhone 14 Plus to help you make a decision:
Pros:
Powerful A16 Bionic chip
Large 6.7-inch Super Retina XDR display
Improved cameras with 12MP main sensor
Longer battery life
Durable Ceramic Shield front cover
IP68 water resistance
Available in a variety of colors
Cons:
Expensive
No major design changes from the iPhone 13
No telephoto camera
iPhone 14 Plus vs iPhone 14: Which should you buy in 2023
Even though the iPhone 14 Plus and the iPhone 14 are fairly similar devices, there are a few significant distinctions that may make one of them a better choice for you than the other. Compared to the iPhone 14, which has a 6.1-inch display, the iPhone 14 Plus has a 6.7-inch display.
Because of this, it is a better option for those who like a bigger screen for viewing videos, playing games, or reading electronic books. The extended battery life of the iPhone 14 Plus is a result of its larger battery.
But like the iPhone 14, the iPhone 14 Plus is likewise pricier. The iPhone 14 might serve you better if you're on a tight budget. The battery life and display are still excellent, plus it's less expensive. So when choosing, define your top priority in getting the iPhone, the iPhone 14 will most likely meet up with it. If it does, save $100 by buying the iPhone 14 in 2023 to satisfy your top smartphone priorities.
iPhone 14 Plus vs Samsung S22+: Which is better in 2023
This is a tough one and one of the questions in the GSM world with no direct answer. The iPhone 14 Plus has a slightly smaller display than the Galaxy S22+, but it has a higher resolution. The iPhone 14 Plus also has a faster processor and a better camera system. However, the Galaxy S22+ has a longer battery life and it supports faster charging.
Related: Samsung S22+ Review
In the end, your unique demands and tastes will determine which phone is ideal for you. The iPhone 14 Plus is the superior option if you want the highest performance and camera quality. The Galaxy S22+ is the superior option, though, if you're searching for a phone with longer battery life and quicker charging.
iPhone 14 vs Google Pixel 7: Which is better?
The iPhone 14 Plus has a more powerful processor, a better camera system, and a longer battery life. The Google Pixel 7 has a more affordable price, a more modern design, and a better software experience with Android OS. Both phones have a great camera system and a long battery life.
In an aspect of design, the Google Pixel looks more modern with more screen dynamics. The iPhone 14plus in this aspect lacks development as it's still the same design and screen type as the 13 series. Also, the iPhone 14plus with a battery capacity of 4323mAh is slightly lower than the Google Pixel 7 at 4385mAh.
Conclusively, decide based on the OS you like, and the specifications that matter to you most. Both have their strength and weakness but are relatively close in most specifications.
Related: Google Pixel 7A Review.
Does the iPhone 14 Plus have a new color option?
Yes, the iPhone 14 Plus will have new color options like purple canary yellow, olive, sky, and iris.
Does the iPhone 14 Plus have a longer battery life than the iPhone 13 Pro?
Yes, the iPhone 14 has a battery capacity of 4323mAh while the iPhone 13 pro has 3095mAh
Conclusions
In conclusion, the iPhone 14 Plus is a sleek and stylish device with advanced specifications. Super Retina XDR OLED display, powerful A15 Bionic chipset, and impressive camera system contribute to its exceptional performance and imaging capabilities. With features like fast charging, ample storage options, and enhanced connectivity, the iPhone 14 Plus offers convenience and versatility. Despite being relatively expensive, top-notch performance and long-term software support make it a worthwhile investment for those seeking a high-end smartphone experience.