On Android smartphones and tablets, spy applications are made to keep an eye on and track a variety of actions. They may be used for lawful objectives including controlling company-owned devices, locating a lost device, and keeping an eye on a child's internet behavior. They may also be used for unlawful monitoring, though.
What are Spy Apps?
Spy apps refer to software applications designed for covertly monitoring activities on a mobile device. Their applications vary, encompassing detecting potential infidelity in relationships, overseeing a child's online behavior, or managing employee efficiency. These apps can be discreetly installed on a device without the user's awareness, often evading detection.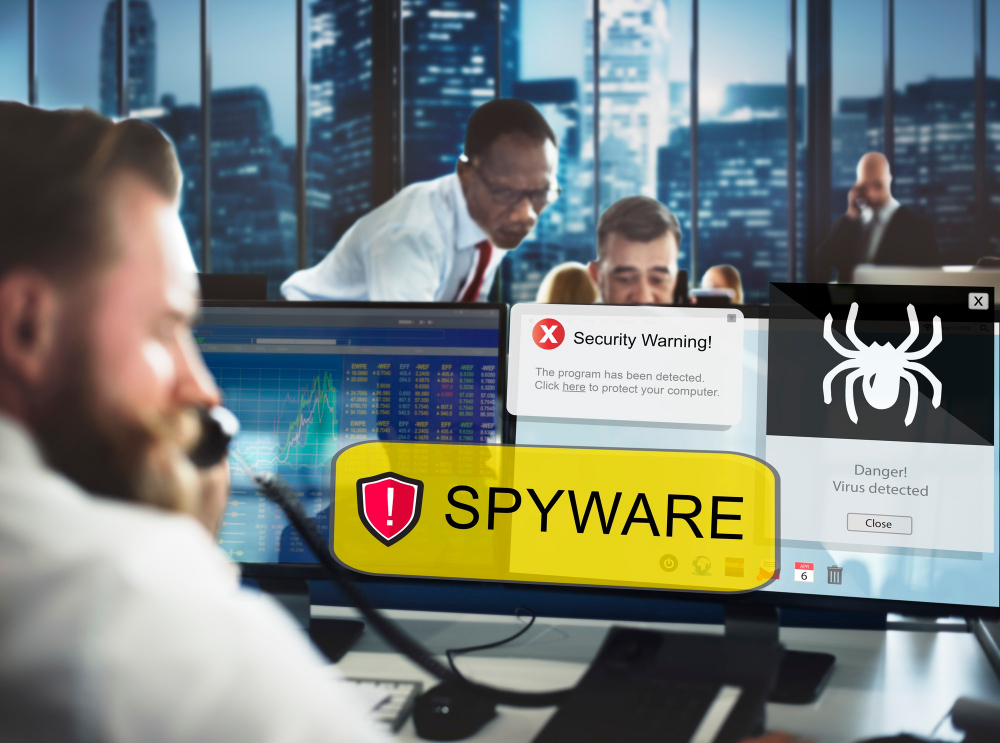 Related: What are Spyware?
The majority of spy apps function by tracing the GPS location of the targeted device, furnishing real-time whereabouts on a map. Additionally, some variants can intercept text messages, log call history, and observe interactions on social media platforms. It's essential to note that the ethical implications of using such apps vary, and their legality depends on the jurisdiction and the intended use.
5 Steps to Find Hidden Spy Apps on Android Devices
1. Use Settings to check App Permissions
Identifying hidden spy apps on your Android device requires a bit of time, but scrutinizing apps with access to your location, camera, or microphone can unveil any potential secret tracking. Here's a step-by-step guide:
Access Settings: Navigate to your device's Settings.
Explore Apps: Scroll down and select "Apps."
Permission Manager: Look for "Permission Manager" and tap on it.
Inspect Apps: In the list of apps, pay attention to any unfamiliar third-party or spy app entries.
Access Permissions: Click on an app that seems suspicious.
Permission Settings: Scroll to the bottom and access the permission settings.
Toggle Off Permissions: Slide the toggle switch to the left or disable all permissions granted to the app.
2. Find via Android File Manager
On your Android smartphone, you may easily make sure that any potentially hazardous files connected to surveillance programs are removed. You may also do this by going to your Android File Manager, where you should carefully check any files or folders that seem off-putting.
Something strange may be a spy program if it is detected. In these circumstances, you should quickly delete the program in question along with any associated APK files to get rid of the danger. A straightforward process is followed to find and delete a spy program. For increased protection, you also have the choice of explicitly deactivating the "Install unknown apps" function.
3. Reboot the Device in Safe Mode
While in safe mode, reset your phone to turn off all third-party apps and identify unintended applications with administrative permissions.
Follow these methods to find and delete hidden surveillance applications from your Android device:
1. Start the computer in safe mode and disable any external applications to look for illegal administrative rights.
2. To enter Safe Mode, power on the device and press and hold the volume down button until you see "Safe Mode."
3. Select Settings: Access Device Admin Apps by opening the Settings app or looking it up online:
For Samsung: Navigate to Apps in Settings, select Special Access from the drop-down menu in the upper right, and then choose Device Admin Apps.
For different Android variations: Select Device Admin Apps under Device Admin Permissions under Security & Privacy in SettingsReview the list of device admin apps.
4. Remove Unnecessary Administrative Privileges: By clicking "Deactivate this device admin app" at the bottom of the screen, you may disable any apps that have unauthorized administrator rights.
5. Eliminate and leave Safe Mode: Go back to the main settings and choose Manage Apps under Apps.  After uninstalling, restart the program as usual.
4. Use a Malware Scanner App
1. Rely on Reputable Sources: Google Play checks for malware but may miss spyware. Avast Mobile Security, MalwareFox, or Kaspersky Mobile Antivirus are among third-party choices to consider if your smartphone continues to act suspiciously while using Google Play Protect.
See Also: 7 Best Malware Scanner for Android in 2023
 2. Choose Reliable programs: To check for spy programs, use Kaspersky Antivirus or a comparable antivirus like AVG Security & Virus Scanner.
Step 1: Download the App. Open the Google Play Store and type the name of the app into the search bar. Install it on your device after downloading.
Step 2: Scan Apps, Once installed, open the app and initiate a scan. Tap "Start Scan" to examine your apps using the chosen anti-malware tool. if the app detects any suspicious apps, it will guide you on how to safely remove the malware from your device.
5. Check for Apps Tracking Locations without Your Permission
An app is using your device's location if you see a little teardrop icon in the notification bar of your phone. While you may not be using any location-dependent apps, if this signal suddenly appears, it may be a sign that malware is tracking your movements.
Keep a look out for strange location markers on your device to spot such surveillance programs. If you notice a symbol that doesn't seem recognizable, it's probably a sign that someone could be tracking your whereabouts secretly. It's best to look for this symbol in the settings menu or your app drawer. Anywhere you see it on your smartphone, there may be a surveillance app installed, so look out for it.
How To Easily Get Rid of Hidden Spy Apps on Android Devices
As opposed to manually checking your Android smartphone for possibly harmful programs, using a specialized spy app detection tool to find and remove hidden malware is more effective and practical. The Clario Spyware Detector program or any reliable Spyware removers are a great choice. This program adds an extra layer of security to your smartphone by quickly removing any dangers it finds when scanning your device for malware.
5 Best Ways to Prevent Spy Apps from Being Installed on Your Android Devices
1. Only obtain applications from reliable websites, such as the Google Play Store. Stay away from third-party app shops and websites since they can house hacked software.
2. Before installing an app, carefully review the permissions. Installing an app should be avoided if it seeks access to excessive or irrelevant services.
3. Regularly evaluate the installed apps you have and remove any dubious or strange ones. This lessens the likelihood that secret surveillance software will remain on your smartphone.
4. Download a trustworthy anti-malware program from a reputable vendor. Scan your device often for potential threats to maintain the security of your device.
5. In the settings of your smartphone, turn off the ability to install programs from untrusted sources. As a result, untrusted source app installs are prevented.
FAQs
How can I tell if my Android device has a hidden spy app?
Look for unusual behavior like battery drain, increased data usage, or sluggish performance. Also, check for unfamiliar apps in your app list.
Are there specific signs that indicate the presence of a hidden spy app?
Yes, signs include unexplained battery drain, overheating, sudden data spikes, slower performance, and unfamiliar apps appearing on your device.
How effective are anti-spyware apps in detecting hidden spy apps?
Anti-spyware apps are designed to detect and remove spy apps. While they can be effective, it's crucial to choose a reputable app for accurate results.
Can I prevent hidden spy apps from being installed in the first place?
Yes, by being cautious with app sources, reviewing permissions, and regularly auditing your installed apps, you can reduce the risk of spy apps being installed.
What should I do if I suspect my device has a hidden spy app?
Start by uninstalling any suspicious apps. Run a scan with a trusted anti-spyware app, and consider changing passwords for sensitive accounts.
Conclusions
The article discusses ways to uncover hidden spy apps on Android devices and provides steps for detection and removal. It defines spy apps, their applications, and potential ethical concerns. The steps include checking app permissions, using Android File Manager, rebooting in Safe Mode, utilizing a malware scanner app, and monitoring unauthorized location tracking. Additionally, Clario Spyware Detector for effective removal and offers preventative measures such as downloading from trusted sources, reviewing app permissions, regular app evaluation, using anti-malware software, and disabling untrusted source installations.