As the record-breaking heat wave blazes through parts of Canada, Alberta and British Columbia. And because of this citizens are finding ways to beat the heat. People are going to indoor facilities with cooling systems in place or trying to enjoy the outdoors. Technology is never too far from reach. Riding e-scooters is a must try activity for the whole family.
As I have a glimpse into my city of Calgary, a city known for its unpredictable weather, Calgarians tend to flock outdoors in the summer months, soaking in the sun until winter comes. I find individuals taking advantage of the heat while having the comforts of using technology to entertain themselves. By simply sitting on a bench using their device or renting e-scooters through their smartphones. A popular way to travel across Calgary streets with ease.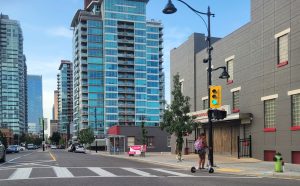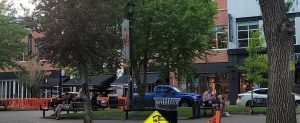 What E-Scooters mean to me?
My family and I find scooters an awesome and fun way to travel. In the words of my 8-year-old son "can we do that again?" It has become a family affair because we can do it as a group. Riding in a row like ducks the kids think that it looks cool. And with the wind in their hair it's also a way to beat the heat. 
The Calgary Stampede is in full swing and these scooters are being utilized by all visitors to the city. Calgary has embraced the use of  e-scooters in their day to day lives because they are fun, easy to use and you can go fast.
Advances in Technology
What is e-scooters you ask? Usually classified as micro-mobility. They are a light two wheeled vehicle that runs on an electric motor used to travel short distances between destinations. It can run distances of up to 25 miles and reach speeds of 18MPH in a single charge. They are also more affordable than using your own car.
E-Scooters are fairly new to Calgary, the city launched a two-year pilot program to see if it would help increase mobility options in Calgary. It started in October 2018 and ended in October 2020. Data can be viewed in the city's data portal www.data.calgary.ca. In 2021, Bird Canada and Neuron Mobility are the two companies approved by the city of Calgary to operate the use of e-scooters used by the public. According to local news with both companies providing a total of 750 scooters on the streets of Calgary. Getting one is as easy as downloading the app and your one click away from finding the closest available scooter. Feeling lazy because of the heat but still want to enjoy the outdoors? Hop on one of these bad boys and your set. 
E-Scooter Companies
Bird Canada – is a proud all-Canadian provider of e-scooters and e-bikes and because they want to help Canadian cities the company has four main goals. To reduce traffic congestion, support public transit, reduce GHG emissions and support local businesses by having riders closer to establishments. www.birdcanada.ca. 
Neuron Mobility – founded in Singapore and is a worldwide provider of rental e-scooters. Operating in parts of Europe, Asia, Australia, and Canada. Their mission "to partner with cities to connect people and places in a safe, convenient and fun way ". www.rideneuron.com  
In the pursuit of making our lives better, technology will also keep evolving. Because of technology like smartphones and laptops we change the way we shop, dress, travel and do business. The fashion industry is also changing according to a blog and can be read here. https://ticktocktech.com/blog/2021/06/23/how-technology-is-shaping-the-future-of-fashion
The heat is here to stay and we are sure to find people out and about enjoying the weather. Taking a short ride through their neighborhood and visiting a favorite ice cream shop. I'm sure whatever you prefer to do in your free time, technology is never too far from reach.