Printers are a common part of our home and office computer setup. No matter how big or small your computer or gadget setups are, there are need to make a hard copy of documents sometimes. Not necessary to get a big one or multipurpose one for home use, it's best to keep it a simple small-size printer that copies colored or monochrome and is used for scanning. For businesses or offices, then a multipurpose all-in-one printer would be your best bet. These all-in-one printers are not just for simple photocopy but also goes in a variety of function.
All-in-one Printers (AIO) are made up of multiple functionalities including scanning, printing, and copying which provides extensive document management in both medium and large enterprises. With these types of printers, you can possibly print or scan every document needed for perfectly organized settings. Another fascinating thing about new-age printers aside from being mostly wireless is their durability, smartness, and interconnectivity. Digitalized smart printers are capable of letting you print documents from anywhere by sending them through your phone or laptop.
Let's have a look at the best 8 affordable printers expertly recommended for buying anywhere in Canada for home and office use. This list contains different types of printers which are the best picks of each category all below $500.
1. HP OfficeJet Pro 8025e All-in-One Wireless Printer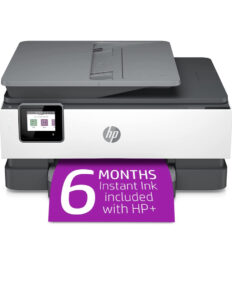 Print, scan, and copy from anywhere using your phone; Scan documents from your phone to Dropbox, Google Drive, and other cloud storage services.
Intelligent self-healing print speeds of up to 20 pages per minute in black and 10 pages per minute in color Connection problems are automatically detected and resolved by Wi-FiTM. Forms, reports, brochures, and presentations may all be printed in high-quality color. It also offers 2-sided printing, mobile and wireless printing, and an auto document feeder, making it a highly quick method to print several pages at once.
2. HP Envy 6455e All-in-One Wireless Printer
You do not need to be at home to get your hardcopy documentation. Connected to your smartphone device, allowing you to print any type of document from any location. With the HP Smart app, you may also send a fax from your smartphone, tablet, or PC. You won't have any problems with connectivity, and you'll be able to get started right away with the simple printer setup that walks you through each step.
Connection difficulties are automatically detected and resolved by AI self-healing Wi-FiTM. At home, you may print borderless photographs and documents. When you activate the HP+, you'll get six months of ink for free with Instant Ink, allowing you to print up to 700 pages every month for free.
3. Canon PIXMA MG3620 Wireless All-in-One Inkjet Printer
Auto 2-sided Print allows you to print on both sides of the paper automatically, which can help you save up to 50% on paper use and costs.
The highest color dpi of 4800 x 1200 delivers outstanding clarity and detail. Fast printing of documents and web pages at speed of 9.9 images per minute (ppm) in black and 5.7 in color.
Comes with a Dye ink which is used for a vibrant variety of colors, whereas black pigment ink is used for crisp typography. Ultimately, you can keep everything low while operating as it prints silently so that others are not disturbed.
4. Canon PIXMA TR4520 Wireless All in One Photo Printer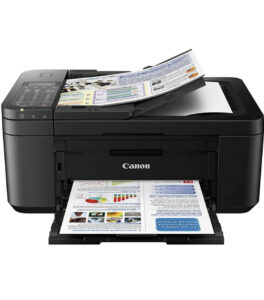 It's easy to understand why Pixma printers are so simple to operate, with features like AirPrint, Mopria Print Service, auto power on/off, a built-in ADF, and Wi-Fi. USB is the standard for connectivity. Inkjet printers are used. iOS, Android, Windows 10 Mobile, and Fire OS (Amazon Fire) are some of the mobile operating systems available.
You may also ask Alexa to print your shopping list, named documents, chosen documents crosswords, coloring sheets, and more. "Alexa, find my printer," says the user. Alexa can also detect when ink or toner is running low and place an order for more when necessary.
5. Epson EcoTank ET-2800 Cartridge-Free Supertank Printer
There are no more small, pricey ink cartridges with this high-capacity ink tank printer, as the innovative EcoFit ink bottles make filling easy and worry-free.
The original ink can print up to 4,500 black pages and 7,500 color pages (2), which is around 90 separate ink cartridges. Not only does it use less ink, but it also has a unique tiny Piezo heat-free technology that creates crisp text, vibrant color photographs, and graphics on nearly any type of paper. EcoTank printers, in general, are one of the strategies to limit the quantity of cartridge waste that ends up in landfills.
6. MUNBYN Shipping Label Printer, 4×6 Label Printer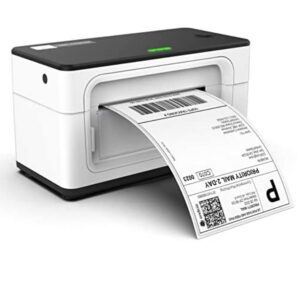 If you own a small business or one that requires long-distance transportation, you will undoubtedly want a personalized and well-designed receipt or label. Insert a label into the printer, and the printer will automatically capture it and feed it into the printer. This address label printer generates labels ranging in width from 1.57 inches to 4.3 inches, making it ideal for shipping and warehousing labels.
A 4×6 label printer analyzes and learns your label automatically, making your company more convenient. All major shipping and e-commerce sales platforms, such as Shopify, Etsy, eBay, Amazon, Poshmark, FedEx, and others, are automatically connected. This printer creates thermal labels. Work is simple, however, ChromeOS is not supported. The MUNBYN Shipping label printer installs and functions as a standard thermal printer, allowing you to print personalized labels from any program on your Windows or Mac system. It does not, however, operate with ChromeOS systems.
7. KODAK Mini 3 Square 3×3 Retro Portable Printer
A picture printer that you can print from the comfort of your own home. When you buy a printer bundle, you might save money on photos. This printer employs 4Pass Technology to create perfect images in a matter of seconds. Each photo is printed in layers of ribbon and then laminated to make it fingerprint and water-resistance for long-term use.
Download the KODAK Photo Printer app to print from your phone anywhere and at any time. You may also use the app's entertaining augmented reality elements and other ornamental features.
8. Canon Pixma TS3320 White, Compatible with Alexa
The PIXMA TS3320 is designed for ease of use and simple replacement using only two fine cartridges for excellent print quality. Wireless connection is a quick setup process that takes only a few minutes on your smartphone. Connect your new printer to your smartphone for a quick setup that requires no computer. With built-in wi-fi, you can print from any room, including computers, tablets, and smartphones. Print from your iPhone, iPad, or Mac without using any additional apps using AirPrint.