Having a cinematic view is one of the best experiences for movies or game lovers. Having it in a portable, advanced and clearer way is another great experience entirely. Most smart TVs provide all these but how about cost and mobility? That's where a projector as an alternative comes in.
Projectors, of course, can't replace large-screen TVs but are still a better substitute that gives you an equal cinematic experience. For college students, a tablet might be a good alternative. More so, projectors make it possible to connect to any device of your choice, to represent its screen in a larger, brighter, and clearer way.
1. AllForBest Native 1080p Projector
Delivers True HD Home Theater, 4 times more details than 720P projectors, with a high native resolution of 1920*1080 and contrast ratio of 8000:1giving Sharp & Clear picture quality for Entertainment, presentations, and other large room televised activities. With a brightness of 5500 lumens, an aspect ratio of 16:9/4:3/Auto, a display size of up to 300 inches, and a fantastic contrast ratio of 8000:1, this display is ideal for corporate presentations. built-in power source with a 78000-hour life span
Built-in surround sound speaker; Quiet and sophisticated cooling system; flip screen; image zooming; ceiling mountable HDMI, 2*USB, VGA connections, AV, and Audio Out are among the connectivity options offered for this projector. Connections to computers, cellphones, and other streaming devices are possible.
2. Kodak Ultra-mini–Portable Projector
Superior LED Brightness, pristine Picture Quality are features of the advanced DLP Optical Engine (Best performance when used in dark to dim-lit rooms)
The smallest and lightest DLP projector on the list. It fits into your handbag, briefcase, or back pocket for use at home, plays onboard room-filling built-in speakers, 3.5mm input, and integrated HDMI, USB, and MicroSD hookup are all included in this media player. HDMI and Bluetooth enable wired & wireless connection to android smartphones, tablets, and other mobile devices.
No complicated menu screens or buttons; simply connect to your favorite source. The small but capable projector can display 16.7 million colors; comfortable, standard graphics, lifelike detail for your favorite video games, movies, photo slideshows, and more.
3. YABER Wifi/Bluetooth Projector
The YABER V6 is a portable native 1080P projector featuring a contrast ratio of 10000:1 and a 16:9/4:3 aspect ratio. Although not as big as comparable 1080P projectors, it provides a crisper, brighter, and more colorful image for home entertainment. This WiFi projector works with both iOS and Android systems and can freely reflect films, photographs, and games from your smartphone or other Miracast-enabled devices.
The newest Bluetooth 5.0 chip is included inside the V6 movie projector, allowing you to connect your Bluetooth speaker wirelessly at any time. Without additional speakers, the built-in 6w dual HiFi Stereo speakers with an SRS sound system deliver a fantastic auditory sensation experience.
It has an amazing zoom capability that allows you to reduce the image size from 100% to 50% using the remote control without having to move the projector.
This offers both local and online upgrading options, unlike some other projectors that can only be upgraded locally by plugging in a USB.
4. TMY Cinema Projector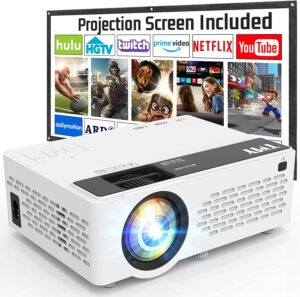 With a resolution of 1080P Full HD (Native 1280 * 720). The latest 3LCD color calibration and adjustment technology restore more delicate color details than other tiny projectors, giving our clients a true, dynamic, and color brilliant 1080P HD projected image.
This projector has a viewing size range of 32″ to 220″ and a projection distance of 1.5 to 6 meters, making it suitable for both indoor and outdoor use. 4:3/16:9 aspect ratio, 4000:1 contrast ratio 60,000 hours of lamp life the enhanced uniform lighting system. This gives a good visual experience by ensuring that no dark areas occur on the screen's edge.
This projector is ideal for a broad range of input sources, including but not limited to TV Stick/Box, Game Consoles, PCs, Smartphones, thanks to its built-in HDMI, VGA, AV, and TF card slot, as well as the accompanying AV & HDMI cable.
5. Kodak Luma 350
A portable smart projector renders HD video & imaging with stunning color, clarity, and led-lumen brightness. Capable of displaying up to 150″ use with the iOS luma 350 apps for intuitive wireless access
Recreate the visual excellence of a theater project in full ultra HD resolution with a fascinating picture quality built-in speaker that allows you to enjoy audio without using additional equipment directly from your phone, you may change settings, access apps, and select content.
Directly on the projector device, you may download apps, browse the internet, and access other exciting content. Features manual focus, audio output, and remote control, easy-to-use light-up touch controls, manual focus, audio output, and remote control use the android app or the ios app to connect.
6. Joval Portable Projector
The JOVAL small projector comes with a 100 ANSI brightness LED light source and a native 1920x1080P Full HD resolution. This portable projector can deliver high-definition images with excellent image quality. You may use it for a variety of events, including home theater, fake windows, parties, outdoor movies, and so on.
This outdoor and home theater portable projector has up-to-date WiFi connectivity and is compatible with any mobile device. Screens on smartphones can be easily synced. Also compatible with PCs, external speakers, tablets, laptops, TV sticks, gaming consoles, and more is the 1080P movie projector with HDMI, USB, and audio input connectors.
7. BenQ HT2050A
Perfect as a home theater projector of 1080p projector with 2,200 Lumens of brightness, a high natural contrast ratio, and a 96 percent Rec. 709 color accuracy calibration. By projecting a 100-inch screen from just 8 feet away, you can bring the action to the big screen. Up to 300-inch projects are possible.
Not only for movies but the ultra-smooth gaming experience is also ensured by the extremely low input latency of 16ms and various game modes.
A variety of connectivity input options are also available, which include HDMI, USB, and more. DLP is the most widely utilized technology, with 90 percent of all cinemas and 100 percent of Digital IMAX theaters using it.
8. ViewSonic 3800
Visually advanced features It's perfect for usage in schools and small businesses. Projects 120 inches in 3800 lumens from a height of 15 feet 8 inches. Setup and control are simple; simply connect in your presentations, films, and photos.
The lamp can beam brightly for up to 15,000 hours in SuperEco mode. With input options including HDMI, VGA, and more, it works with most media players, PCs, Macs, and mobile devices.
9. AGKing 2022 mini projector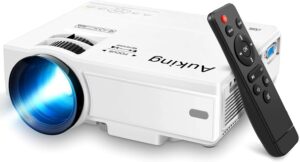 Portable 2022 home theater projector with 2000:1 contrast ratio, 1080p resolution, and 35 percent brighter pictures than its previous version. With a larger screen and crisper image, it gives you a superior home theater experience.
Another small but capable projector has a projected display size of 3217 inches and a projection distance of 1 to 5 meters. Built-in speakers provide outstanding loud sound quality; however, you may connect them to external speakers for enhanced sound quality.
Most projectors fan are loud, this projector is quieter and more durable than prior generations. The lamp's heat is efficiently cooled by a powerful cooling system, increasing the bulb's life to 55,000 hours, which means you may use it for more than 15 years.
This portable movie projector is ideal for watching films, TV shows, exchanging images, and watching football matches, among other things. It can simply connect to any device or gaming console of any type,
10. Optoma HD28HDR
Enjoy crisp and detailed 1080p (19201080) pictures (with 4K input) with a 50,000:1 contrast ratio that produces sharp and detailed images from high-definition video without downscaling or compression.
For a better viewing experience, HDR10 technology (with 4K input) allows for brighter whites and deeper black tones.
A 6-segment color wheel (RYGCWB) offers realistic color with sRGB and REC.709 color profiles; enjoy an astounding 4,000 lumens of brightness for lights-on viewing.
With a 120Hz refresh rate and a 16ms reaction time, the Enhanced gaming mode is ideal for gamers. Game display mode enhances shadows and gloomy environments to make upcoming hazards more visible.
By smoothing light output to provide high contrast, Dynamic Black technology adds depth to the image; bright scenes seem crisp, while dark ones stay detailed.
Thinking of changing the phase of experience, then 4K resolution/views are your perfective choice. Though they are expensive, but still worth it especially if you want a true representation of your movie or game graphics. Not that 1080p projectors can't be used to view 4K movies but there are some reductions in graphics rending and the way it appears also, 4K are the actual best when it comes to gaming as they have low input lag which sends signal faster. In addition, some of these also have AI functions for home gadget commands. Here are the 7 best home theater projectors with True 4K resolution for 2022.
11. Optoma True 4k UHD Gaming Projector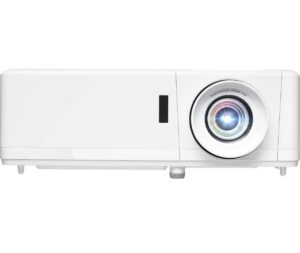 Powered with HDR10 and HLG technologies which provide brighter whites and deeper black depths for a better viewing experience of gaming and movies.
With 8.3 million different addressable on-screen pixels, 3,600 lumens of brightness, and 4K Ultra HD all provides a high-quality viewing.
A perfect representation of your gaming with the ultra-fast 240Hz gaming refresh rate that gives unrivaled smoothness and no blur. Enabling the enhanced gaming mode for a reaction time(input lag) of 4.2ms at 1080p and 16ms at 4K UHD for the lowest input latency on a 4K projector.
Not only brightness but also color mixing resulting in a clear image; said to come with RGBWRGBW 8 segment color wheel ratio and generate a high contrast ratio (1,000,000:1). Remember, the higher the ratio, the higher the graphics quality.
With 1.1x zoom and 40° keystone correction, the picture will be perfect for any position or angle of placement. Image view from a distance of roughly 13.1 feet, it projects a 120-inch image, while it generally may project up to a 300-inch image.
Connect to gaming consoles, PCs, Macs, mobile devices, and other streaming devices. Input connectivity options include HDMI 2.0 inputs with HDCP 2.2 support, HDMI 4K, USB, VGA, and more.
Check Out on Amazon
12. BenQ TK800M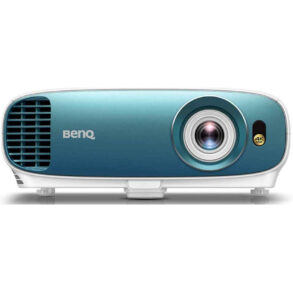 Play your favorite console games in stunning 4K resolution. This projector's lower input lag (the time interval between when the gaming system sends out a signal and when it is received by the projector, measured in milliseconds). The lower the input lag, the better a projector makes gaming on your PS4, and other devices more enjoyable!
Awe-inspiring DLP 4K UHD visual quality is delivered by 8.3 million unique pixels. The brightness of 3000 Lumens, which is a quite accurate addition to your living room for astonishing clarity and crisply, and finest Black levels image.
Increase image clarity and sharpness with an all-glass 4k-optimized lens array (7 elements/4 groups) with better light penetration. However, you get the best view by mounting it but also good on the table, wherein a distance of 16.3 ft you get a 150-inch view. Check Out on Amazon
13. HiPP 4k Projector
With a space-saving design, quick and easy setup, and the option to alter your projection from 80 inch to 150-inch best placed on the table, you can enjoy a cinematic experience right in your own house!
It's 2500 lumen brightness which will have a lifetime of up to 25,000 hours of maintenance-free operation at1800 ANSI Lumens of brightness combined with state-of-the-art image and color performance.
With 60W of power, the built-in stereo surround speakers deliver high-fidelity sound. Lossless DTS-HD and Dolby Audio eliminate distortion for a better audio experience.
This has other stunning features including; Bluetooth connectivity for phones and speakers, multi-screen view; and AI android app for command (Aptiode) with android 7
Check Out on Amazon
14. OMMC UHD Home Projector
Ommc 4K laser tv delivers incredible color accuracy and stunning, razor-sharp images, making it another great projector for the high-end home theater and a good choice for football lovers.
However, it has a low brightness capacity of 2500 lumen, though this is not most important especially if there's no external light in the room.
Perfect contrast ratio of up to 1,000,000:1 with dynamic black and native contract of 1,500:1. This projector's ultra-short throw ratio allows it to be placed on your home entertainment stand. only inches away from a wall or screen, yet project an immersive 100-inch image. Powered with a 4-core CPU and a 2-Core GPU for graphics rendering.
This Home Theatre Projector is said to be almost maintenance-free, due to the latest laser light technology, allowing you to watch movies or play games for long periods of time. Two built-in Dolby Surround speakers Create a superior audio experience by providing high-fidelity sound with no essential need of an external sound source.
Check Out on Amazon
15. Axxa 4k LED projector
Portable design and operation used for the onboard media player to play videos, images, music, and text directly from a USB or tf card.
It's portable in size making it simple to transport between rooms or across your house. 4K UHD native (3840×2160) 1500 led lumen, HD pixel resolution luminosity backed by 30,000+ hours quad-cast LEDs
Remote Electric Focus gives you more control over your settings, ensuring a clean image. Premium Dual 2W Speakers provide room-filling sound for a very immersive watching experience.
Ideal for use in a basic home theater or in a business setting. Screen size up to 200″ (in low light conditions).
Check Out on Amazon
16. Samsung 120-inch smart Projector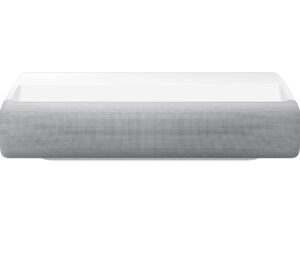 Enhance your home theater experience with a cinematic picture. Not just because of the 4K resolution and 2200 lumens, but also because of the audio from the 2.2 channel system's strong sound subwoofer and 30W speakers.
This little 4K projector can be placed inches from the wall to transform any space into a home theater. You may also use your projector to access your favorite applications, streaming services, and smart home gadgets.
Because this is a Samsung product, it's not only clear, colorful, and brilliant, but it's also a fantastic smart home gadget. You can ask Alexa, Google Assistant, or Bixby to access applications, change channels, and operate smart home devices, among other things.
It is also believed to have a strong CPU that transforms the image to 4K quality
Check Out on Amazon
17. ViewSonic Home Theater Projector
With a brightness of over 3200 ANSI lumens and a good contrast ratio, the PX701-4K allows you to watch movies and shows in both bright and dark surroundings. True 4K UHD Resolution with immersive theater-like hues on a screen up to 300 inches
it's 1.1x optical zoom ability, anti-warping stabilization, and automated vertical and horizontal keystoning, the PX701-4K can be used in more locations than ever before, including curved surfaces.
Comes with a 4.2ms reduced input latency and a stunning 240Hz refresh rate, experience the excitement of gaming on the large screen.
With its built-in SuperEco mode, you can save energy and extend bulb life while enjoying up to 20,000 hours.
Check Out on Amazon
4 specifications to consider when getting a projector for home theaters
When getting any home or appliances, you should mostly look at the quality that satisfies your needs. This will give you perfect insight into what specifications you should look forward to and it will also moderate your cost. Here are the top 4 specifications you should look closely at when
Display Size and Resolution:
Screen resolution is a term that describes how clear the text and images shown on your screen are. Larger resolutions, such as 1600 x 1200 pixels, produce crisper images. They also seem smaller on the screen, allowing for more objects to be shown.
The bigger a display is, the higher the resolution it can accommodate. Types of screen resolutions Include High Definition (1280 x 720) or 720p, Ultra HD (1920×1080) or 1080p, 2K Quad HD, and 4K Quad HD. Every excellent smart TV will have a display resolution of at least 1080p.
Image Brightness
The brightness of a projector is measured in lumens. A minimum of 1500 lumens is required for home theater projectors if ambient light is kept to a minimum. A projector with a minimum of 2500 lumens is appropriate for schools, conference rooms, or rooms with windows.
The two most prevalent types of projector screens are LCD (Liquid Crystal Display), DLP (Digital Lightning Processing), and most commercially available projectors employ one of these panels. In terms of brightness, backlighting, colors, power consumption, and adaptability, these qualify them. DLPs, on the other hand, are well-known for their mobility and lightweight.
| | |
| --- | --- |
| Brightest | LCD>>DLP |
| Color Contrast | DLP>LCP |
| Picture Quality | LCD>DLP |
| Rainbow effect | DLP>LCP |
| Sharp Images | LCD>DLP |
Contrast & Aspect Ratio
In its most basic form, the contrast ratio is the ratio of light reflected from an all-white picture to an all-black image. A 3000:1 contrast ratio implies that the white picture is 3000 times brighter than the black image in a projector. The higher the contrast ratio, the more information on the projected image, whether it figures, photos, or video, can be seen.
Color contrast is what allows us to discern the subtle nuances of colors. The aspect ratio of a projector is the proportion of its width to its height. A 4:3 display, for example, results in a more square picture, whilst a 16:9 ratio results in a more rectangular image.
For example, a 4:3 aspect ratio indicates that there will be 3 equal units of vertical measurement for every 4 units of horizontal measurement. Blu-ray discs and HDTV signals have a common aspect ratio of 16:9. It is the DVD's only natively supported widescreen aspect ratio. This aspect ratio is used by the majority of home theater projectors.
Connectivity
The connection mode is also an essential spec to look at. The easier it is to connect, the more motivated you'll be to make use of the projectors. Aside from that, having a Wi-Fi/Bluetooth-supported connection makes it more portable and easier to use anywhere, as you need additional loads of wire to connect.
However, there are hybrid connectivity projectors that support HDMI and Bluetooth which gives a dual option especially if you're projecting from a laptop.
Conclusion
The specifications you go for depending on what you want and what you can afford as long as it's clear, wider, and reliable. However, most projectors on this list are cost-effective and their efficiency expertly fact-checked along with user's feedback
Not only do most projectors work for home theater use, but many other productive uses. You can connect to media players and gaming consoles for big-screen presentations and gaming; play games, stream videos, and share photographs with 4K UHD HDMI dongles like the Amazon Fire TV, Google Chromecast, or Apple TV. To complete your home theater adventure, you can look at the best home soundbars and speakers for 2022