Technology innovation and improvements get stunning every decade. From smart home, outdoor, to work, economy, it has obviously made multiple changes. However, the ease and convenience tech gives us to get improved every day. In this century, it becomes every part of our life, health, activities, and works most importantly.
Talking about homes, there were times we have analog TVs, Fans, cooking utensils, and other home accessories being manual, then it got to a point which they become digital and easier. Nowadays, home gadgets are becoming smart and more convenient to use with the invention of fast connectivity, Artificial Intelligence (AI), and robotic machine learning.
This AI enables you to give a voice command to your devices without even having to touch them before operating, and that's not the best part, because, in coming years, they'll only get smarter.
For instance, you can control every of your home appliances altogether using a set of Alexa or Bluetooth-powered devices, another example is Samsung's SmartThings, which allows you to control all of your home's linked gadgets. This article covers cool home smart gadgets for help and convenience in the living room, bedroom, kitchen, home office, and even security activities in 2022.
15 Best Smart Home Cool Gadgets for 2022
Steamer for Clothes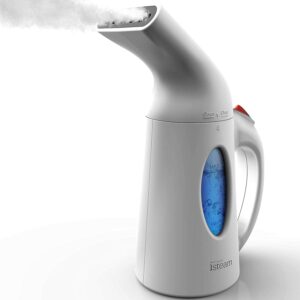 A very smart, portable drier, not only useful for drying but also useful health wisely. To get rid of unhealthy agents on clothes, steam clean them. for over 10 minutes, a powerful soothing steam flow removes stubborn wrinkles
Useful for all types of garments or fabrics, this powerful clothes steamer is highly effective and gentle. Remove all wrinkles from your favorite suit, shirt, or dress in an instant. It's perfect for delicates, draperies, and even bedding. Perfect as an alternative for those last-minute rushing ironing needs.
Smart Microwave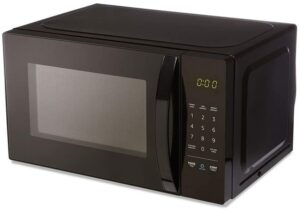 Alexa is constantly improving and introducing new settings. Automatically control your microwave by speech control to set time, start, and stop. Functions for defrosting veggies, making popcorn, cooking potatoes, and reheating rice have never been easier.
Quick-cook voice settings and a simplified keypad enable you just ask Alexa to start microwaving with an Echo device. With 10 power settings, a kitchen timer, a child lock, and a turntable, the compact design saves counter space.
Multipurpose USB Wall Charger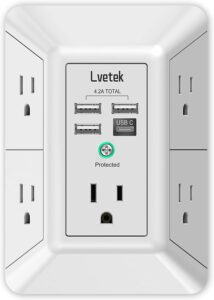 This surge protector protects gadgets by enhancing power quality. Comes with Multi plug outlet extender which can transform 2 into 5, adding 4 USB ports. wall plug style, no untidy power cord, no need for a workstation, ideal for dorm rooms and bedside.
Multiple USB A port up to 2.4A, USB C port up to 3A MAX; 5V 4.2A shared rating Compatible with mobile phones, cameras, laptops, power banks, and other USB devices, this USB wall charger can identify charged devices and give charging speed.
Simplicam wireless home security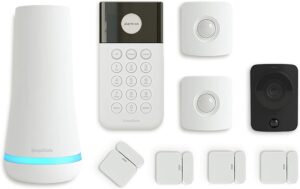 Simply connect the base station, install your sensors, and connect your Simplicam to begin securing your home in minutes coupled with an alarm.
With a range of up to 1000 feet and no need for an extension, this groundbreaking signal burst technology is strong enough to reach residences of all sizes.
The SimpliCam security camera allows you to watch what's going on at home from your phone, tablet, or computer at any time, plus it includes a built-in stainless steel shutter for maximum privacy control.
Smart motion sensors detect movement within 30 feet, the camera has a 90-degree field of vision. When positioned in a corner, it provides full range coverage.
Level Lock Smart Security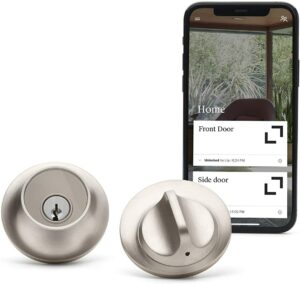 The revolutionary and small wireless design of the Level Lock – Touch makes it simple to install with just a screwdriver. You can lock or open your door with the touch of a finger, key card, Level Home app, or a key by disguising technology on the inside of the door. It's compatible with both iOS and Android.
Meets the most stringent security and durability requirements for your home.
With HomeKit, you can access your home from anywhere, lock and unlock with Siri, conduct automation, and more.
Smart Light Bulb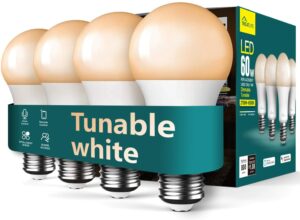 When you leave home or travel, you can keep your WiFi light bulbs connected to your home network so you can manage them remotely or check their status via an APP on your smartphone. To turn on/off or dim/brighten your smart lights, simply provide a voice command. Treat life smart lights are compatible with Alexa, Google Home, and SmartThings. Unlike other bulbs, they are dimmable led bulbs that can be changed smoothly. Y
You may change the brightness and color temperature using the APP to create a soothing and pleasant environment to fit your mood. Most especially, smart lights use just 9 watts of energy, which is comparable to 60 watts of standard incandescent lamps and saves up to 80% on energy.
Echo Dot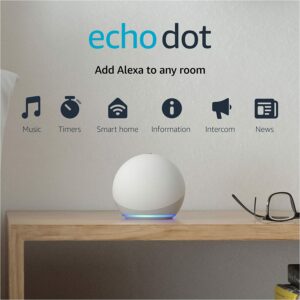 One of the most popular Alexa-enabled smart speakers. Crisp voices and balanced bass are delivered by the elegant, compact design for a rich sound. Songs from streaming services are available. Multi-room music allows you to listen to music, audiobooks, and podcasts across your house.
In-built Alexa can deliver jokes, play music, answer questions, check the weather, and set alarms, among other things. With other compatible smart tech devices, you can use your voice to turn on lights, adjust thermostats, and lock doors. When you step into the room, switch on compatible lights, play your Flash Briefing, or start the coffee maker. More smart home Bluetooth speakers you can go for in 2022
Vector Smart home robot
A smart robotic tech device for the house that is driven by AI and sophisticated robotics, has personality and can be interacted with through sight, voice, and touch. Vector is a voice-activated assistant that can answer inquiries, take photographs, time supper, and show you the weather, among other things.
He even has Alexa built-in! He's cloud-connected through WiFi, which means he's continually learning and upgrading with new abilities and features.
A fresh battery can give up to 30% additional runtime and can be readily replaced. Its new 5MP camera will improve his facial recognition, allowing him to identify pets and even detect when you smile.
Smart Kitchen Faucet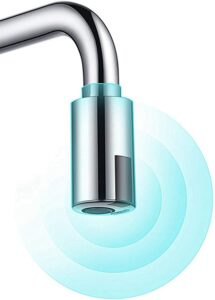 Make your kitchen faucet smart with the automated motion sensor. Every time you wash your hands, dishes, or eat, Autowater is triggered.
There will be no more adjusting knobs or touching faucets on a regular basis. Provide a cleaner and safer atmosphere by avoiding bacterial contamination.
Powered with Upper and Lower Sensors for a variety of applications. The upper sensor detects continuous running water and uses a wave to start and stop it. The lower sensor is only active when there are things in the sensory region.
Robot Vacuum cleaner
These home vacuums are powered for up to 100 minutes with steady, strong suction at a sound no louder than a running microwave.
When more vacuuming strength is required for the optimum clean, the vacuum automatically raises suction force within 1.5 seconds.
For protection, there's an anti-scratch tempered glass top cover, an infrared sensor for avoiding objects, and drop-sensing technology to prevent falls. It recharges itself so it's always ready to clean.
Smart Home Diffuser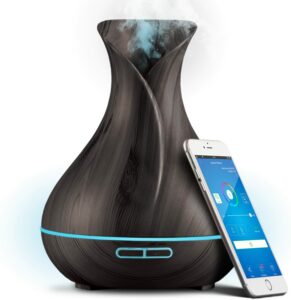 An artificial intelligence diffuser that connects to the app and subsequently to your current Alexa or Google Home accounts. You can then use your voice to easily operate your smart diffuser, such as configuring it to work at specific times each day or on specific days, changing the colors, mist settings, and other features.
Excellent addition to your smart home that is wifi compatible and powered smartly. You may use it normally or download the companion app to adjust functions such as LED color, mist strength, timer settings, scheduling, and more straight from your phone.
Cooking Pal
All of the functions of a food processor, scale, steamer, kneading machine, slow cooker, mixer, blender, and rice cooker are combined in one pot, eliminating the need for many pots and pans.
Preset cooking modes include Steaming, Kneading, Keep Warm, Sauteing, and Manual mode, which allows experienced home chefs to alter Speed, Time, Temperature, and Blade Rotation (controls chop or stir).
With Wifi and Bluetooth 4.2 capabilities, you can easily cook while stepping away from the kitchen. Within the tablet and mobile device app, you may monitor the status of each stage.
Wireless Bluetooth Speaker
A collection of cool technological devices for your new house, kitchen, or room, as well as for outdoor trips, camping, and gardening. The wireless speakers with lights may be used as retro patio torches, hanging lanterns, camping equipment, and night lights, among other things.
A fantastic alternative for actual "flames" are 96 LED torch flickering romantic dancing flames. Housewarming presents for a new home include a colorful environment and pleasant music to accompany outdoor activities.
P65 waterproof protection protects against rain, dust, snow, and spills, making it ideal for use in the bathroom, around the pool, or at a beach party. A wireless range of up to 33 feet is possible.
Mug Warmer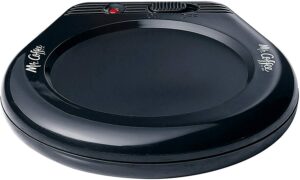 Working in a home office and still want to keep your coffee hot while you sip? This is the best for the job, a 17-watt cup warmer is ideal for use with coffee, tea, hot chocolate, and other beverages. When it's hot, the easy on/off switch with an on-light indicator lets you know.
This will be one of your favorite home gadgets because of the long chord length that allows you to use it practically anyplace.
Magnetic Levitating Bluetooth speaker
The magnetic levitating speaker uses the most up-to-date magnetic levitation technology to allow UFO speakers to float freely in mid-air without any support, displaying both inventiveness and the allure of magnetic mechanics.
The UFO-like floating speaker's distinctive design and the base's continually flashing color LED lights provide a fantastic visual experience that is sure to catch people's attention!
A cool, attractive floating speakers Bluetooth wireless speaker features the newest Bluetooth 5.0 technology, which allows for quicker transmission and greater anti-interference capabilities. It also features a broad variety of expanded compatibility and a 33-foot wireless connect range.
Mobile phones, tablets, laptops, desktop computers, cellphones, smart televisions, and other devices may all be easily connected to the speaker.