Document safety is one thing to look out for when you go repair your computer and mobile devices. Just like with phone repairers, where you get your sim handled to you, and no password requested, it's similar in computer repair too. Your data, no matter what it is, it's private to you and you alone, until you grant access. Repair mostly boils down to either hardware or software. While the software might require the extra type of access beyond physical parts, the hardware doesn't at all.
Related: Data Recovery Services in 2023
Yes, the technician would of course want to test the hardware, but that can be done without gaining access to the computer. Even though software solutions might require access, there are always ways competent technicians will keep your data safe even from them. Data safety is not about the technician per se, but how safe it is for the technician to not get into the third party. However, you should know the extent of the safety of your data with the technician and how a good technician handles it. Walk with me…
Data Safety at Repair Shops
While the security of customer data in computer repair shops cannot be guaranteed with absolute confidence, respectable businesses make an effort to put precautions in place. There is also limited access to client data, encrypted storage systems, stringent security measures, and non-disclosure agreements that technicians must sign.
While no system is completely impervious, a combination of cautious actions taken by the customer and the repair business can greatly lower the dangers connected with data breaches throughout the repair process.  Repair businesses strive to uphold the confidentiality and integrity of customer information by following these procedures.
See Also: Top 4 Types of Data Recovery in 2023
Customers are advised to adopt security measures on their end to further improve data safety. To do this, make a backup of any crucial data before bringing the device to be repaired. It's vital to remember that different repair businesses may have varied levels of data security. Prioritizing research and selecting an organization with a solid reputation for data protection is important.
What you should do before every Computer repair to keep your Data Safe
Before any computer repair, or opting for any computer repair service, keep your data in my mind if you have very important ones to protect. Of course, there are emergency repair scenarios, but still, keep this in mind.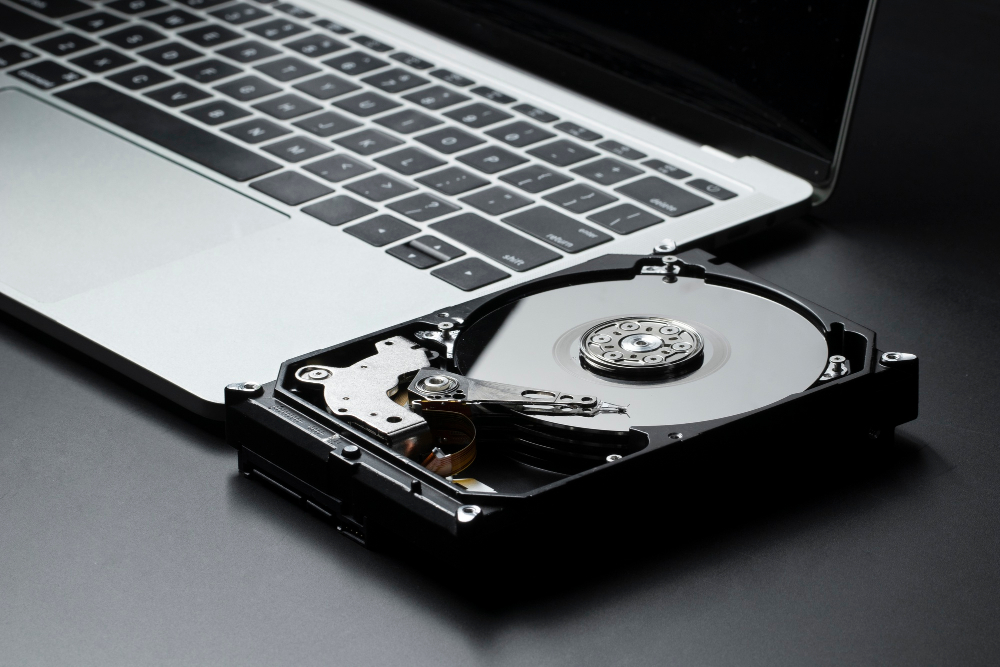 As said earlier, you have a part to play in your data safety, the same as your technician. Here are the 5 important steps you should take to keep your data safe before computer repair.
Data Backup
When leaving your device with a computer repair company, data backup is an essential step to take to ensure data security. You construct a defense against potential data loss or unwanted access throughout the repair process by routinely backing up your key files and data.
Having a trustworthy backup mechanism in place is advised, whether it be cloud storage, an external hard drive, or a combination of both. By being proactive, you can guarantee that your important data will still be intact and accessible even if something goes wrong during the repair.
Related: How to Retrieve Data from Hard Drive in 2023
Password Protection
You can add an extra degree of security to stop illegal access to your personal information by creating secure, one-of-a-kind passwords for all of your devices and accounts. Be careful to use a password that combines letters, numbers, and symbols to safeguard your computer, smartphone, and other devices. Additionally, if available, take into account turning on features like biometric authentication (fingerprint or face recognition). If someone has physical access to your device while it is being repaired, this helps protect your data.
Trustworthy Technicians or Repair Shop with Privacy Policy
The presence of reliable specialists who value secrecy and privacy is essential to data security at computer repair facilities. Verify a repair shop's reputation for protecting the privacy of their client's information before choosing them. Techs you can trust follow stringent privacy guidelines and are aware of how important it is to protect your personal information.
See Also: How to Treat Infected Computer Remotely
For the secure and expert handling of consumer data, they should have rules and processes in place. Your private information is secure with trusted experts who prioritize privacy and confidentiality.
Data Handling agreement with the Technician or Repair Shop
It's crucial to have a clear data handling agreement with the technician or repair shop to secure data security at a computer repair shop. This Agreement describes how your data will be treated, kept, and safeguarded throughout the restoration process. The technician will only handle your private information if necessary for the repair. A written agreement establishes mutual understanding and accountability about the processing of your data between you and the repair shop.
Data Verifications After Repair
Finally, to guarantee the integrity and comprehensiveness of your data when the repair is finished, data verifications must be carried out. This entails making sure all of your files and folders are there and accessible. No data has been unintentionally changed or lost over the restoration procedure.
Check that all crucial data, including essential documents, pictures, videos, and other types of media, is accurate. With the knowledge that your data has been successfully restored and that the repair did not have any unforeseen consequences, this step gives you peace of mind.
How do Technicians Do to keep your Data Safe in Hamilton?
To stay current on the most recent data protection techniques, security precautions, and industry requirements, technicians, like those at TickTockTech for instance, go through ongoing training. By staying informed, technicians can successfully handle new risks and weaknesses. Also ensuring that they have the knowledge and abilities needed to protect consumer data.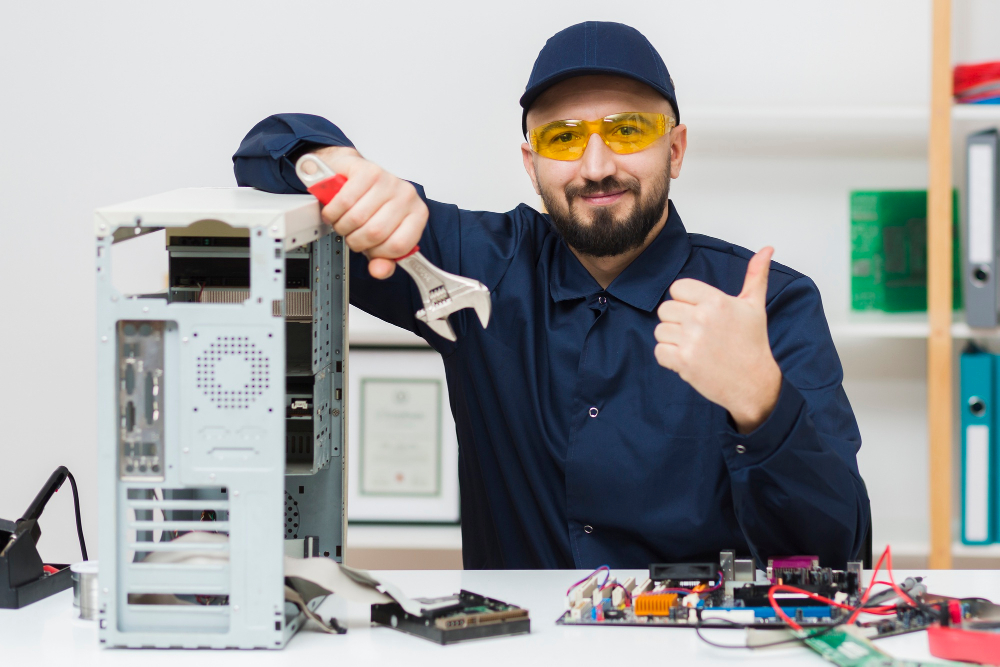 Another important factor is adhering to privacy laws and industry standards. Technicians follow these rules and regulations to make sure their actions conform to accepted standards for data security. Technicians can maintain a high level of professionalism and knowledge in protecting client data with regular training and compliance. Other ways you can ensure data safety is onsite service with same-day repair, and backing up then restoring the data, if the repair could affect it.
Same-Day Onsite Repair Services
Same-day onsite repair offers quick assistance for computer problems right at your location. Repair specialists in your area can quickly travel to your site and complete the work there. Reduce data exposure risk by having technicians repair your device on-site, avoiding the need for relocation. Technicians come prepared with the necessary equipment to repair your computer while you observe. A quick and secure method of computer repair.
Backing up and restoring
There may be some file-related repairs that need to be made. Software fixes include upgrades and installations, as well as hardware repairs involving the RAM or ROM. Experts emphasize data security through routine backups before making system changes in such circumstances. Additionally, professionals can minimize the danger of data loss by restoring your data to its original state after the repair is finished. Technicians give trustworthy data backup and restoration services.
Data Safety from Third Party
Computer repair Technicians adhere to tight rules to make sure that unauthorized people cannot access, share, or compromise client data. When transferring or gaining access to sensitive information, technicians employ secure communication channels and encrypted connections.
To protect consumer data privacy, technicians also go through background checks and sign binding confidentiality agreements. To protect client data from any dangers, they stay current on the newest security procedures and technologies.
Is my data safe with computer repair technicians?
Computer repair technicians have a responsibility to handle customer data with care and ensure its safety. Reputable technicians take measures to protect customer data during the repair process.
Should I be concerned about data breaches or unauthorized access?
It's essential to choose technicians from trusted and reputable repair shops to minimize the risk of data breaches. Technicians should have policies and procedures in place to prevent unauthorized access to customer data.
Are there any legal or ethical obligations for technicians regarding data privacy?
Yes, technicians are typically bound by legal and ethical obligations to protect customer data. They should handle data by privacy laws and regulations, and they should prioritize the privacy and confidentiality of customer information.
What should I do if I have concerns about data safety with a technician?
If you have concerns about data safety, it's important to address them with the technician or repair shop before handing over your computer. Ask about their data security practices, encryption methods, and how they handle customer data.