Computer repair is quite an inevitable part of things active computer users would expect in their years of using the computer system. The computer device is essentially in its hardware and software working together to give outputs. It's a clear thing from the definition being an electronic machine that accepts and inputs processes the input and gives the result as an output. The inputs are done with hardware like the keyboard, the processing is done by both hardware and software like the CPU and the Operating system. Shops to fix computer Ottawa.
Essentially both are important to the activities of your computer, as you don't have both categories working effectively. The computer hardware is prone to damage, falls, seizing, or crashing. In as much as most of the issues can be repaired, they can also be properly maintained to avoid constant repairing.
The software doesn't get damaged, they aren't physical, but it can be vulnerable or get outdated. Vulnerable in the sense that they can be attacked by a hacker or can be affected by malware or virus. If the software gets too outdated, you won't experience the new features your computer has to offer. When software gets outdated, it lost protection and monitoring from its creators. Having to get a good repair shop won't make you go for repairs often, especially when it comes to hardware repair.
Common Computer Repair Services offered in Ottawa
Hardware Repair and Replacements
In a situation your computer is experiencing a hardware default, you can troubleshoot and solve them on your own sometimes. However, If your computer gets broken, especially the screen, casing, or internal hardware, then you should get to a computer repair technician near you in Ottawa. They will help with the diagnosis of the components if it requires repair or replacements.
Related: Should I repair my computer or buy a new one
Parts such as the motherboard, CPU, RAM, hard drive, power supply unit, cooling system, graphics card, and other peripherals are included. In some circumstances, changing a hardware component, such as updating a computer's RAM or replacing an obsolete graphics card, is necessary.
Software Update or Upgrades
though the software does not physically destroy, it can become vulnerable or outdated. Hackers can attack it or malware and viruses can infect it. If your software becomes too old, you will not be able to take advantage of the new capabilities that your computer has to offer.
See: Software Upgrading
When software becomes obsolete, it loses its creator's protection and monitoring. This loss of protection will make it increasingly sluggish and less functional in a variety of activities. Do you, for example, still use Windows 7 or 8? You could be trying to get by with 4GB of RAM. Or are you willing to risk losing important data by utilizing a hard drive that is more than six years old? If any of these circumstances sound familiar, it's time to upgrade.
Virus Removal
Malicious Software, often known as Malware, is files or code that infect, examine, steal, or execute practically any function an attacker desires. Malware is frequently sent by network or email as a link or file, requiring the user to click on the link or open the file for it to operate. There are several ways to infect computers because malware comes in so many distinct forms.
Related: 8 types of Computer Malware and how to mitigate them.
The virus is an example of Malware, and if not attended to, it could be extreme. You could be experiencing a series of popups, slow computers, or corrupted files. Even though you can simply get an antivirus to prevent this, some viruses might be too extreme and will need a professional technician to diagnose and fix them.
Data Recovery
Data recovery services retrieve data from damaged or inaccessible storage media. These services assist individuals and businesses in recovering critical lost and destroyed data. The goal of data recovery services is to restore as much data as possible and provide it in a usable manner.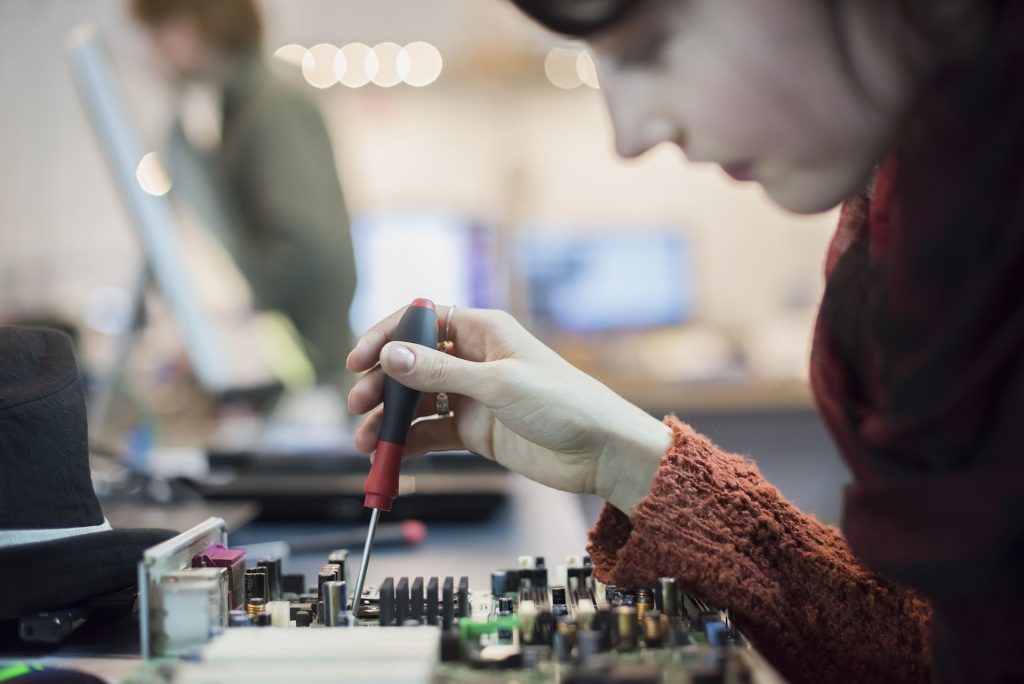 Related: 4 Types of Data Recovery Services
Data recovery services aid in the preservation of critical information and the prevention of irreparable data loss. It is vital to understand the many types of data loss and recovery options available, as well as the factors that influence data recovery success.
Remote Tech Support
Remote tech support refers to the technique of providing technical assistance to computer users over a remote link, such as the internet or a network. This enables experts to remotely examine and troubleshoot a user's computer or gadget without physically being present.
See Also: How Remote Computer Repair Works
Because it eliminates the need for in-person visits or transporting your device to a repair shop, remote tech support can be a cost-effective and handy option to get technical assistance. It may also be speedier because technicians can diagnose and resolve issues in real-time.
Remote technical help is available via a variety of channels, including phone, email, live chat, and remote access software. To protect sensitive data and maintain security and privacy, reliable remote tech support firms use secure connections and encryption.
5 Best Computer Shops to Fix Computers and Laptops in Ottawa, Ontario.
In as much as you can get to do some of the computers repair yourself by troubleshooting, you would still need a professional for the delicate parts like the hardware replacements and the entire software and anti-virus maintenance. Let's have a look at the best options for you in Ottawa. Analyzed and decided based on their professionalism, customer experiences, service options, and turnaround time.
1. TickTockTech
TickTockTech is a corporation with its headquarters in North America and offers both businesses and individuals a variety of technical support and repair services. Virus removal, network configuration, computer repair, data backup and recovery, and IT consultation are just a few of the services provided by TickTockTech. One of the best Shops to fix computer in Ottawa
The organization will send a specialist to your location the same day that you call them for support, which is one of TickTockTech's distinctive advantages. TickTockTech has been a well-liked option for people and companies looking for rapid and dependable technological support due to its speedy and effective service. They provide a variety of specialized services, such as hardware upgrades, malware removal, and screen repairs.
In addition to the guarantee of same-day service, TickTockTech also provides straightforward pricing without any additional costs or levies. All of the company's personnel are completely qualified and certified, and they employ the most up-to-date equipment and technology to deliver excellent service. Customers widely recognize and highly praise their locations, with thousands of positive evaluations.
2. Snappy Tech
Snappy Tech is a computer and phone repair company based in Ottawa, Ontario, Canada. They provide a variety of repairs for gadgets like tablets, laptops, desktop PCs, and cell phones.
A group of skilled specialists at Snappy Tech are qualified to identify and fix a wide range of problems with electrical gadgets. To ensure client pleasure, they use premium replacement components and provide a warranty on their services. For clients who are unable to bring their equipment to the store for repairs, Snappy Tech also provides remote support services.
3. Ubreakifix
uBreakiFix is a technology repair company specializing in the repair of electronic gadgets such as smartphones, tablets, computers, and gaming consoles. Founded in 2009, provides economical and quick repairs for a variety of companies, including Apple, Samsung, Google, and Microsoft.
uBreakiFix professionals undergo training and certification to repair a wide range of problems, including cracked screens, water damage, battery replacements, and more. They also provide a 90-day warranty on all repairs to ensure that consumers receive a dependable and long-lasting solution.
4. Geek Squad
Geek Squad is a technology support and repair firm that provides a variety of services such as computer and mobile device repair, home theater installation, smart home device setup, and others. Since its establishment in 1994, it has become a part of Best Buy, a renowned electronics retailer.
Geek Squad provides both remote and in-person services and employs hundreds of agents around the United States, Canada, and other countries. They also provide protection plans for numerous products and appliances, which include extended warranties and technical assistance.
5. The PC Room
The PC Room is an Ottawa, Ontario, Canada-based computer repair company. They provide a comprehensive range of computer repair services for both personal and commercial clients, including virus removal, software and hardware updates, data recovery, and network setup and troubleshooting. Custom-built computer systems and gaming machines are also available from the company. The PC Room also provides remote support, allowing users to receive technical assistance without leaving their homes or office.
Conclusion
Computer repair services are an integral part of any active computer user's life. Hardware and software components might malfunction or become obsolete, resulting in diminished functioning or even data loss. The good news is that Ottawa repair shops provide a variety of services including hardware repair and replacement, software updates and upgrades, virus eradication, data recovery, and remote tech support. Qualified professionals Shops to fix computer in ottawa provide these services, diagnosing and fixing problems promptly and effectively to ensure your computer is quickly operational.