Samsung recently shared its advanced technology vision to make lives easier through enhanced experiences. At the CES conference on the 5th of January 2023, Samsung and its partners shared their plans for creating a more connected and sustainable world. Jong-Hee Han, CEO of Samsung's DX division, emphasized the company's goal of delivering a more connected experience across various aspects of life. The strategy outlined during the conference emphasized Samsung's focus on seamlessly connecting devices and designing sustainable products to enhance user experiences.
"It's about solving real challenges today and understanding consumers' future needs and aspirations. It will take time, innovation, and cooperation with partners worldwide. But we are committed to achieving it and already getting started."
Samsung sustainability commitment
Samsung emphasized its commitment to addressing environmental challenges by highlighting its approach. These include sustainability targets, eco-friendly product design, and strategic partnerships. As a part of this commitment, Samsung aims for all its businesses to be powered by renewable energy and have zero carbon emissions by 2050. Specifically, the DX Division plans to fully transition to renewable energy by 2027 and reach net zero carbon emissions by 2030.
To achieve its sustainability objectives, Samsung is integrating environmental features into its products and services. These sustainability features require creating more eco-friendly products by utilizing innovative materials and enhancing energy efficiency.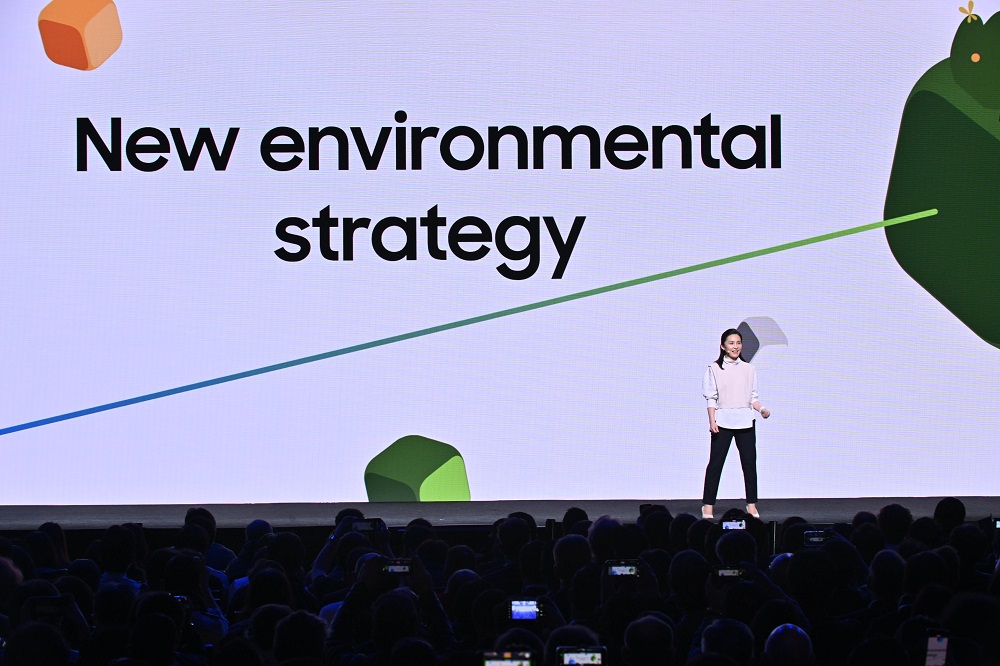 Inhee Chung, Vice President of the Corporate Sustainability Center at Samsung said the company is building products that contribute to a healthier environment.
"By building sustainability into the product experience, we, and the many people around the world who use our products, can contribute to a healthier planet."
Samsung at the CES revealed that it uses recycled materials in its TVs and smartphones, like plastic from discarded fishing nets. Furthermore, its home appliances, memory, and 5G network chipsets are helping customers to conserve energy. Additionally, Samsung's connected services like SmartThings Energy and AI Energy Mode help consumers to reduce expenses and save energy.
Tackling microplastics head-on with 'less microfiber' technology
Samsung shared the stage with Patagonia, an outdoor clothing company, to discuss their partnership to address microplastics. This partnership aims to tackle the issue of microplastics – particles commonly present in clothing and discharged into oceans and rivers through the laundry.
At the tech conference, Vincent Stanley, Director of Philosophy at Patagonia, announced the creation of a new washing technology called the Less Microfiber Cycle. This technology incorporated into Samsung washing machines reduces the release of microplastics by 54% during a laundry cycle. The technology is already available in Europe and will soon be available in Korea and the U.S. In addition to the Less Microfiber Cycle, Samsung and Patagonia have developed a new filter called the Less Microfiber Filter. This filter reduces the discharge of microplastics by preventing them from entering the ocean during the end of a washing cycle.
James Kwon, Product Manager at the U.S. Environmental Protection Agency (EPA), announced that Samsung's SmartThings connected home experience has earned the prestigious ENERGY STAR SHEMS Certification as the first mass-market Smart Home Energy Management System. Furthermore, Samsung continues to partner with various partners to further its sustainability efforts. For example, partnering with the Carbon Trust and other technology leaders to create the first industry specification for measuring and reducing emissions associated with connected devices during use.
Smart home advances with SmartThings
At CES, Jaeyeon Jung, Executive Vice President and Head of SmartThings, explained Samsung's plans to enhance the connected experience. He highlighted how the features of SmartThings Home Monitor and SmartThings Pet Care. And how to make the connected experience more convenient by monitoring and sending alerts to humans and pets. These can be accessed through Samsung Smart TV and are some of the ways Samsung and the SmartThings platform make homes more intelligent.
A crucial aspect of Samsung's vision for the future is the ability for consumers to connect more of their devices. This is not only applicable to Samsung but every other brand as well. Samsung announced its commitment to this philosophy through partnerships such as Matter, a smart home standard, of which SmartThings was one of the first brands to adopt and Samsung is a founding member of the Home Connectivity Alliance (HCA). Samsung also unveiled the SmartThings Station, its first product with built-in Matter support. The SmartThings Station transforms a Samsung wireless charger into a smart home hub, allowing you to control the state of your home with just a touch of a button.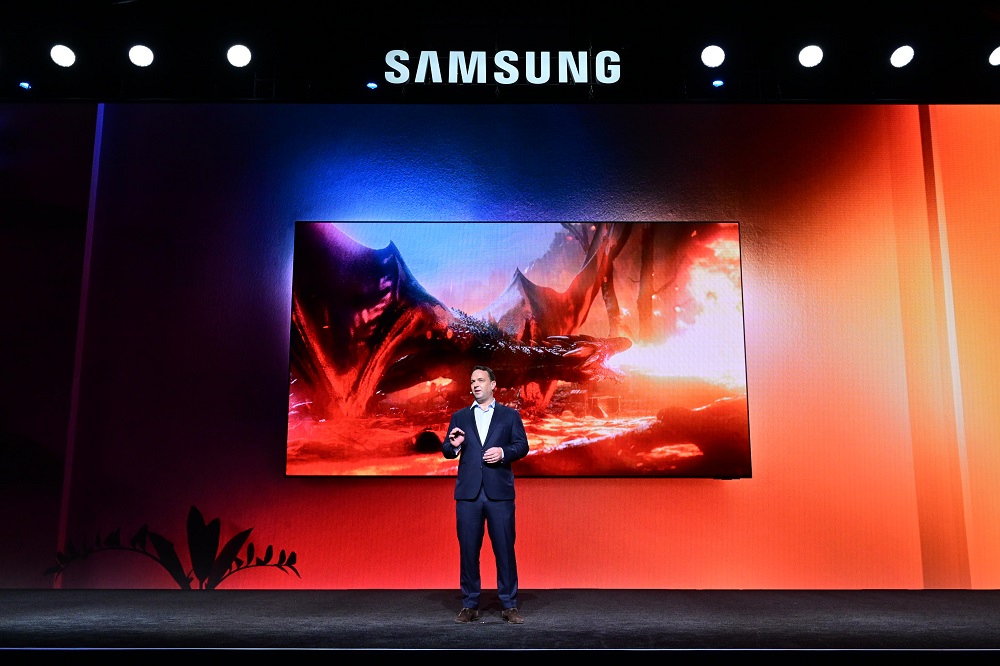 Samsung's focus on connected experiences also included the announcement of new partnerships, such as an expanded collaboration with Philips Hue. Jasper Vervoort, Senior Vice President and General Manager at Philips Hue, discussed a new method of syncing the content from Samsung TVs with Philips Hue lighting through the Philips Hue Sync TV app, which can be downloaded from the app store on Samsung TVs. This is the first solution that allows syncing lighting and content from Samsung TVs without additional hardware.
Security & Privacy
With more devices connected than ever, Samsung emphasized the importance of security and privacy in building connected device ecosystems. The company plans to enhance device security with its new solution, Samsung Knox Matrix. This secures and conveniently syncs credentials across devices while protecting sensitive information through multi-layered mutual monitoring using private blockchain technology. The connected experience is also extending to the in-car experience. Marcus Futterlieb from HARMAN announced Samsung and HARMAN's plans to bring a new level of intelligence, personalization, and convenience to the in-cabin experience. A key aspect of this effort is the use of HARMAN Ready Care, which uses a machine learning algorithm to gather and process data from the car's sensors to detect driver drowsiness and distraction, providing tailored interventions to reduce risks and improve the driver's well-being.
Future of smart devices
At CES, Samsung showcased a range of innovations and technologies utilizing artificial intelligence. One of these was Spatial AI, which was demonstrated in the JetBot AI+ and aims to create better in-home experiences. Additionally, Samsung previewed the Relumino Mode feature, which will be available on select 2023 Samsung Neo QLED 8K and 4K TVs. These will help those with vision impairments enjoy content by highlighting outlines and improving contrast and color. The company also showcased a new version of the Relumino glasses, which first debuted in 2018 as part of its C-Lab startup acceleration program, and a mobile app to enhance the visual experience on every screen.
Conclusion – Samsung CES 2023 Review
At CES 2023, Samsung outlined its vision for the future of connected devices and experiences. The company highlighted its new washing technology, the Less Microfiber Cycle, which reduces the release of microplastics during a laundry cycle. Samsung also announced its commitment to sustainability and its partnerships to ensure that. The company also discussed its plans for security and privacy innovations through the Samsung Knox Matrix and its plans to bring intelligence, personalization, and convenience to the in-car experience through the use of HARMAN Ready Care.