SpaceX had just launched a test on the world's biggest, largest, and most powerful spaceship ever built, called the Starship. Not only does this gives insight into the future, but also shows the progress and feasibility of exploring further into space and Mars especially. Everyone that knows about Elon Musk knows his desire for humanity to be able to travel and even live on the planet Mars.
These are not just words, and he's always proving to fulfill this. This new test though didn't achieve the main goal, but it was a clear success in space advancement, which no company nor country has reached. Now, what does this imply? Will there be another starship launch soon? And what does this launch signify for the future of space? Let's have a look into the physical and technical aspects of this historical event and have an answer to these questions.
SpaceX Starship: Cost, Purpose, and Launch Details
As was previously stated, as compared to the most recent Falcon 9 launch, this one is bigger, quicker, and more powerful—indeed, the most powerful. The Elon pledge to take humanity to Mars is very real, even though the test didn't go as planned.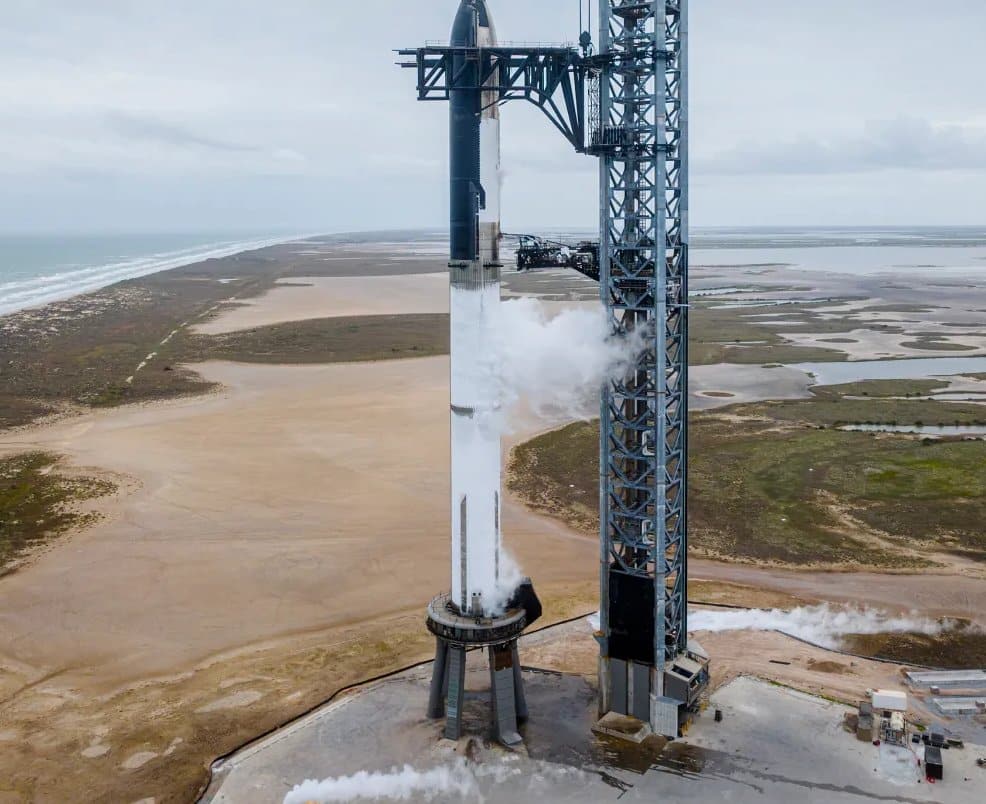 Nonetheless, it represents a significant advancement and historical milestone. At 9:33 a.m. EDT (1333 GMT; 8:33 a.m. local Texas time) on April 20, SpaceX's huge, fully-integrated Starship launch vehicle blasted off from Boca Chica, Texas' Starbase test facility. It can transport passengers and goods to Earth orbit, the Moon, Mars, and other planets because of its integrated payload section.
On Earth, starships are also capable of point-to-point transit, making it possible to get everywhere in the world in under an hour. Elon Musk, the founder of SpaceX, has claimed that future Starship launches may only cost $10 million or less. Compared to Starship, the company's Falcon 9 costs roughly $62 million now and has a much smaller carrying capacity.
SpaceX starship: Launch Timeline
The 62-minute launch window for the April 20 launch started at 8:28 AM CDT (13:28 UTC) on that day, April 20, 2023. The launch took place at 13:33 UTC/8:33 CDT. Although the Super Heavy Booster successfully launched from the orbital launch pad, there were many Raptor engine problems throughout the mission.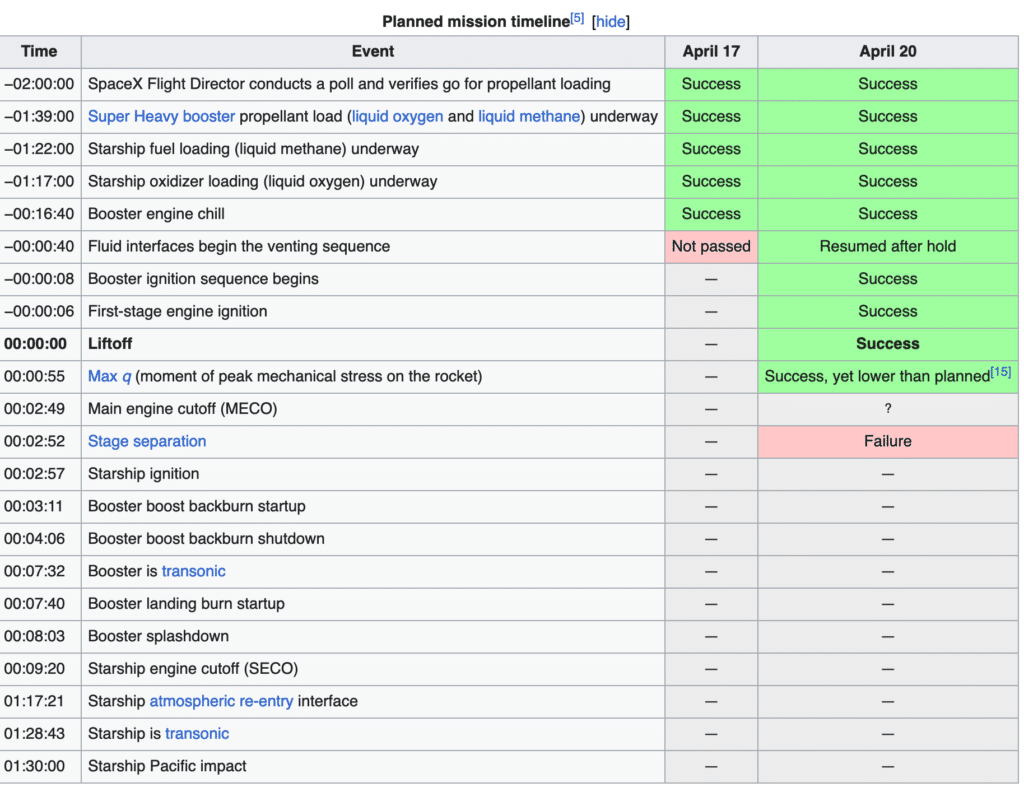 Before losing altitude and tumbling out of control, the vehicle ascended to an apogee of about 39 kilometers. Around four minutes into its flight, Starship's flight termination system was turned on, and it began to disintegrate. The Federal Aviation Administration received no reports of accidents or damage to public property.
Lacking a flame diverter made the launch blast stronger, resulting in a heavy layer of sand-like material covering Port Isabel, Texas, a nearby city that is situated immediately on a windy beach. Musk had previously said a flame diverter might be required, and Space X activated an "anomaly response plan" in response.
Starship: Rapid Unscheduled Disassemble
Space X stated that the explosion from the starship launch is due to RUD which is short for rapid Unscheduled Dissemble. This is an aircraft or rocket breaking apart or exploding, respectively. While it didn't achieve its most ambitious objective—gaining enough speed to launch into orbit and then re-enter the atmosphere—it did achieve other goals, like flying for four minutes and flying far away from the launch site.
When is the Next Big Launch from SpaceX?
According
to Elon Musk in his tweet, there will be another test in a month or two as the launch pad will be fixed and the technological issues addressed.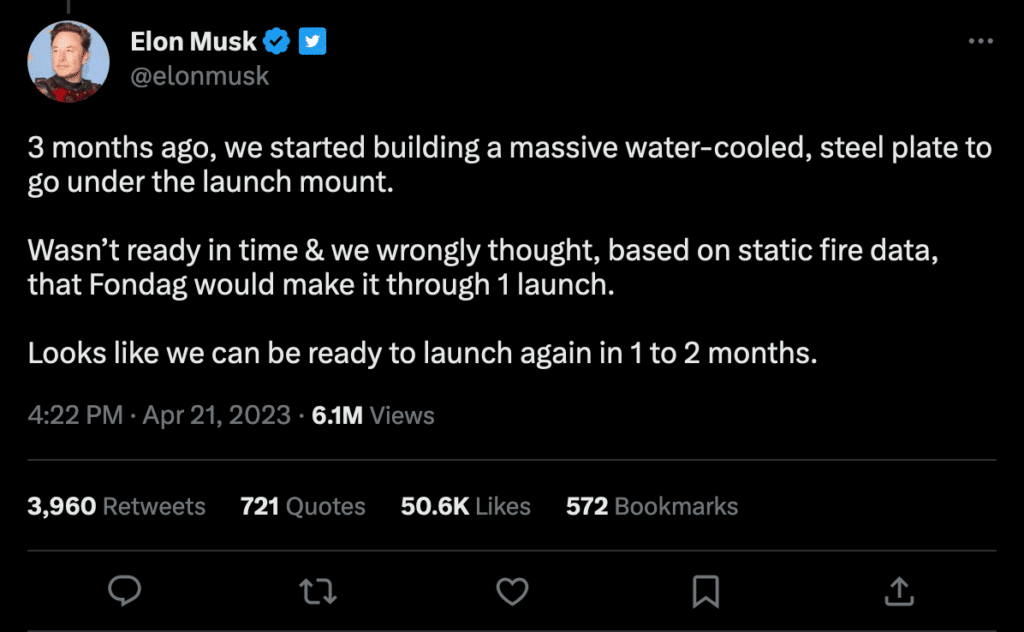 Starship and the Future of Space Explorations
Though the test hasn't signified the possibility of the ship getting to Mars both manned or unmanned. However, it is a huge progress as it reached a quite successful stage of flight before the explosion. This will not only give insight into what could be wrong but also put every other space company like NASA on its feet.
Space X along with others is going to embark on engineering studies of getting bigger and more powerful spaceships like the starship to have a complete flight, orbital, and get to its destination. Hopefully, there is a complete and successful unmanned flight test in the stipulated time, which will be the first in many successful steps for humanity on Mars.