The highlight of being a football fan is watching our favorite play live. Nothing quite beats the feeling. But in today's digital age, catching the action on TV isn't your only option anymore. In 2022, the global sports streaming market hit an all-time high revenue record of $55 billion. Whether in the United States cheering for your local MLS team or across the Atlantic Ocean with your heart set on Premier League clashes, we've got you covered.
Let's dive into the details of how you can immerse yourself in the game right from your screen.
Legal Considerations in the USA and Europe
When it comes to streaming football, one of the first things to consider is the legal landscape in your region. Knowing a thing or two about the legal limitations of streaming in your specific location will improve your streaming experience.
In the USA, licensing agreements, broadcasting rights, and blackout restrictions vary widely between leagues and states. In Europe, the situation is complex due to multiple countries and leagues. Each country often has its broadcasting deals and regulations, affecting which matches are available for streaming.
Popular Football Leagues in Both Regions
To fully appreciate the live streaming options available, you should familiarize yourself with the popular football leagues in the USA and Europe. Major League Soccer (MLS) is the top-tier league in the USA. Still, European football leagues like the English Premier League, La Liga, Serie A, and the Bundesliga also have a significant following.
Meanwhile, in Europe, football is a way of life, with the UEFA Champions League, domestic leagues, and international competitions drawing massive viewership. Knowing which leagues and tournaments you want to follow will help you choose the right streaming services and subscriptions.
Related: How long is a soccer game?
How to Stream Football (Soccer) in the US and Europe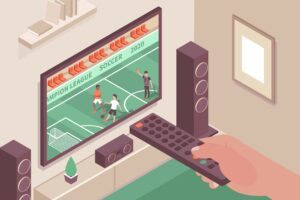 Here's a step-by-step guide to streaming football (soccer) in the US and Europe:
Step#1: Choose a streaming service
In the US, several streaming services offer soccer coverage.
Popular options include:
Different European countries have their streaming platforms and broadcasters for football matches. These services typically vary depending on your location and the specific league or tournament you want to watch.
Popular options include:
Step#2: Subscribe
Once you've determined a streaming service that best suits your soccer-watching needs, the next step is to sign up. This typically involves creating an account and providing payment information.
Step#3: Install the app
Generally, after signing up, you'll be prompted to download and install the streaming service's official app on your mobile device. These apps are available on mobile devices, tablets, smart TVs, and streaming media players like Roku, Amazon Fire TV, or Apple TV.
Step#4: Log In
Launch the app and log in using the credentials you created when you subscribed in step#2.
Step#5: Find football(soccer) matches
Navigate to the sports section or use the search feature to find the specific soccer matches or leagues you want to watch.
Step#6: Start streaming
Click on the match you want to watch and start streaming. You can watch live or catch up on previous matches.
Step#7: Check for geographic restrictions
Some content may be subject to geographic restrictions, so be sure you're within the service's allowed region. Using a Virtual Private Network (VPN) may help you access content from different regions but comply with the service's terms of use.
Step#8: Cancel subscription
If you're only interested in specific matches or a particular season, remember to cancel your subscription when it's no longer needed to avoid unnecessary charges.
Keep in mind that the availability of soccer matches on streaming platforms can change, and prices may vary.
Check the streaming service's website or app for the most up-to-date subscription information, pricing, and content availability information. Additionally, ensure you use legitimate and authorized streaming services to support the sports industry and avoid piracy.
Frequently Asked Questions
Does USA channel have soccer?
Currently, the USA Network exclusively offers live coverage of Premier League soccer matches in the USA, broadcasting multiple games each week throughout the season, especially on weekends, notably during Saturday and Sunday gamedays.
How can I watch soccer in USA for free?
To watch soccer in the USA for free, explore free trials on streaming services, look for local over-the-air broadcasts, check social media streams, attend community events, find highlights and replays online, and use library streaming services when available.
Is the Fox Sports app free?
The FOX Sports app can be downloaded for free. However, a subscription with one of the listed pay-TV providers is necessary to access live games, shows, and additional sports content.
Conclusion – How to Live Stream Football (Soccer) in the USA and Europe
Suffice it to say that technology has revolutionized the way we enjoy football(soccer). With a plethora of streaming platforms, devices, and options available, football enthusiasts have more choices than ever before. However, with great choice comes great responsibility. It's crucial to stream football matches responsibly, respecting copyright laws, and supporting your favorite teams and leagues through legal means.
So, whether you're watching your local MLS heroes in the USA or following the intense battles of the European giants, we hope this guide has equipped you with the knowledge to make the most of your football streaming experience.