Onsite Tech repair services are repairs simply done at the customer's site by trusted repair services either online or offline. This includes computer repairs, Network/wifi installation, security installations, and more. Trusted is emphasized as it is quite dangerous to allow just any stranger to come into your home. Onsite Tech repairs in places like Edmonton are definitely the fastest, easiest, and smartest way to get things repaired especially home appliances like your computers, Printers, Washing Machines, TVs, and more.
Why do you have to drive kilometers downtown to get your appliances fixed when there are one call away services near you that are willing to come to get it done at no extra cost? Reading through this post will give you insight into why you need in-home services and how to get trusted services close to you.
It's 2021, a technology age where you can get variably get everything you need online. From the online store, google searches, and more. Safe yourself through the stress of hauling. Onsite services provide exactly the same results as taking downtown for fixing.
Most of the services do not charge extra especially for new customers. You can get to see these types of services in several ways. These include Google searches, directory searches, using social networks like Facebook, Twitter, and Reddit. This method might be already known to you, but how do you find trusted and reliable services? Here are a few tips for each of the search methods.
1. Google Searches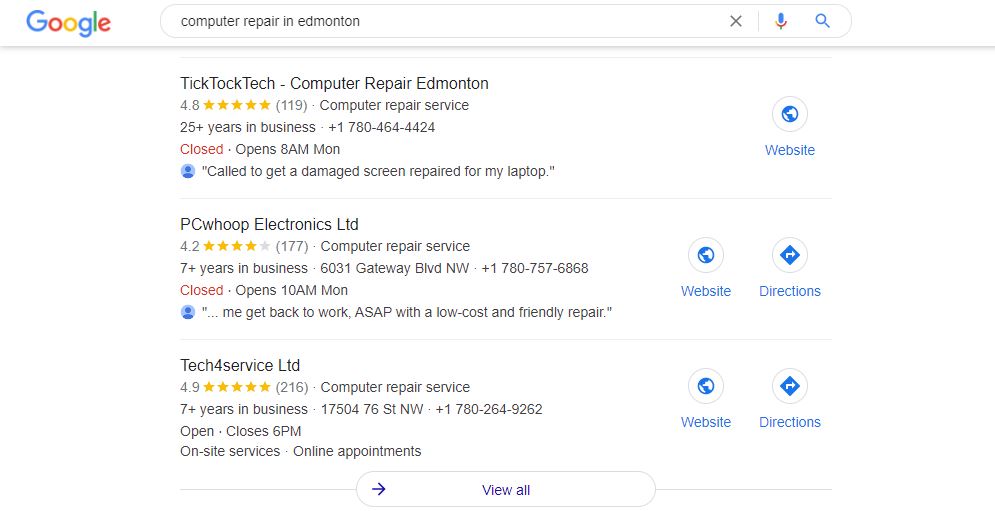 You can easily search for instance, "onsite computer repair in Edmonton" or "Onsite Tech repair in Edmonton" and it would show you top searches from the locality using your phone's IP and bring verified and top service providers in your area(check the picture above).
The results will show many services but to know the trusted? Check out the websites(including its position on SERP), the reviews, and also, you can inquire about the provider company of your choice by simply typing the company's name on google to get ideas about them. Most services work offline before getting online, so even if they don't have any reviews yet, you can simply look out for their mentions online. Perhaps you can ask about them from your locality.
Also, it's best you check out their websites if they have one, it gives you more insight into how good they are and the related services they offer.
2. Directory Searches
Directories like Yelp, Tripadvisor, Xylex, Foursquare, and more can be a great source for you to search for trusted in-home service providers around you. These directories also encourage review and this can signify how trustworthy service is. Check mostly through reviews within 5.0 to 3.0 ratings. No legit business with no bad reviews, even the famous Walmart store does have. The important thing is checking through how the business owners responded to the bad reviews.
3. Social networks
Network platforms like Facebook, Reddit, and Twitter can be a good place to search for in-home/Onsite Tech repair in Edmonton or around you, and also you can check through community groups near your location. Also, you can simply pick your choice from your google searches and ask for their performance from community members to ensure trustworthiness. You can simply ask about Ticktocktech for Onsite computer repair and IT solutions which are widely known across multiple locations in Edmonton.