Samsung is definitely one of the best mobile gadgets and electric producers out there. Their phones, TVs, home accessory, and even their buds are top-notch. Music listening devices like headphones or speakers evolve to bring about the greater and hidden sound quality of a song. When you listen to a song, especially if it's with a high bass or pitch sound, you'll need a good quality speaker/headphones to enjoy such music. Using a random music hearing accessory, the sounds won't come out well, and even start to "crack" at high volume.
Aside from sound quality steady improvement, other specifications of pods and buds include isolation and filtration. Isolation is a useful asset when you are having a "me" moment while listening to music or maybe an educational podcast, in which concentration is important. Filtration is another useful spec, common among buds, which helps keep you both in and out, filters the noise, and could allow you to listen and hear when someone calls you. Samsung's Galaxy Buds brand of wireless Bluetooth earphones was first unveiled and made available in 2019.
Specifications of Galaxy Bud2 Pro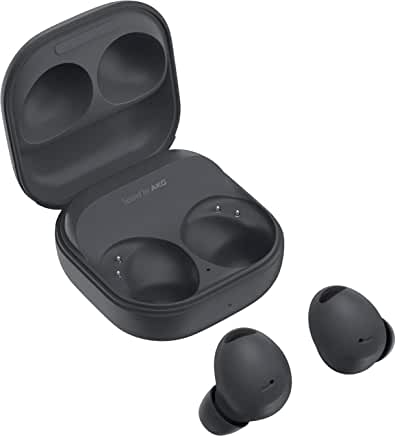 Key specifications include; Good bass sounds; Waterproof; Noise cancellation; 360 spatial audio degrees; Conversation mode; and Noise filtration.
The majority of AirPods and earbuds work to lessen background noise, but this model uses cutting-edge technology to block out most external noise. You'll hear every note well reflected in this most recent Samsung Buds model, just as in a theater. Water-resistant to IPX7 standards, it can withstand light rain and a 30-minute dip in water up to three feet deep.
For a unique surround sound experience, the sparse degree characteristic brings out the tones you enjoy from every angle. To fit your ears whenever, and wherever you use them, they have a smaller design and are even more pleasant than previously. The HD Speech Technology noise filtration features separate your sound from background noise while maintaining the voice for direct discussions.
Reviews of Galaxy Bud2 Pro
Small, soft, and sleek design that doesn't get greasy in the ear as you handle them. The sleeky design makes them easy to wear as you just have to stick them in with a twist and it gets fits in your ear with no shifting around. With 24 bits of audio which may capture 16,777,216 discrete loudness values is better than 16 bits. To get the full of it, you'll need a Samsung smartphone with the latest UI.
The water resistance feature is also an advanced one even when compared to the latest from other brands. Its ipx7 is more than just splash, but is deeply effective when sweating or in the rain, and can also be submerged underwater. The galaxy bud 2 connectivity works with long-range Bluetooth 5.3 that could work at a distance of up to 200m from your phone.
The double-tap and triple-tap functionalities have not changed, however they now respond more quickly. When a voice is heard nearby or you begin speaking, the voice detects features, a sensitive feature, automatically turn on. As a result of automatic volume reduction, you'll be able to hear the voice with less background noise.
Although this function is more sensitive and far superior to noise cancellation, it might not be the best choice for you if you want to sing along to music. The Bud 2 Pro is compatible with other Samsung devices and offers extra functionality, especially when used with the Samsung Gear wearables, much like every other branded ear gadget. (Bixby link; not as functional as Siri or Google Assistant). Noise cancellation is not as effective as buzzers and Sony since it does not completely silence the environment, but it significantly muffles outside voices.
Does it worth the price?
The battery is literally one of the best decision factors in a gadget like this, especially if you're a hardcore music lover. This bud2 pro experimentally lasts 5hrs of use with noise cancellation, and 6-7hrs without, while the case is 20hrs of battery life with wireless charging. This is quite enough for you and worth it as it gets charged fully in less than 45mins.
With great sound and maintenance features at the price of $200-$230, it's very advisable to buy this if only you own a Samsung phone with the latest graphics and UI updates. This is the best way to bring out the potential of all the features, a plus would be owning a Samsung TV, and smartwatch for perfect compatibility.