As CES 2023 ends, we have gathered a list of the most impressive and groundbreaking laptops showcased at the event. The tech conference showcased the limits of human innovation and the impact of technology on our daily lives. CES 2023 presented a wide range of new and advanced technologies across different sectors including upgrades to smart devices. Many laptops were showcased, each with its unique features. This article discusses some of the laptops showcased at the event.
Razer Blade 18
Razer has released the new Blade 18, a large laptop that is slightly less bulky than its competitors. It features an 18-inch IPS LCD with a resolution of 2,560 x 1,600 and a 240Hz refresh rate. It weighs just over 7 pounds and is 0.86 inches thick. This makes it more compact than most other big laptops. Additionally, it can be charged using a smaller GaN charger (280 or 330 watts depending on the configuration). The laptop is equipped with the latest Intel 13th-Gen processors, Nvidia RTX 4090 graphics, 64GB of memory, and 8TB of storage, making it suitable for professional creators. The design is sleek, minimalistic, and has a premium feel. However, the price is also premium, starting at $2,899.99, and will be available in Q1 2023.
MSI Titan GT77 HX
The MacBook Pro 14 and 16 have an advantage over Windows competitors with their Mini-LED displays. This feature produces bright and vibrant screens with HDR capabilities. However, MSI's Titan GT77 HX may surpass them with its 4K, 144Hz Mini-LED display that is VESA DisplayHDR 1000 certified. This means it can reach a brightness level above 1,000 nits. This laptop is a true powerhouse that surpasses all others on this list. It can be configured with Intel's Core i9-13980HX, which offers 24 processor cores, and Nvidia's RTX 4090 mobile. It also supports up to 128GB of DDR5 RAM and three PCIe solid-state drives. The MSI Titan GT77 HX will be up for sale later this year, starting at $4,299.
LG Gram Style (16 and 14)
LG's Gram Style laptops boast both style and weight, with an optional pearl iridescent finish that is attractive. The 16-inch model weighs 2.7 pounds and is only 0.6 inches thick, while the 14-inch model weighs 2.2 pounds and has similar dimensions. Both models have Intel 13th-gen Core P-Series processors, 1TB of solid-state storage, and 32GB of RAM. The 16-inch model has a 3,200 x 2,000 OLED display with a refresh rate of 120Hz. The 14-inch model has a 2,880 x 1,800 OLED screen with a refresh rate of 90Hz. The Gram Style line will be available next month, but pricing has not yet been announced.
Asus ROG Zephyrus G14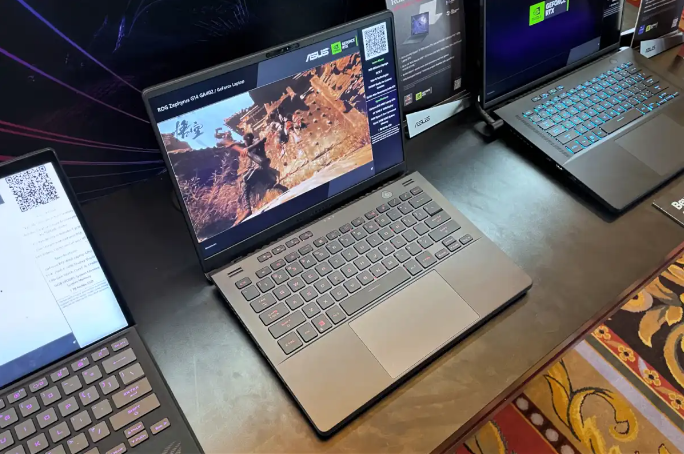 Asus' ROG Zephyrus G14 is a compact 14-inch laptop that boasts a vibrant Mini-LED display. This laptop delivers over 600 nits of brightness and a refresh rate of up to 165Hz. It also features top-tier hardware, including AMD Ryzen 9 processors and Nvidia RTX 4090 series mobile graphics. It has USB-C charging support of up to 100 watts and a 1080p HD webcam with the facial recognition login feature. The laptop also features an LED matrix display on its lid for displaying animations. The release date and pricing for the laptop will be announced closer to its launch in Q2 2023.
Related: Samsung CES 2023 Review
Asus ProArt Studiobook 16 3D OLED
Asus has introduced a new laptop called the ProArt StudioBook 16 3D OLED, which comes with a 16-inch 3.2K OLED screen. It has a maximum refresh rate of 120Hz and can display glasses-free 3D with the flip of a switch. This technology is built by Dimenco and offers better contrast and color gamut when compared to Acer's Predator Helios 300 SpatialLabs Edition. The ProArt StudioBook 16 is a powerhouse laptop with Intel's 13th-Gen Core H-Series processors, Nvidia RTX 40-series graphics, and up to 64GB of memory. It also has dual Thunderbolt 4 ports and a dial control near the touchpad for easy scrolling through video timelines or color palettes. The laptop will be available in Q2 2023, but the pricing is not yet announced.
Lenovo Yoga Book 9i
The Lenovo Yoga Book 9i is a dual-screen laptop with a unique design. It is a beautifully crafted, premium 2-in-1 laptop with two 13.3-inch 2.8K OLED screens that can be used either stacked or side-by-side. This dual-screen can be used in clamshell and tent modes with a virtual keyboard on the lower display or a removable physical keyboard. It is powered by Intel 13th-gen Core i7 U-Series processors and weighs only slightly over three pounds. The Yoga Book 9i will be released in June 2023 with a price tag of $2099.99.
Lenovo ThinkBook p16 Gen 4
The Lenovo ThinkBook p16 is a powerful and durable laptop with an innovative feature, the Magic Bay, a magnetic connector located on the top of the display. This feature supports various accessories such as a 4K resolution webcam with a 270-degree mount and built-in privacy shutter, LED light, or 4G LTE modem. Additionally, it is equipped with Intel's 13th-Gen Core H-Series processors, and Nvidia RTX 40-series mobile graphics. It can hold up to 32GB of RAM, making it suitable for various tasks such as productivity, photo and video editing, programming, and gaming. It is also priced competitively, with an expected retail price of $1,349 in May 2023.
Acer Swift X 14
The Acer Swift X 14 is a budget-friendly laptop that still showcases key trends from CES 2023, including OLED displays and newer, faster hardware from Intel and Nvidia. It features an optional 14-inch OLED screen with a 2,880 x 1,800 resolution, a refresh rate of 120Hz, and VESA DisplayHDR 500 certification, making for a beautiful display. Despite its compact size, the Swift X 14 features Nvidia RTX 4050 graphics, Intel's 13th-gen Core H-Series processors, and a high-resolution 1440p webcam. The laptop will be available starting in April, with prices starting at $1,099.99. This is an affordable option compared to other 14-inch workstations and gaming laptops.