In every part of the world, it's quite easier for college students to have all school materials within their reach. Digital textbooks, pdfs, online lectures, tutorials, writing activities, and more. One specialty of tablets is that they are of dual-purpose, aren't only used for college activities.
Other activities they could be used for include video recording, watching movies (most have wide screens suitable for this purpose), and any other thing you use smartphones for. Unlike smartphones, they mostly use WIFI and some don't have slim slots, in this way, it really preserves battery usage. One advantage of smartphones over tablets should be the portability which isn't even much of a problem for college students.
Tablets or Laptops: Which is the Best for College Students
In this case, Purpose initially defines what you get. Tablets nowadays have amazing features, sleek designs, and modern tech that makes them function even more than a smartphone. As a college student, I won't assume you want to only use it for basic school activities like studying and make research alone. But, if that's the case, then you need a tablet and not a laptop, and any low-budget tab will get that done.
There are other activities especially if you are an engineering student, which involve coding, or software usage. However, there are still tablets that offer both but you might require a keyboard. You can get all you want in a tablet, especially an apple and Samsung tablet, but they might still be as costly as a laptop which could even offer more than a tablet. The best thing to look at when contemplating buying either tablets or laptops should be specifications that fulfill your purpose and the cost.
You can also check laptops for college in 2022 and laptops for gamers in 2022.
What to Look for When Buying a Tablet for College Students
In the gadget world, specifications are highly important in choosing what to buy. The model and specifications will guild you when you want to buy a mobile tablet for college students.
Screen Size, Camera, and Resolution:
It's a tablet, so how big the screen is matters, but how about the resolution, this defines how clear and bright your screenplays appear. Some devices have a big screen but low or limited definitions. The resolution of a digital picture or video display is measured in pixels per inch (PPI).
The display resolution, or pixel density, of a computer monitor or screen, is commonly referred to as PPI. The more pixels per inch (PPI) there are, the more detail there is in the image or display. If you want to view movies on your tablet, you'll want to seek one with a High Definition (HD) display. This is because most movies are shown in high definition (HD) at least 720p or 1080p.
Video recording, or document scanning, you'll definitely need a good camera for this. Unlike mobile phones, tablets need not just the pixels but also resolutions to fit the large screen in a clear manner. Image resolution refers to the number of pixels in a digital image. The width and height of the picture, as well as the total number of pixels in the image, are sometimes used to determine this. A digital photo with a resolution of 2 448 pixels high and 3 264 pixels wide (2 448 x 3 264 pixels) has a total resolution of 7 990 272 pixels or 8MP.
One of the most significant components of a camera is the sensor. The sensor is a component in the camera that converts the light captured in its millions of photosites into a digital picture. The sensor size is significant since it influences the number of pixels and their size in the camera.
Storage and Memory
RAM (Read Access Memory) is your device's short-term storage where your operational activity/processes are stored. The more RAM your computer has, the more processes your tablet can do simultaneously without hanging.
The ROM (Random Access Memory) is a much larger storage capacity. Purchasing a tablet-based on this will be determined by the purpose for which it will be used. For college students, a 64GB/128GB Memory and RAM: 6GB/8GB size will suffice for any school activity, gaming, or other more intensive hobbies.
Battery Life
These tablets, like other battery-powered gadgets, rely on a rechargeable source of power. Like other products, it's crucial to consider not just aesthetics and physical specifications, but also factors such as endurance, of which battery life is a key component. On a full charge, a decent tablet battery should last up to 7 hours in standby mode. Because they don't have a sim slot, you may save more battery than those that do because there are no signals. These batteries should have a capacity of 3000mAh to 8000mAh. Some batteries may not last as long as they claim, although this should only happen when you're online.
Tablets Compartments
Some tablets do come with additional accessories. This additional capability makes it easier to use than just operating with screen touch alone. Seriously, typing with two hands-on tablets or iPad is very stressful especially when it's big. While previous ones usually come with a touch pen to make operating easier, new ones "come with" or "separately works with" additional compartments. This additional stuff in the new one enables easy typing, easy usage, and a laptop/notebook-like experience. These include an external keyboard, control mouse, external ports for flash drives, and standing casing.
Purpose and Cost
As previously stated, purpose defines what you look for exactly. Also, after knowing what specifications of the tablet satisfy your purpose, then you consider/vary the cost according to your budget.
The Best 8 Tablets for College Students Under $500 in 2022
Samsung Galaxy Tab S6 Lite
A touch pen is included with the majority of Samsung tablets. The S Pen connects magnetically and is always ready to use, making taking notes and personalizing photographs and videos easier than ever.
This is a slim, Android-powered, lightweight tablet that is very portable and has a long battery life (height). Despite the fact that the screen is not LED, the bright and vivid 2100×1200 TFT 6.4-inch screen provides a superb display. With 128GB of storage and 4GB of RAM, it's ideal for multitasking and executing huge files without crashing. If that's not enough, it can take up to 1TB of additional storage, such as a memory card.
On a single charge, the battery life on standby is up to 12 hours, with up to 6 hours of watch time. Other elements like as network conditions, usage patterns, and other considerations might affect battery life.
With the Galaxy Tab S6 Lite, you may control numerous windows from any of your devices.
For easier viewing, prop your screen up on one of your cover's two angles. Simply adjust the screen to view all of your favorite material with increased comfort, whether you're reclining on the sofa or sitting at a café.
Pros
Large internal storage space
Low cost with excellent specs
Cons
There aren't many compartments offered.
Meize Android Tablet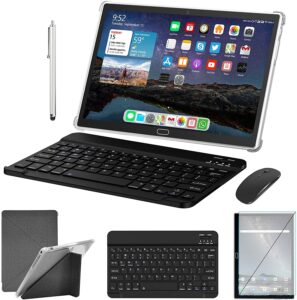 This tablet has a Bluetooth keyboard, allowing it to function as a two-in-one laptop; it also includes a tablet cover, screen protector, and a touch pen for enhanced functionality.
You gain additional features with the Android 11.0 Tablet operating system. Do you have to type quickly and nicely? The keys have a pleasant feel to them, click down a fair distance, and provide adequate tactile feedback when typing.
The performance of this tablet in terms of the display is decent, and the speed is sufficient for playing films and games. It can play 8K HD videos online, although a little sluggishly.
Tablet with dual 4G cellular (SIM NOT INCLUDED) with a 10.1-inch HD/IPS glass screen, 13+5MP camera, and enhanced audio for a 7-8-hour video call (720P and 1080P).
64GB ROM on a 2-in-1 tablet (128GB expandable) 6000 mAh battery, 5V/2A charging time of around 3 hours; lots of memory to save films, music, games, and other files; 6000 mAh battery, 5V/2A charging time of about 3 hours.
Pros
Comes with a compartment that gives off a laptops vibe
Great Internal Storage and Gaming
18MP clear back camera with decent clarity
Cons
External storage capacity is limited to 128GB.
Samsung Galaxy Tab S7
When it comes to gaming, it's a good substitute for outdated Samsung Galaxy tablets. The Samsung Galaxy Tab S7 Wi-Fi combines the capability of a PC with the portability of a tablet to help you get more done, no matter where you are. Enjoy the benefits of a true two-in-one tablet, with an extended keyboard and 128GB of built-in memory, as well as a battery that lasts the full work day for maximum mobility.
The Galaxy Tab S7 Wi-Fi simplifies life, work, and play with the S Pen, an extended edge-to-edge screen for better streaming, gaming, and video chatting, and an expanded edge-to-edge screen for better streaming, gaming, and video chatting. You can experience PC-like performance from anywhere. Depending on the network environment, usage habits, and other variables, battery life may vary.
Fast, stunning screen, dead simple to transfer data across devices, fantastic sound, SD cards up to 1TB, fast Wi-Fi (I get 300 Mbps down and up). A true file management system. The screen features a whopping 500 Nits of brightness; the more the Nits, the brighter the screen. (This screen is easier to view in sunshine since it has a higher nit rating.) It is incredibly bright when I set the brightness to 70%. The S7 11″ has a PPI of 274ppi, while the Plus has a PPI of 266ppi
Pros
The screen size is just ideal, clear and vibrant, and the colors are amazing.
There are four stereo speakers, and the quality is excellent.
it's lightweight and simple to carry!
Cons: it is costly.
MABERRY Android Tablet
A 10.1-inch tablet with integrated 4 GB operating memory and 64 GB storage memory – up to 256 GB (4–256 GB, applicable), 1280×800 IPS screen resolution, and 8000 mAh battery. 7-8 hours of movie playback (720P and 1080P); 5.0 + 8.0 MP camera support; tablet with dual stereo speakers and Type C data interface support
The Android 10.0 operating system is installed. With the Google GMS certification, we may freely download any APP from the Google store, including games, music, email, weather, Netflix support, and more.
This Android tablet boasts a strong octa-core CPU and a standby time of 30 days; External Keyboard connects by Bluetooth and other devices, making it faster and easier. Mouse can also be be connected via wireless means
Pros
Comes with compartment for easy typing, navigations and laptop feelings
Good display and screen size
Very Cheap at great value and specifications
Cons
Samsung Galaxy Tab S7
This Samsung Galaxy S& has a wide 12.4-inch display that brings your information alive in vibrant color whether inside or outdoors, making it a terrific tablet for studying or taking a quick entertainment break. A massive storage capacity of 256GB and an octa-core CPU are ideal for storing large files and running demanding applications.
It comes with an S Pen that can be used to write, draw, clip, and tap. Take notes in class, draw, or sketch down an idea with the included, which has a responsive new design that feels more like pen on paper than ever before.
With a Galaxy connection, you'll be able to handle any task. Get more done with a larger workstation that allows you to share information between devices, or relax with a PC.
With a Galaxy connection, you'll be able to handle any task. Get more done with a larger workstation that allows you to share material between your devices, or have a PC-like experience on your tablet with many windows open.
Pros
Large storage enough to not need external source
Good battery: 10,090mAh
Large screen with HD resolutions
Cons
It is very costly
No much compartment aside the S-pen
Microsoft Surface Pro 7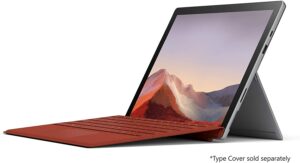 Having a laptop in your palm with the Next-gen window tablet, a best-in-class laptop with the versatility of a studio and tablet, allowing you to type, touch, draw, write, work, and perform all school/fun activities such as programming and gaming.
It has 128GB of internal storage and 8GB of RAM and is powered by an Intel Core i5 processor from the 10th generation, redefining what is possible in a tiny and light computer. Wi-Fi 6: compatible with 802.11ax. Bluetooth Wireless 5.0 is a technology that allows you to connect to the internet wirelessly.
The ultra-slim and light Surface Pro 7 starts at only 1.70 pounds, making it a standout design that won't drag you down.3:2 aspect ratio
Excellent battery life of up to 10.5 hours, as well as the ability to charge from empty to full in a little over an hour.
Pros
Good storage capacity
Multipurpose(laptop & Tablet in one) and multi-activity usage
Cons
It is costly
Compartment sold separately
Microsoft Surface Go 2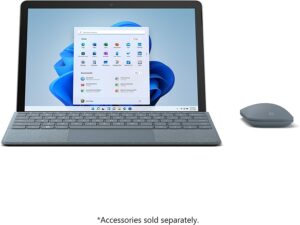 Not like other college tablets, It can accomplish practically everything a laptop can. Cameras with 8 megapixels are excellent. Coming from an iPad Pro, which I'm writing this review on, the screen is rather tiny. I purchased a dongle so that I could use a USB. There is a video available. The USB-C port is a nice touch… It includes SSD 128GB of internal storage and 8GB of RAM and is powered by a 10th generation Intel Core m3 CPU with a clock speed of 1.7GHz. A 10.5″ PixelSenseTM Display panel with a resolution of 1920 x 1280 (220 PPI) with a 3:2 aspect ratio and a 1500:1 contrast ratio.
Pros
Good storage capacity
Multipurpose(laptop & Tablet in one) and multi-activity usage
Cons
Compartment sold separately
Apple iPad pro or Air 2021
Latest Apple iPad with the M1 chip is a great and welcoming addition; if you use an M1 MacBook Pro in the 2020/2021 model, you'll see how much progress has been made and how impressive it is. It's surprising that Apple is considering enabling MacOS to operate on its iPads.
I don't think the iPad is quite ready to take the place of your laptop just yet, but the capability is there. ProMotion and P3 broad color on a brilliant 12.9-inch Liquid Retina XDR display.
For the ultimate gaming experience, it comes with a massive 512GB RAM that can be upgraded to 2TB, an 8-core CPU, and an 8-core GPU. For immersive AR, the TrueDepth camera system includes an Ultra-Wide camera with Center Stage 12MP Wide camera, 10MP Ultra Wide camera, and LiDAR Scanner. This works as perfectly as any laptop you might think of.
Pros
Excellent storage capacity
Good processor and graphics card perfect for gaming
Multipurpose (laptop & Tablet in one) and multi-activity usage
Cons
Compartment sold separately (Magic keyboard and mouse)
It's costly