One special thing about tech appliances these days is the integrating abilities, thanks to wireless, connectivity and (Artificial Intelligence) AI. Some years back, only phones and computers integrate wirelessly or connect to the internet. Gadgets (for home or work) can now connect with each other effortlessly.
Smart TVs: Anything New?
Your Tv, speaker, laptops, watches, and phones can now seamlessly connect wirelessly with each other, and could be used while being connected to the internet (you can use your Smart TV as a monitor or for streaming, surfing the internet, etc…).
Another important feature of the new age TVs is the AI voice assistance. These assistances like Siri, Google, Amazon Echo, and Alexa enable owners of gadgets to have a hand-free operation of their devices, and gadgets have ways of being pro-active from previous activities it processed.
What To Look for When buying a Smart TV
Screen Resolution
The description of how clear the text and images displayed on your screen is referred to as screen resolution. Items appear sharper at larger resolutions, such as 1600 x 1200 pixels. They also appear smaller, allowing for more items to be displayed on the screen. The greater the resolution supported by a display, the larger it is.
The number of pixels displayed per inch of a picture is usually expressed as pixels per inch (PPI). Higher resolutions mean more pixels per inch (PPI), which means more pixel information and a higher-quality, crisper image.
Screen resolution types Include High Definition(HD 1280 x 720) also known as 720p, Ultra HD(1920×1080) also known as 1080p, 2K Quad HD, and 4k Quad HD. Every good smart TV will come with at least 1080p display resolutions.
Refresh Rate of the Smart TV
The refresh rate of a television is the number of "times per second" (expressed in hertz, or Hz) that the image is refreshed. Almost all movies are shot at 24 frames per second, or 24Hz. The majority of televisions have a refresh rate of 60Hz, with some models having a refresh rate of 120Hz.
A higher refresh rate lowers motion blur and makes the action feel smoother, as well as making pictures appear crisper, more responsive, and faster. When you watch a Blu-ray movie, you get a 1080p 60Hz picture. For gamers, the least you should go for is 60/120Hz for a great experience. When combined with the high frame rates (the number of frames displayed on a TV in one second) provided by a CPU working together, this can result in a smoother experience and possibly higher FPS.
Screen size and type
The most common TV panel sizes are 32, 40, 42, 46/49, and 55 inches. Measure the distance between where the TV will be put and your couch to determine the appropriate screen size for the best viewing experience. Buy a 32-inch unit if the viewing distance is between 4-6 feet. If you're seated more than six feet from the TV in a crowded room, you'll want at least a 40-inch screen. Within 7.5-10 feet of the TV, a 50 to 60-inch screen is adequate. For gaming and cinematic experience, the best to go for even though you are closer (when playing games) will be at least 65-inch size.
About screen types, LED ( Lighting Emitting Diode) OLED(organic LED), QLED(Quantum dot LED), are the three most common types of screens, and most commercially available televisions use one of these panels. These qualify the TV in terms of brightness, backlighting, colors, power consumption, and flexibility.
| | |
| --- | --- |
| Brightest | QLED > LED > OLED |
| Color Contrast | OLED>QLED>LED |
| Picture Quality | QLED>OLED>LED |
| Power Consumption | QLED>OLED>LED |
| | |
Smartness & Connectivity
Artificial Intelligence (AI) is used in smart televisions, and it includes a variety of AI techniques such as Intelligent Digital Assistant. Samsung TVs can now make customized content suggestions to their viewers. Users may also utilize voice commands to control their volume, channels, apps, and other features due to natural language processing. The resolution of material on Smart TVs is also being improved through machine learning. AI can upscale video from lower-resolution versions to 8k, giving viewers a more immersive viewing experience with picture-perfect clarity.
Connectivity features of smart tv include Bluetooth, wifi(for streaming services) HDMI ethernet connector, and USB connection. All these help with smart connections with other devices at home.
The 8 Best Smart TVs to buy in 2022 under $500
Hisense 15-inch Class H8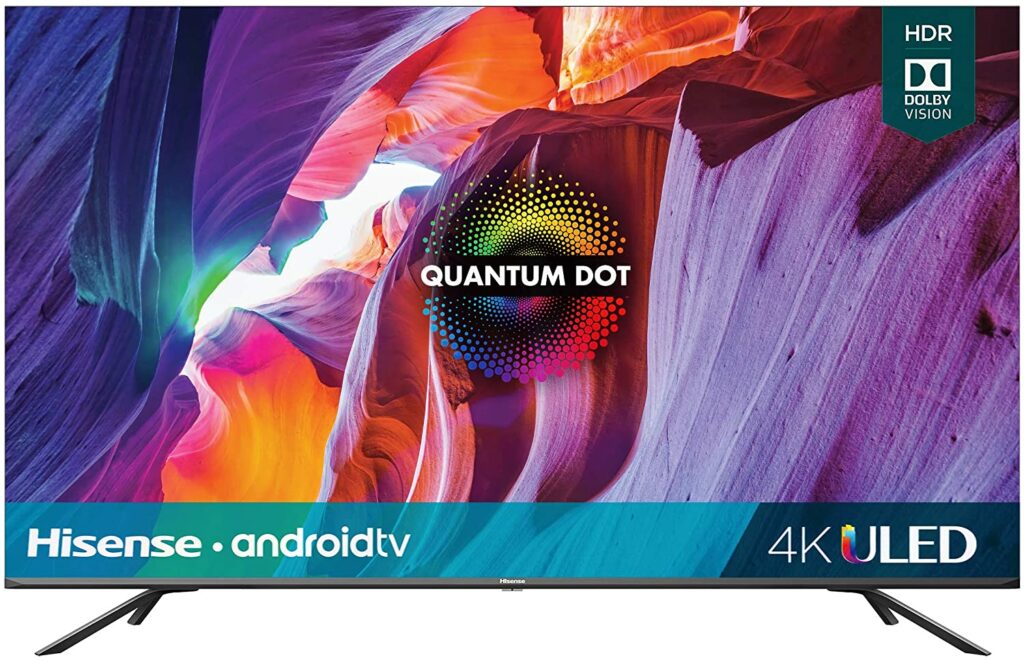 With cinematic Dolby Vision pictures and Dolby Atmos sound technologies, you can turn your home into an entertainment powerhouse, delivering a genuinely cinematic experience with stunning pictures, improved color, and wonderfully immersive audio.
Hisense H8G Quantum Series ULED Smart TVs are 43.8 x 25.4 x 3.1 inches and feature Android TV for rapid access to entertainment and apps.
It has a 240-movement-per-second pace and quantum dot color. With up to 32 local dimming zones, local dimming zones give a greater HDR experience with up to 700-nits peak brightness. The game mode reduces input lag for better gaming performance. You can smartly control the TV with ease with the voice remote, the built-in Google Assistant, or an Alexa-enabled device.
Sony X80J 50-inch Smart TVs
This is a one-of-a-kind 4K LED resolution with a 60Hz refresh rate, fantastic colors that restores natural detail and texture. A CPU capable of producing a picture that is smooth and clear, with vibrant colors, fine contrast.
Fast-moving situations in sports, great play station gaming experience, action movies, and games can be seen with lifelike clarity because of the smooth and clear on-screen motion.
Stream/watch movies and TV episodes from all of your favorite streaming services (such as Netflix, Amazon Prime Video, and others) in one convenient location. You can ask Alexa or google assistant to change channels, adjust volume, and turn your TV on/off. Bluetooth, Ethernet, USB, and wifi are available connectivity technology that can be used to connect to the internet and other devices.
TCL 50-inch Class 4 Smart TV
This 4K adjustable LED TCL Android TV has four times the resolution of Full HD for greater clarity and detail, as well as an infinite fantastic experience with its 60Hz refresh rate for smooth, enhanced watching even at night.
With smart home Google Assistant control, you may enjoy a cinematic entertainment experience. You can also cast movies, videos, and images from your Android or iOS mobile to your TCL Android TV using Chromecast. Using the various HDMI inputs, wifi, or Bluetooth, you may connect all of your gadgets both wired and wirelessly.
Samsung 43-inch Class Q6 Series
When we talk Qled, we talk colors and contrast with an amazing display. Stunning color that never fad. Enhanced contrast with dedicated warm, bright and cool LED backlights. Enter a world rich in color and refined to a new level of clarity, all thanks to the power of Quantum Dot technology. A very slim and light 43-inch 4k display resolution with a full wider screen and smart control. Variably one of the best 4k televisions with a 60Hz refresh rate. Of course, it comes with connectivity tech with different means which you can use for the internet and also mirror your PC screen.
Hisense 50-inch 4K 50U6G
It's fantastic but even better. A ULED technology is featured in the 50U6G. Color, contrast, brightness, motion… the list goes on and on. It's the television that your old television aspires to be. You can view over one billion shades, as with all QLEDs. In comparison to a standard LCD TV, Quantum Dot produces purer, richer, more dazzling colors, as well as a cinematic and ideal gaming experience. The brighter the screen, the higher the nit rating. There are 32 local dimming zones with a max brightness of 600 nits.
It maintains accurate aspect ratios, colors, and frame rates with 60Hz refresh rates, allowing the material to be displayed as intended. Dolby Vision HDR and Dolby Atmos (cinematic experience); Peak Brightness/Full Array Local Dimming Zones (QLED factor); FilmMaker Mode; Google Assistant; Voice Remote; Works with Alexa are among the other exceptional features.
Vizio 55 & 58-inch M7 Series
4k Quantum Color, a new generation of color technology, provides cinematic color with over a billion brilliant hues. Incredible brightness, contrast, and color create a TV experience that brings entertainment to life like never before.
The active full array backlight is intelligently adjusted to fit the content, resulting in very deep black depths and outstanding depth and contrast.
60Hz refresh rate, dynamic motion rater up to 120, wired and wireless multi-connectivity, built-in commands, and Up to 600nits of brightness perfectly reproduces the intricacies in every image. WatchFree+, in particular, is similar to cable TV, but it is streaming and free.
SANSUI ES32S1N, 55-inch HD HDR
The screen has a resolution of up to 3840×2160, and you may enjoy LED HDR, HDR10, and 4K ultra HD visual quality (high dynamic range). The screen has a 178° viewing angle, which gives you a superior visual experience when watching movies, TV, and playing games. HDMI, USB, AV-IN, Earphone, and ATV/DT are just some of the inputs and outputs available on the 55-inch Smart TV.
It's also a smart television with 1.5GB+8GB of large-capacity operation and storage space, as well as AI-powered control and quick connectivity. It's super compatible with all of your devices and allows you to have a smooth browsing experience.
TCL 43-inch UHD Smart TV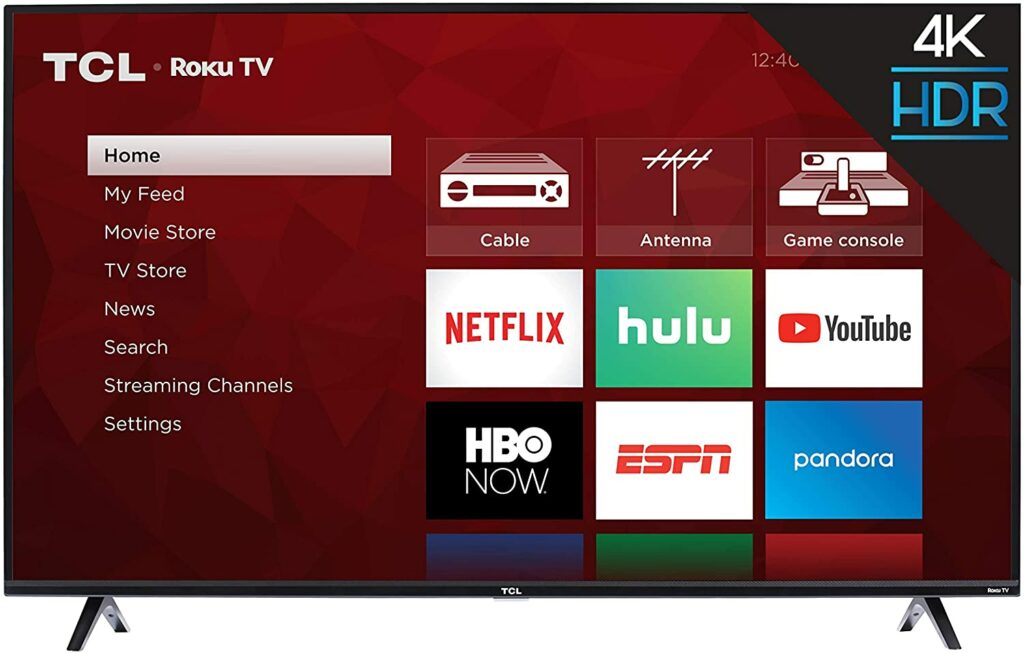 Direct-lit LED produces excellent picture quality – Alexa and Google Assistant compatible – Dual-band Wi-Fi and Ethernet port Pairs 4K super HD visual clarity with the contrast, color, and depth of high Dynamic Range (HDR) for the most lifelike picture. Refresh rate – 120 Hz CMI – Panel resolution – 3840 x 2160 3HDMI, USB, Ethernet, RF Input, SPDIF Digital Audio Optical, Audio Output Headphone, AV Input, Composite Video + L&R Audio Input are among the inputs/outputs. One of the best Smart TV with a 120Hz refresh rate for multipurpose activities you can get under $500.
The 7 Best Smart TVs in 4k and 8k Resolutions to buy in 2022
Here is a list of best 8K and 4K certified display TVs in 2022 A display resolution which is known for its remarkable display performance, which includes over 33 million pixels and four times the clarity of 4K UHD screens
TCL 65-Inch (8k Resolution Smart TV)
With three key picture quality algorithms, this smart 65-inch size 8K HDR are known for brilliant color, upscaling for crisp clarity, and Contrast for dramatic dept. TCL uses AiPQ engine which employs machine learning to automatically increase color, contrast, and clarity as you watch for an unequaled HDR experience.
Improved mini-LED backlighting which allows you to strongly and accurately control the image's spectacularly bright and deeply black portions, resulting in unrivaled depth and dimension.
Quantum dot technology produces is an important part of color enhancement which produce more than a billion colors with increased precision, and brightness.
It's enhanced color contrast is maximized over up to 240 localized zones which results in an image that is extraordinarily vibrant and lifelike. This makes startling separation between bright and dark portions of the image and also variably compatible aligns with most theater screens and Hollywood content makers
Sony Z9J 85-Inch (8K Smart TV Home Theater and gaming)
LED Display revolutionary TV processing technology that smartly knows how people see and hear, maximizing 8K image quality with accurate details, dramatic contrast, and realistic colors.
With billions of exact hues and amazing image quality that is natural and appealing to the human eye, rediscover everything you watch.
Also comes with a wireless home theater audio (Sony's 360 Spatial sound personalizer technology immerses you in audio) as an addition that's tailored to you. Enables wireless connectivity via Bluetooth works smartly with google AI (Alexa) voice command. To enjoy 360 Spatial Sound on the BRAVIA XR, a firmware upgrade is available.
Samsung 85-inch Class Neo (8K Smart TV for Home Theater and Gaming)
Powered by microscopic hyper-focused light cells to produce its incredibly intense image.
With multi-layered neural networks, you can convert any image to 8K. Specialty for its ability to upscales the resolution of what you watch to 8K. The final image may differ depending on the content of the source. On an enormous, virtually edge-to-edge screen, which is perfectly suitable for gaming as you get to see every inch of what of your video games, Play station.
The brightness range claimed by Quantum HDR is based on internal testing standards and is susceptible to change depending on the viewing environment or other factors.
To launch applications, change the channel, search for movies and shows, play music, operate your smart home devices, and more, simply ask the inbuilt Alexa AI. Press and hold the mic button on your remote to speak with Alexa. Simply say "Alexa" and ask a question if you have hands-free enabled.
Samsung 65-inch Class Crystal (4K Resolution Smart TV)
With the incredibly slender, minimalistic Samsung 65-inch Class AU8000 Crystal UHD 4K HDR, take your Smart TV viewing to stunning new heights in Crystal UHD.
Powered by the dynamic Crystal Processor 4K, which delivers colorful, picture-perfect viewing, you'll get a picture that has to be seen to be believed.
Adaptive inbuilt sound system which guarantees that you get the best audio experience possible by automatically enhancing speech, music, and sports so that you can hear every detail. With an almost frameless screen, you're left with nothing but gorgeous photos to appreciate. TCL 50-inch Series 5 (4K Resolution Smart TV)
To help you find movies, change the channel, adjust the volume, and more, choose from Alexa2, Google Assistant3, and Bixby Voice4 for smart voice command. With this Samsung Smart TV powered by HDR10+, you can dive into shows and films in stunning detail while enjoying seamless performance by samsung Motion Xcelerator.
TCL 50-inch Series 5
QLED: Quantum dot technology provides increased brightness and color range. Display Size: 49.5 inch 43.9 x 11.6″ x 27.5″; Size (WxHxD) with stand: 43.9″ x 3.0″ x 25.2″;
For the most authentic picture, combine visual clarity with Dolby Vision HDR (High Dynamic Range) contrast, color, and detail. Image contrast is optimized to achieve local striking constrast between bright and dark areas of the image to provide sense of depth and cinematic reality of viewing .
For an optimum fast-response and improved gaming experience, you can choose Auto Game Mode. Using only your voice, you can smartly find movie titles, start or change channels, and even switch inputs. Comes with with multiple streaming channels available through the Roku Smart TV platform.
Voice-enabled remote control and compatible third-party voice assistant devices, such as Amazon Alexa and Google Assistant, are also available through the Roku mobile app.
LG NanoCell 80 series 65-inch (4K Smart TV)
Quad Core Processor 4K which provides a smooth, clear viewing experience. Active HDR allows you to see and feel as though you're there in the middle of the action. For cinematic experience, you can select the filmmaker mode, which makes you see movies the way the directors intended.
Deeper blacks and more balanced illumination are achieved using local dimming. With this, you'll see a genuine, lifelike image enhanced by a billion brilliant hues with Nano Color.
Gameplay is enhanced even further with Game Optimizer, which provides simpler access to all of your game settings, as well as HGiG's Auto Low-Latency Mode and dynamic gameplay. With "Home Dashboard" or the "Magic Remote voice control", you can operate your LG smart goods and other smart devices straight from your TV. You can control your complete connected smart home with ThinQ AI, Google Assistant, and Alexa built-in.
Vizio 70-inch Series M6 (4K Smart TV for gaming)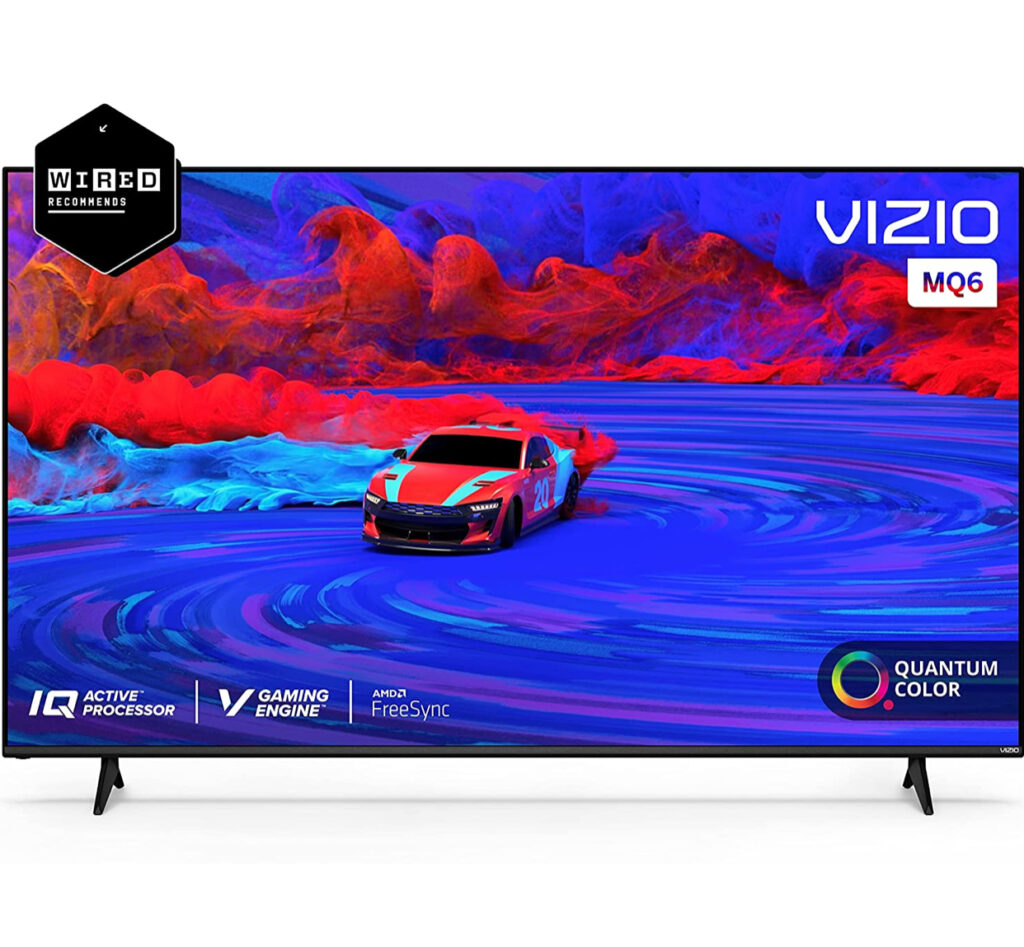 The 4K resolution is four times that of 1080p with 8million Pixels. IQ Active processor which provides better image processing and intelligent in 4K upscaling engine that transforms your favorite HD content into a stunning 4K experience.
Seeing in Dolby vision HDR format which dramatically improves the brightness, contrast, and color of your TV viewing experience, bringing entertainment to cinematic experience. This TV M-series are said to also are also supported HDR10, HDR10+, and HLG.
With over a billion shades of brilliant color, Quantum Color is the next generation of cinematic color. It is powered with intelligent pixel-level brightness changes that tailor contrast levels in over 2000 zones frame by frame for improved visual contrast.
Conclusion
Most smart TVs are essentially multipurpose as they are good for a cinematic experience, better/3D gaming view, and as a monitor for the larger screen by connecting them to your other devices. You might want to place them on a shelf and some people prefer to mount them. If you prefer to mount, then you'll possibly need an expert to get that done. If you are in the US or Canada, our Ticktock Technicians are well versed in smart home technical setup, not only will they mount, but set up all necessary apps, potentials, and commands. You could also feel like your TV isn't loud enough. To solve this, you can check our top 10 speakers for TV.