TickTockTech - Computer Repair Old Millard East, Omaha
Welcome to TickTockTech – Your Trusted Onsite Computer Repair Service Provider in Old Millard East, Omaha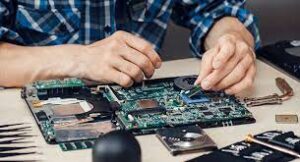 Are you tired of dealing with slow, malfunctioning computers? Are you worried about the security of your personal data? Do you need to update your network or repair your laptop or PC? Look no further than TickTockTech!
We offer fast, reliable, and affordable onsite computer repair services in Old Millard East, Omaha and the surrounding areas.
Don't haul your computer downtown!
Our friendly neighborhood technicians in Old Millard East Omaha area are right around the corner and ready to repair your computer.
Same Day Service: We understand that you have a busy schedule, and that's why we offer same-day computer repair services. Our certified technicians will come to your home or office and fix your computer problems the same day.
No Fix, No Pay: We believe in providing value to our customers. If we can't fix your computer issue, you won't have to pay anything.
Free Onsite Estimate: Our technicians will provide you with a free onsite estimate of your computer repair needs. You will know exactly how much you will have to pay before any work is done.
Affordable Rates: We offer affordable, transparent pricing for all our computer repair services. You won't have to worry about any hidden fees or charges.
In today's digital age, data has become a crucial part of our lives. From personal information to business-critical data, we rely heavily on technology to store and manage it all. However, with technology comes the risk of data loss, whether it be due to hardware failures, software glitches, viruses, or accidental deletions. Losing data can be devastating, but with the help of a reliable data recovery services provider like TickTockTech, you can get your data back in no time.
At TickTockTech, we offer a wide range of onsite computer repair services to meet all your computer-related needs. Our services include:
Laptop and Desktop Repair: We provide repair services for all types of laptops and desktops. Our certified technicians can handle all kinds of issues, from broken screens and keyboards to malfunctioning hardware and software.
Virus and Malware Removal: We offer virus and malware removal services to keep your computer safe and secure. Our technicians will remove all types of viruses, malware, and spyware from your computer.
Network and Wi-Fi Setup: We can help you set up and configure your network and Wi-Fi. Our technicians will ensure that your network is secure and running smoothly.
Data Backup and Recovery: We provide data backup and recovery services to protect your personal data. We can recover data from all types of devices, including hard drives, USB drives, and memory cards.
Computer Upgrades: We can help you upgrade your computer's hardware and software. Our certified technicians will provide you with expert advice on the best upgrades for your computer.
Printer and Scanner Setup: We can help you set up and configure your printer and scanner. Our technicians will ensure that your devices are working properly and can be accessed from all your devices.
Smart Home Device Setup: We can help you set up and configure your smart home devices. Our technicians will ensure that your devices are connected and working properly.
Certified Technicians: Our team of certified technicians has the expertise and experience to handle all types of computer-related issues. We are committed to providing you with the highest quality computer repair services.
Fast and Reliable Service: We offer fast and reliable computer repair services to keep your devices up and running at all times.
Transparent Pricing: We offer transparent pricing for all our computer