Repairing your computer shouldn't be stressful. If you are chanced, you should be able to find a good repair center around you. On a better note, you could just call a computer technician around you, who will come to your home to check and fix your computer. Either computer, laptop, gaming electronics, computer accessories, network/server issues, or smart home technology, you will surely find a technician around you to will do an effective job.
But the main bone of contention is, how do you have a good technician to call? Yeah, you can simply go for "computer repair near me" and you'd get 100s of results, and if it's your first time, or you've had a bad experience with one, then you might get confused. This post will guild you through that.
Also, with the best options around you, of computer repair companies in Toronto that are trusted by many people and have the service you need. Let's have a brief look at how to get a non-disappointing technician in Toronto and the top 5 computer shop recommendations for beginners.
How to get a good Computer Repair Technician or shop in Toronto
If you need a computer repair service, it's important to choose a professional and experienced technician who can fix your laptop without delay or overcharging you. Here are some things to consider when selecting a computer repair service: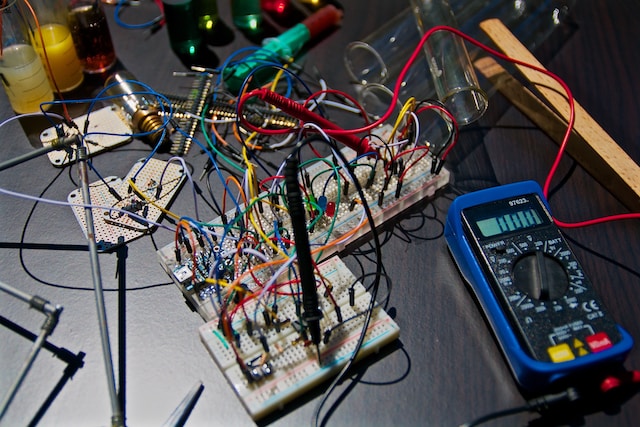 Experience and Expertise
One of the most important factors to consider when choosing a computer repair service is the provider's experience and expertise. It's essential to check their market presence and track record before giving them your device.
Look for a service provider that has been in the computer repair business for a long time. A long-standing success in business is an indication of a reputable service provider with a proven track record.
Reviews and Online Presence
Another essential factor to consider is the provider's online presence and reviews. Before choosing a computer repair service provider, check their social media profiles and compare evaluations. Reviews can provide you with insightful information about other people's experiences with the provider and give you an idea of the provider's general degree of professionalism and service quality.
Cost and Values
Even if the service is excellent, overcharging or non-stable prices can downgrade the value of such service. A good computer repair shop should provide competitive pricing that is fair and economical for the customers while still being profitable for the company.
Related: Should I repair my laptop or get another one?
Ensure that the store is open and honest about its pricing policy and provides upfront estimates for services. This way, customers are protected from unpleasant surprises or unexpected costs.
Fixing Period
When getting a technician to repair your computer, it's essential to consider when you will get it back. The turnaround time varies depending on the extent of issues with the laptop or desktop, such as whether it requires replacement or just fixing.
A good technician will give you a turnaround time almost immediately after you tell them what's wrong with your computer. If you're not sure what's wrong, the technician will be able to provide a turnaround time after diagnosing the problem. Some of the best computer repair stores in Canada and the US offer same-day service for most computer problems, as they have worked on many of them in the past.
After-Repair Services
Finally, you should consider the customer service provided by the computer repair shop, both in response and working ethics. A good shop should provide after-repair services such as a warranty for their work. This indicates that they will fix the computer for no additional charge if the same issue recurs within a certain time frame.
Customers can also get remote support from them, which allows them to address any problems that may develop without requiring the customer to return their computer to the shop. Good customer service is a sign of a professional technician who cares about their customers' satisfaction.
By considering these factors, you can find a reputable and reliable computer repair service that will fix your laptop quickly and effectively.
---
4 Best Computer Repair Shops in Toronto
In as much as you can get to do some of the computers repair yourself by troubleshooting, you would still need a professional for the delicate parts like the hardware replacements and the entire software and anti-virus maintenance. Let's have a look at the best options for you in Ottawa. Analyzed and decided based on their professionalism, customer experiences, service options, and turnaround time.
1. TickTockTech
TickTockTech is a corporation with its headquarters in North America and offers both businesses and individuals a variety of technical support and repair services. Virus removal, network configuration, laptop repairs, smart home devices, Computer and Gaming room Setups, computer repair, data backup and recovery, and IT consultation are just a few of the services provided by TickTockTech.
The organization will send a certified computer repair specialist to your location the same day onsite repair that you call them for support, which is one of TickTockTech's distinctive advantages. And their repair is unfailingly delivered on the same day you'd watch as the technician starts and finish and it gets tested. TickTockTech has been a well-liked option for people and companies looking for rapid and dependable technological support due to its speedy and effective service. They provide a variety of specialized services, such as hardware upgrades, malware removal, and screen repairs.
In addition to the guarantee of same-day service, TickTockTech also provides straightforward pricing without any additional costs or levies. All of the company's personnel are completely qualified and certified, and they employ the most up-to-date equipment and technology to deliver excellent service. They have thousands of positive customer evaluations and are highly known among customers in all of their locations.
2. Nerd on Site
Nerd On-Site has been providing computer repair services in Toronto for over a decade. They provide a variety of services such as computer repair, data recovery, virus eradication, networking, and cybersecurity.
Nerd On Site distinguishes itself by placing a strong emphasis on client service. They offer a 100% satisfaction guarantee, committing to do everything possible to ensure that their customers are completely satisfied with the services they receive. They also provide a "Nerds on Wheels" service, which means they will come to you and repair your computer on-site.
3. ASK Computers
ASK Computers is a Toronto, Ontario-based computer repair service. They provide a variety of computer repair services, such as virus eradication, data recovery, laptop screen repair, and others. The company has been in operation for over 15 years and has earned a reputation for providing its clients with dependable and fast service.
They offer a staff of certified technicians who have worked with many types of computers and devices. ASK Computers sells new and refurbished computers, as well as computer accessories and peripherals, in addition to repair services. Customers can explore and purchase products from the comfort of their own homes via their website, which provides a comfortable online shopping experience.
4. FixPoint Repair
Fixpoint has been in business for several years and has built a solid reputation for high-quality work and exceptional customer service.
They specialize in laptop and desktop computer repair, as well as software installation and virus removal. Customers who have lost vital files or documents can also use their data recovery services.
FixPoint's specialists are knowledgeable and competent, and they work promptly to diagnose and repair computer problems. They are pleasant and professional, and they explain the problem and the remedy to their consumers.
---
Which are the best computer repair shops in Toronto in 2023?
Toronto is home to a number of respectable computer repair businesses that are recognized for their knowledge and superior support. ASK Computers, Nerds on site, and TickTockTech are a few well-liked choices.
What types of computer or laptop issues can these repair shops handle in 2023?
The top computer repair companies in Toronto can fix a variety of problems, including software problems, virus eradication, data recovery, and hardware repairs (such as screen replacements, keyboard repairs, or component upgrades).
How long does it typically take ticktocktech to get computers repaired in Toronto?
TickTockTech offers same-day services where you get your computer or devices back in a few hours.
Are the repairs covered by any warranty or guarantee?
Numerous trustworthy computer repair businesses in Toronto, including TickTockTech, provide warranties or guarantees for their work. Before beginning any repairs, it is advised to find out about their individual warranty policies. This will make sure that you are covered in the event that a problem develops following the repair.
How much do computer or laptop repairs cost in Toronto?
Depending on the type of repair required, the difficulty of the problem, and the business you select, the cost of computer or laptop repairs can change. To evaluate costs and find the ideal mix between affordability and quality, it is essential to request estimates from many stores.