The influence of technological advancements has improved many things in such a way that it increases the purpose an appliance is originally made for. Not only in smartwatches but also all other tech and electronics appliances originally made for a single purpose.
Before now, appliances like TVs and watches were initially used to simply watch movies and check time respectively. Now, many smart and befitting features have been going around the tech world for the last few decades.
Changes like a Smart TV accessing internet, a phone having voice command, home appliances working hand-in-hand with Artificial Intelligence(AI), and many other smart features. These smart features are not just fancy but also make devices possess more amazing features that make our daily life easier. Smartwatches have improved to the extent that they can now do some activities of a mobile phone like calling, music, pictures, messaging, etc… In this article, we'll talk about why you should consider getting a smartwatch and the top 12 smartwatches you can check out.
Are Smartwatches worth it in 2022?
Yes, Smartwatches are still worth buying as they are not only to play music, pick calls, and messaging alone but also used as a good primary health monitor. They are good for health and fitness watch, especially for elderly people.
Most of the latest smartwatches are just like smartphones devices worn on your wrist with a smaller screen with similar operatives. Many smartwatches are linked to a smartphone, which alerts the wearer to incoming calls, e-mail messages, and app notifications.
Businessmen nowadays are prone to relying heavily on their phones. This is a quick and convenient method to check emails or schedule appointments in between meetings and other business obligations. Smartwatches have a good potential of disrupting the business world and forcing individuals to stick to strict timetables.
If you looking to get fit or watch your health stats, active lifestyle, workouts, and diet watch, then getting a smartwatch is a good step as it gives you a live report while on your wrist. Some smartwatches possess features that actually saved lives.
5 Technical Specifications to look at when buying a smartwatch
In the gadget world, most gadgets have similar "specs" but the there are most important things you must look at before considering buying. These specs sometimes have range or value at which it will actually satisfy you. Before you get yourself a smartwatch in 2022, here are 5 essential specifications you should look at; Communication, Waterproof ability, Battery life, Compatibility, and the Fitness tracking ability
Communication and Connectivity
Not all smartwatches have the ability to make phone calls, with cellular or networks. Some are dedicated to a specific purpose (usually the old gen smartwatches). In getting a smartwatch, it's quite essential you are able to communicate by cellular and able to send and receive messages without having to reach your phone.
Also, connectivity is either by Wi-Fi, LTE, or Bluetooth so as connect to your devices, access the internet, and receive notifications from your social networks. Some new generation smartwatches are interconnected with all their services. For instance, you can go for a run without having to play music directly from your phone. You can just launch the app which will have the same playlist as on your phone, like in apple music or iTunes.
Waterproof Ability
Sometimes, we do almost forget to off our watches before swimming or even showering (if rushing). I don't think you should buy a watch in the modern age that shouldn't be waterproof or dustproof. Most smartwatches now actually have water resistance ability and waterproof ability to a certain depth. The waterproof meter determines how long it can be immersed or swim proof without getting damaged. However, if your watch has a heart rate sensor, there's a high tendency its swim proof. A range of 50m-100m (in-depth) water resistance ability of a smartwatch is your best bet if you're to bathe with it or swim with it deeply.
Battery Life
These are smartwatches and even though they are small, they are just like most tech devices. The power source is, of course, a battery that can be recharged. Like other products, it's crucial to consider not just aesthetics and physical specifications, but also factors such as endurance, of which battery life is a key component.
Good battery life for a smartwatch depends mostly on what it is used for but should be between 3 to 6 days on standby mode. For internet mode, it can last up to a day for most brands. Charging generally should take no more than 4 hours on average. These smartwatch batteries should have a capacity of at least 200mAh to 380mAh (recommended). Some batteries may not last as long as they claim, although this should only happen when you're heavily using it which is quite uncommon for smartwatch users.
Compatibility
Most Smartwatches basically connect with devices using the same OS (Operating System) or same company/brand. However, it's possible in some cases that you can cross-connect with other devices. For instance, Apple Watches are solely compatible with iPhones, but Wear OS devices (by Google) are compatible with both iOS and Android. Smartwatches from brands like Samsung, Garmin, and some other smartwatches are also compatible with Android and iOS, but you'll need to download a companion app for operation.
Fitness Tracking
The ability of a smartwatch to help with primary healthcare is top-notch and purposeful for every individual. The proof is a good multipurpose device includes health, fitness, and diet watch. Most smartwatches have the ability to measure and give live updates on your heath. The ones you should consider should be at least capable of giving an update for essential health stats which includes;
Measurement of heartrate done by scanning blood flowing through your wrist
Tracking Steps and sleep monitoring especially for seniors
Workout Apps to help with interval exercises, instructions that are simple to follow, and progress tracking that you can read from your wrist
Pairing your smartphones to provide you with short interval exercises, easy-to-follow directions, and progress monitoring that you can read from your wrist
The ones that come with apps that can track and log your calorie intake for each meal, which makes monitoring calories a breeze.
Here are the top 12 Smartwatches to get in 2022 for multiple purposes and budget-friendly costs. Selected based on the specifications and user experience.
1. Riversong 2022 Smartwatch (Best Low-budget Smartwatch)
A fitness watch with a 1.69-inch TFT-LCD touch screen, this fitness tracker sets a new standard in button touch fitness trackers. Effective when tracking your stats on sporting, fitness activities like walking, running, cycling, skipping, badminton, climbing, yoga, and sit-ups
IP68 waterproof ability that enables you to swim and dive with it (not deep inside the water), but not effective in tracking or logging your swimming statistics. Built-in 220 mAh rechargeable battery with a working capacity of duration up to 7 days.
Healthwise, this device enables you to track your steps, calories burnt, sleep tracking, distance, speed, heart rate change, and duration of exercise with a pedometer watch. Also, automatic and continuous heart rate monitoring for 24 hours.
Connection with your phone makes it possible to control your music straight from your wristwatch. Aside from music, it supports receiving notifications by phone call or SMS from Facebook, Twitter, and other social media platforms. However, the con of limitations in connectivity is at a distance of 10meters. Also, it can only give notification, it can't send out a message, call out or text back.
2. Suinsist Smartwatch
A 1.28-inch full touch color screen, HD screen, smartwatch with a call for android ios phones (bluetooth5.1, android 4.4+, ios9.0+). Bluetooth voice calls, music playing, pedometer, distance, calories, sleep tracking, and more for communications.
This smartwatch does not only monitor your health and tracks your movements, but it can also send you a quick signal if you have been sitting for a long period or haven't consumed water in a long time. Powered with IP68 water resistance ability which could be used for swimming at mot more than 2.5 meters but not advisable for bathing-with especially if you stay long.
Graphically, has four dial themes built-in, and the app has 46 dial themes that can be swapped at any moment via the mobile phone. After connecting the smartwatch to the phone via Bluetooth, you can turn on the one-click message in the app "H Band," and all of your information, including receiving and sending via calls, SMS, Facebook, Twitter, WhatsApp, Gmail, and other APPs, will be displayed synchronously on the smartwatch. Voice assistance to take images from afar, sensitively brighten the screen by raising your wrist, are some special AI features of the Suinsist watch.
3. Motorola Moto Watch 100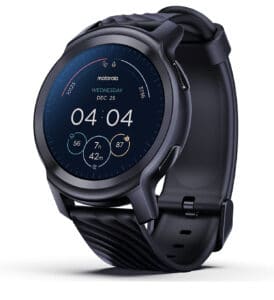 The Moto Watch 100 is designed to be worn all day, not just for fashion but also for an active lifestyle. With a 42mm metal casing, black silicone band, and 1.3″ circular LCD display, comfort and aesthetics are well balanced.
With a battery that uses weeks and just charges a time of 1-2hrs, you can increase the pace by using it full-time for two weeks and keeping up with your schedule. It provides the features you need without the battery-draining apps you don't.
Communications, reminders, dynamic health tracking tools, and power with over 26 sport modes assist you in establishing routines and getting the most out of your workout. The accelerometer, gyroscope, heart-rate monitor, SpO2, and ambient light sensor provide health tracking
Water resistance of 5ATM allows you to be as active as you want. All these with the notable brand is the budget-friendly smartwatch for multipurpose use, especially in terms of fitness.
4. Apple Series 7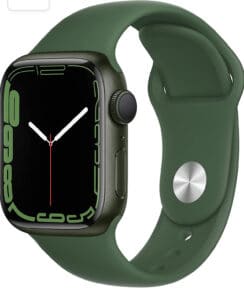 The latest apple watch series and most robust front crystal on an Apple Watch to date. Always-on as the Retina display has roughly 20% more screen space than the Series 6, everything is easier to see and utilize. Enables IP6X dust resistance, and a swimproof design. Works with almost all apps you can use on your iOS mobile; music, podcast, pictures, and more.
All apple series is great for powerful sensors and software, you can monitor your blood oxygen levels. Not just standard health reports but also, you receive alerts for high and low heart rates, as well as abnormal cardiac rhythms. On Apple Watch, you can keep track of your daily activities, and on the iPhone's Fitness app, activate Siri, and check how you're doing.
You can generally do fitness activities like jogging, sleep track, yoga, swimming, and dancing, and also you can, keep track of new tai chi and pilates sessions. Series7 is more powerful compared to previous ones which differ with a faster chip, better battery life, crack resistance, and of course, the screen size.
5. Samsung Gaalaxy Watch 4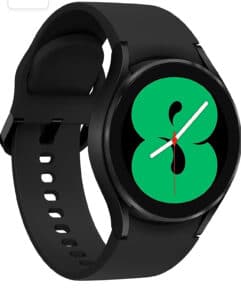 A new companion in fitness, Samsung Galaxy Watch4, you'll look fashionable while being convenient with communications, fitness, and workouts without having to pick up your phone. Advanced fitness coaching and oxygen level monitoring apps help you work out intelligently while building endurance, so make the most of every run. Powered with LTE connectivity, where you can call, text, and listen to music all from your wrist.
Another good option if you're mostly concerned about the "health aspect" of a smartwatch. Sleep tracking on the galaxy watch4 starts monitoring your sleep and spo2 levels. continuously monitor your heart with accurate Electrocardiogram (ECG) monitoring and keep an eye out for possible atrial fibrillation, a common kind of irregular heart rhythm; share individualized readings with your doctor using the Samsung health monitor app on your compatible galaxy phone.
Sensitive workout-tracking automatically recognizes 6 popular activities, from running to rowing to swimming, in just 3 minutes. You can also enhance your exercise session by connecting to live coaching sessions via your smartphone or group workouts.
6. Fossile Gen 5E smartwatch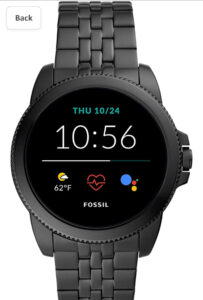 This is a smartwatch with an always-on display and hundreds of watch faces to customize your look and view the time at all times. Stay in touch with automatic time, time zone, and calendar syncing, as well as alerts for calls, messages, and applications. When your phone is out of reach, you can still answer and make calls using your watch.
All of your health, sleep, activities (with GPS), and fitness applications are powered by data from advanced sensors. You can track your sleep history, GPS location, assess your restfulness, and establish sleep goals thanks to new wellness features.
Up to 24 hours + battery life which is variable with respect to usage and updates that have been installed. USB cable with magnetic charger clamps to rings on the watch case back and spins 360 degrees. Fast charging gets to 80%, which takes just about 50 minutes to an hour.
However, the Cons of; Features that are supported may differ between systems and regions, and compatibility is subject to change. Not compatible with Android Go or phones that do not have access to the Google Play Store.
7. Fitbit Versa2 Fitness Watch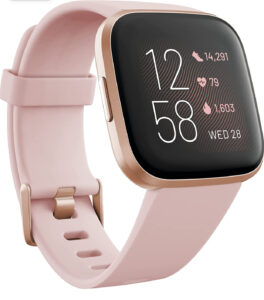 Just like its name, another good fit for health and wellness. It serves all common health measures where it tracks your heart rate 24 hours a day, seven days a week, and keeps track of your steps, distance, calories burnt, hourly activity, active minutes, and floors climbed.
Not only does it measure sleep but also calculates your sleep quality each night based on your heart rate, time sleeping, and restlessness. It also gives insights by tracking your period in light, deep, and REM sleep periods.
Not just fitness, but also AI built-in Amazon Alexa to obtain instant news and information, check the weather, set timers and alarms, control your smart home devices, and more with just your voice.
If not for anything, you should get it for its battery life which lasts up to 6 days(claimed). It may be used around the clock without getting worried about charging.
Compatible with Android OS where you can receive and send back call, text, calendar, and smartphone app alerts when your phone is close by. Waterproof to a depth of 50 meters but highly recommend to dry the band after swimming or getting it wet since.
8. Amzfit GTR2 (Best smartwatch for sports)
Yet another smartwatch with good battery life. The GTR 2 has a robust 471mAh battery that can last 14 days on average and is always ready to accompany you wherever your workout takes you. In short, it has most of the features in smartwatches in terms of music, fitness, connectivity, and communication. In addition, you can use it to ask inquiries, obtain translations, check the weather, and control your smart home gadgets, which quite make it more functional besides comms and fitness.
The integrated design with 3D glass seamlessly transitions to the stainless steel watch body. It has an AMOLED high-definition screen with a pixel density of 326ppi.
The Amazfit GTR 2 has 90 sports modes built in but only has intelligent identification of 6 sports modes, which removes the need to manually choose the sports modes.
This wristwatch can give 24-hour high-precision heart rate monitoring and real-time warnings for potential cardiac problems using its PPG bio-tracking optical sensor. Featuring the PAI health assessment system, combines health and activity data into a single score, allowing you to quickly analyze your physical condition.
9. Garmin Venu 2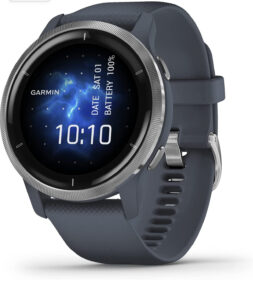 Fitness effectiveness watch that makes you learn more about your body with features including health snapshots, Body Battery energy levels, sleep score, fitness age, stress tracking, and more.
While working out to get fit, you need something to entertain with. Download up to 650 songs to your watch, including Spotify, Amazon Music, and Deezer playlists. It also enables you to pair with wireless headphones.
Leave your cash and cards at home if your nation and payment network are supported. Contactless payments with Garmin Pay allow you to make purchases on the fly.
Compatible with an Android or Apple smartphone, smart notifications ensure effective communication. With a battery life of up to 11 days in smartwatch mode and up to 8 hours in GPS mode with music, as well as quick recharging and energy saver mode.
10. Apple Series 4 (Best Low-Cost Apple Watch)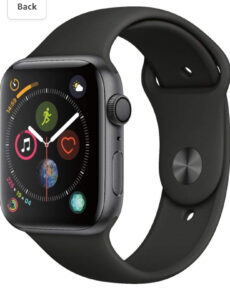 This Apple Watch Series 4 (GPS) 44mm Space Gray Aluminum Case with Black Sport Band is brand new. A new Digital Crown with haptic feedback has been released. Notifications for low and high heart rates. S4 dual-core 64-bit CPU which is obviously faster than an S3 processor by up to two times. Sensor for the electrical heart (ECG app), electrical cardiac built-in. The optical cardiac sensor of the second generation, digital crown with haptic feedback for fall detection are all special features you can hardly find in most smartwatches.
Sharing an activity with pals, coaching on an individual basis, challenges, and accomplishment awards are given out on a monthly basis. These make your workouts and fitness routine more interesting. You can communicate via a Walkie-Talkie, make phone calls, and send text messages. Apple Music1 and Apple podcasts are available to listen to. Also, utilize Siri in novel ways, the Apple Watch Series 4 allows you to accomplish the most things you can do on your phone from your wrist. This is your best pick if you are looking for a low-cost new generation Apple smartwatch that is still worth buying in 2022.
11. Fitbit Versa 3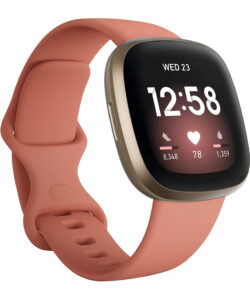 This can do everything Fitbit versa 2 is capable of with some new improvements that make it worth it. Pure Pulse 2.0, Fitbit's upgraded heart rate technology, allows you to better measure your heart rate 24 hours a day, seven days a week.
With the variety of SpO2 clock faces, you can see your nighttime blood oxygen levels at a glance. Then, under the Fitbit app's Health Metrics dashboard, you can track your patterns over time to see if there are any signs of significant improvements in your wellbeing. By speaking to your watch with help of Google Assistant and Alexa, you can obtain instant headlines, set sleep reminders and alarms, operate your smart home gadgets, and more.
12. Withinling Steel Watch (Best Smartwatch Battery)
With the same set of fitness and health tracking abilities that you'll find in most of the wearables listed on this post. However, there's a great difference in battery life, which lasts up to 25 days(on standby), spends more time moving and less time charging. Also, VO2 max estimate is used to calculate fitness level. Tracks 30+ sports and uses linked GPS to chart your workout including distance, elevation, and pace. A high water-resistant hybrid smartwatch that can go swimming or shower with you.
You'll get a Sleep Score based on light and deep sleep cycles, interruptions, depth, and regularity when you wake up.
Connect and operate your smartphone's call, text, event, and app alert directly on your wrist.
Future of Smartwatches
They went beyond music, or phone call capable devices to health and fitness device. However, it does essentially give all medical reports on health which you'll have to go into hospitals to check. Looking at the tech future, these wearables will be able to extend their performance in terms of health monitoring like diabetes. Most especially for the technical aspect, it will increase in sensitivity, and perhaps maybe it would be possible to equip wearables with argument reality features like in sci-fi movies.