Tablets are the gadget appliance between mobile phones and laptop computers. It's safe to say they are a type of mini-computer or micro as the screen size may be. Advanced tabs now have most characteristics of a laptop in a miniaturized body. Microsoft tablets for example have been a very useful tab as they use the window operating system and come with keyboard and others with android OS. This feature makes these devices a suitable option for students (high school mostly) as it contains almost everything they need. Activities like reading, browsing the internet, typing documents and sheets, online communication, and other minimal or light laptop activities.
Not to doubt, tablets with a keyboard (most works with a keyboard even if they don't come with one) is one of the best options for high school or college student in search of a cheap gadget to use as a basic laptop. Here are some of the best 6 tablets with keyboards you can buy in 2023 for under $100.
The Ventura 10 Android Tablet boasts a 10.1-inch HD touchscreen display with a resolution of 1280 x 800 pixels. It runs on the latest Android 10 operating system, providing access to the vast selection of apps available on the Google Play store. The tablet comes equipped with a detachable keyboard, allowing for a seamless transition from tablet to laptop mode.
Additionally, it has front and rear cameras, 2GB of RAM, and 32GB of internal storage, with the option to expand storage up to 128GB via the microSD port. Designed for both students and kids, this responsive and fast tablet is perfect for reading, typing documents, browsing the internet, light gaming, listening to music, and streaming movies.
The RUIQIAI tablet is a powerful and versatile device, featuring the latest Android 11.0 operating system and a quad-core processor. With 4GB of RAM and 64GB/512GB of internal storage, it offers plenty of room to store videos, music, games, and more. The tablet is designed to run multiple programs quickly and efficiently, making it a great choice for multitasking.
The RUIQIAI tablet is equipped with a large, ultra-wide 10.1-inch HD+ screen, which offers a vivid visual experience with a resolution of 1280 x 800. The IPS Touch Screen allows for an enhanced viewing experience, whether you're watching videos or browsing the internet.
Equipped with a Bluetooth keyboard, mouse, and stylus, allowing you to switch between three different modes of use. With a 6000mAh lithium battery and a low-power CPU.
The Windows 10 Home Tablet is a powerful and versatile device that is perfect for a wide range of uses. Equipped with an Intel Celeron N4020 integrated chip. It provides enough power to meet the needs of daily use and is suitable for business, online classes, working from home, casual gaming, and entertainment. The 10″ IPS 1280 x 800 HD touchscreen delivers a clear, bright image, vivid colors, and a splendid visual experience.
The tablet comes with 4GB of RAM and 64GB of storage, which is ideal for downloading large amounts of files. Additionally, it supports a TF card to expand the memory up to 256GB.
The tablet also features a 6000mAh battery, which provides up to 6-8 hours of mixed usage. However, it's worth noting that the battery life will vary based on device settings, usage, and other factors that may reduce battery life. Overall, the Windows 10 Home Tablet is a reliable and efficient device that can meet all your basic student needs.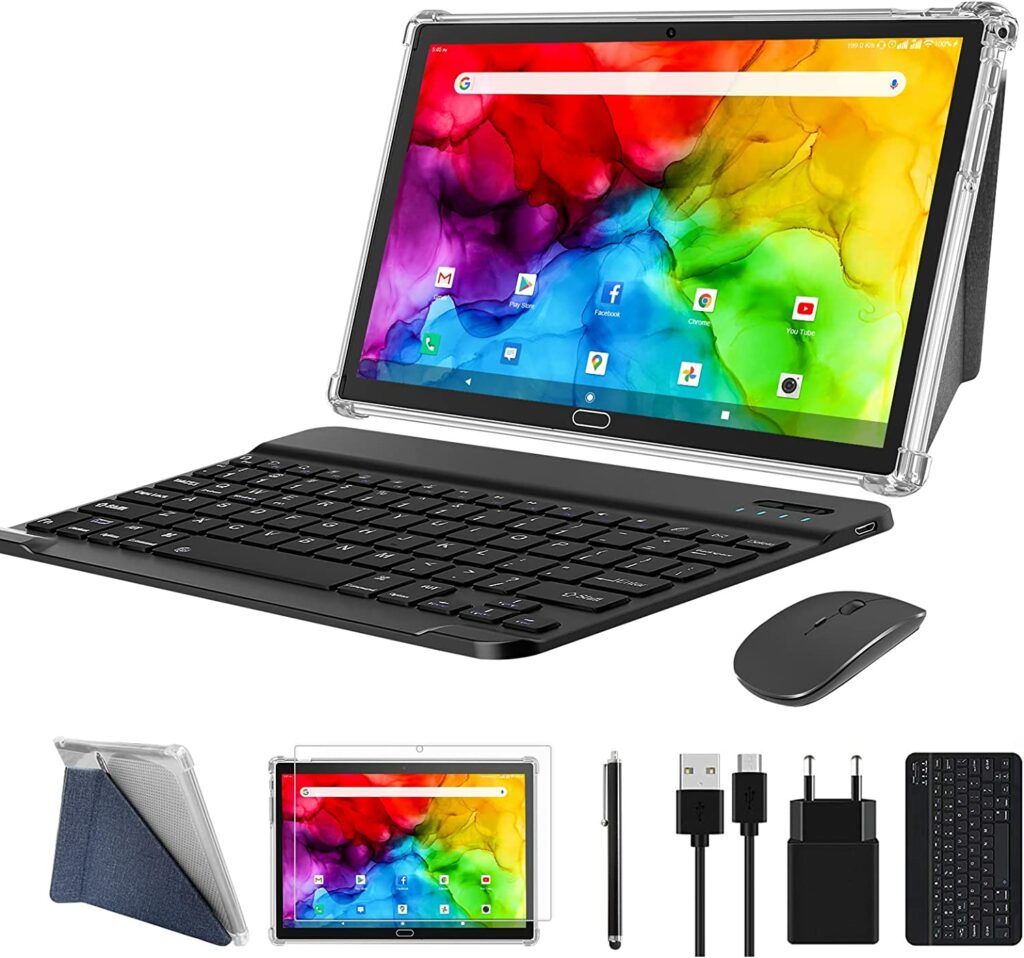 The ZONKO Tablet is a 2-in-1 device that combines the functionality of a mobile phone and tablet. It features 4G phablet capabilities, Dual SIM capabilities, Wi-Fi, and 4G/3G/2G options for internet connectivity. With 4GB+64GB internal storage, Bluetooth Keyboard, Wireless Mouse, and foldable protective case, it offers limitless features and capabilities for your enjoyment.
The device runs on the latest Android 11 operating system and an Octa-core 1.6Ghz CPU offers a 10.1-inch display and 13MP rear camera and a 5 MP front camera. The device has a 10.1 inch display with accurate color reproduction, perfect for watching movies, playing games, reading comic books, and making video calls.
The LNMBBS android tablet is a versatile device that can be used as a laptop with its configured keyboard. It comes with a variety of accessories to meet your different needs. This includes a case for the tablet, a 2-in-1 keyboard, mouse, capacitive pen, instruction manual, USA standard charger, and Type C Data Cable.
This tablet is equipped with a powerful 1.6GHz 64-bit Octa-core CPU and 4GB RAM, allowing for a smooth gaming experience. The tablet runs on the latest Android 11 system, Google certification, has 64GB of internal storage, 128GBcard slot expandable.
The 10-inch Android tablet has a 2.5D curved glass screen, 5MP front and 2MP rear cameras. Other functions like 5000mAh battery, FM, GPS, 2.4Ghz WiFi, Bluetooth, and a fast-charging USB-C port.
The 10-inch tablet is a versatile device with tablet to laptop transition using a docking keyboard. It runs on a Android OS and has 32GB built-in storage that can be expanded upto128GB via microSD card slot. The tablet uses a 2.5D curved glass IPS screen that provides a brighter and clearer image for ease of viewing.
The Octa-core processor of up to 1.6GHz with 3GB RAM ensures fast performance for all your streaming and multitasking needs. The tablet also has ultra-fast 2.4GHz and 5GHz WiFi, Bluetooth 5.0, GPS. A 6000mAh battery that can stand by for up to 15 days, play video for up to 5 hours, front and rear camera. And can be charged via the USB Type-C port.