iOS 17, the latest iteration of Apple's renowned mobile operating system for iPhones, is generating excitement as it undergoes beta testing post-launch at the WWDC earlier this year in July.
With a scheduled release this September, it coincides with the launch of new iPhone models. This update introduces fresh enhancements to Phone, FaceTime, and Messages while also bringing subtle refinements to various other applications.
Furthermore, iOS 17 promises an exciting addition later this year in the form of a new journaling app. In this article, we'll delve into the release date, features, and specifications of iOS 17.
When is iOS 17 coming out?
On June 5, at WWDC 2023, Apple unveiled iOS 17, showcasing its exciting features. The global rollout to iPhones is set for Monday, September 18. Leading up to the official release, iOS 17 will undergo a series of beta versions for testing. The initial developer beta became available on the first day of WWDC 2023.
Going by previous updates, the most recent beta iteration is potentially the release candidate. And we expected it to closely resemble the version set to launch on September 18.
iOS 17: New Features and Specs
iOS 16, iOS 17's soon-to-be predecessor, brought several exciting features, such as a revamped Lock Screen, iMessage unsending, and the iCloud Shared Photo Library.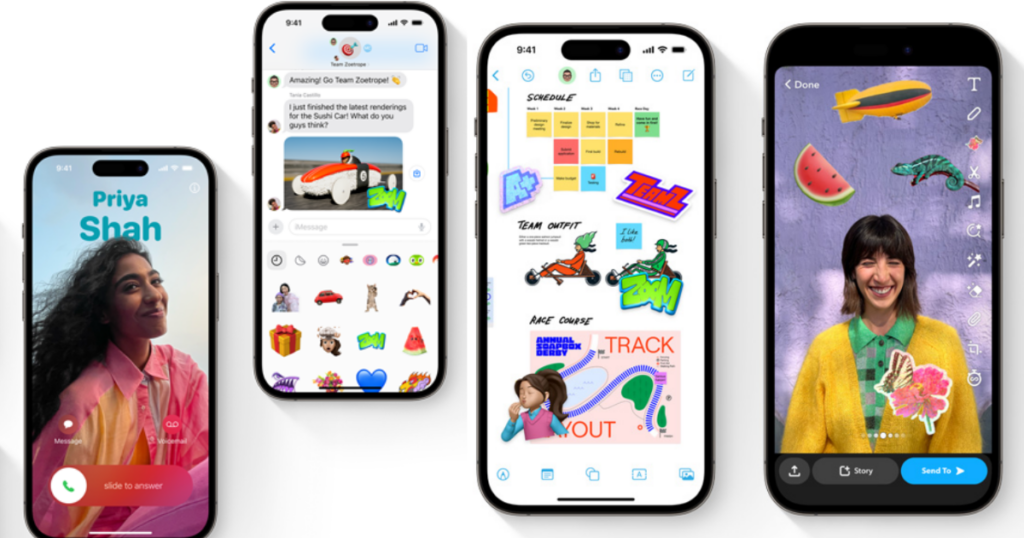 So, what's on the horizon for iOS 17? While initial rumors hinted at fewer major changes, Apple has unveiled numerous new features, which we'll discuss soon. It's worth mentioning, however, that not all these new features will be available right at launch.
At least five iOS 17 features, including AirDrop over the Internet, the Journal app, Collaborative Apple Music playlists, AirPlay in hotel rooms, and NameDrop to Apple Watch, are scheduled to arrive "later this year" through a subsequent software update.
Upgraded Lock Screen Features in iOS 17
In iOS 16, Apple introduced significant alterations to the Lock Screen, and in iOS 17, the tech giants have gone further to enhance its functionality and usefulness.
StandBy
StandBy is an iOS 17 iPhone Lock Screen mode that activates during horizontal charging with MagSafe, Qi, or Lightning chargers.
Similar to Apple Watch's Nightstand mode, it transforms your iPhone into an informative hub when idle. It displays time, calendars, favorite photos, notifications, music controls, Siri responses, and more via widgets.
You have the freedom to choose the time's appearance, curate the photos you want to see, and select widgets for display on the StandBy screen. StandBy is ideally suited for iPhones with always-on display, but it can also be activated with a simple tap on iPhones that lack always-on technology.
Interactive Widgets
Widgets on both the Lock Screen and Home Screen are designed to be interactive, allowing you to perform actions without opening the respective app.
For instance, within the Reminders widget, you can mark tasks as complete directly, and with the Home widget, control your smart lighting.
Apple's native apps seamlessly integrate with interactive widgets. iOS 17 also gives developers the opportunity to incorporate interactivity into third-party widgets.
Improved Keyboard on iOS 17
In iOS 17, enhanced machine learning technology powers a smarter autocorrect system. It delivers more accurate predictions by learning from your typing habits over time. Autocorrect not only suggests proper spelling but also offers grammar improvements.
A new feature allows you to leverage inline predictions by tapping the spacebar, making it convenient to complete words or even entire sentences without reaching for word suggestions.
Furthermore, iOS 17 marks autocorrected words for easy identification, enabling you to revert to your original input with a simple tap.
AirDrop Updates on iOS 17
AirDrop now has a new core feature, known as NameDrop, that aims to simplify contact sharing.
With NameDrop, you can easily exchange contact information by holding your iPhone near another iPhone or Apple Watch. This feature offers the flexibility to select which phone numbers and email addresses you'd like to share, and you can also transmit your Contact Poster for added convenience.
Proximity Sharing in iOS 17 enables you to kickstart an AirDrop file transfer by simply holding your iPhone near another, making it effortless to share photos and documents with someone in close proximity.
Additionally, later in the year, an Internet Transfer option will be introduced. It allows you to initiate an AirDrop transfer using proximity and complete it via iCloud, which is ideal for sharing larger files. Both participants must be signed into iCloud to use this feature.
Furthermore, holding two iPhones together will initiate SharePlay, enabling you to enjoy music, movies, or games with someone nearby while using your devices.
New Mental Health Features on iOS 17
In the Health app's latest update, notable mental health features have been introduced, including mood tracking. Using your iPhone's Health app, you can now log your current mood or your overall mood for the day.
Furthermore, you have the option to select factors that might be influencing your mood, such as work or family, and observe how these factors impact your emotional well-being over time.
The Health app offers other valuable features, including critical medication reminders, which alert you if you haven't taken essential medications 30 minutes after your initial reminder.
There's also a Screen Distance feature designed for children, which uses the TrueDepth camera to warn against holding iPhones or iPads too close to the face, reducing the risk of myopia.
Contact Posters and Live Voicemail
The Phone app in iOS 17 introduces Contact Posters, offering a personalized touch to your calls. You can select a background from your images or use your Memoji, customizing the font and color for your name display. This feature mirrors the Contact photo choice in iOS 16 but extends it to the entire call screen.
You have the option to share your Contact Poster exclusively with your contacts or with anyone you call. Keep in mind that the recipient needs an iPhone to view your customized image.
Live Voicemail is another new addition. It provides real-time transcriptions of voicemails directly on your Lock Screen. It's worth mentioning that enabling Live Voicemail can modify your voicemail message. For added convenience, toggling "Silence Unknown Callers" directs unknown numbers to Live Voicemail, while spam calls identified by carriers are automatically declined.
iOS 17 Facetime and Video Messages
In the updated FaceTime app, you now have the option to leave a video or audio message if someone misses your FaceTime call, mirroring the voicemail feature for missed phone calls. FaceTime video messages support all the same features, including Portrait mode and Studio Light.
Additionally, iOS 17's FaceTime introduces fun and interactive 3D augmented reality effects called FaceTime reactions. By using specific hand gestures, you can add effects like hearts, confetti, and fireworks during FaceTime calls. These gestures work when using the front-facing camera on an iPhone 12 or later.
For iPhone and iPad users with an Apple TV, the Continuity Camera for FaceTime brings your conversations to the big screen. You can initiate a call on your iPhone and transfer it to the Apple TV or start a call directly on the Apple TV via the FaceTime app.
Here, your iPhone serves as the camera(like a webcam for Mac), while the FaceTime interface appears on the Apple TV. This feature requires iOS 17 and an Apple TV 4K with tvOS 17.
All New Journal App
Apple has plans to launch a Journal app later this year, designed for iPhone and iPad users to document their daily experiences and thoughts.
The journal app will not only collect data from your iPhone, such as photos, music listening history, and workout details but will also offer topic suggestions to inspire your writing. Within the Journal app, entries can incorporate photos, music, and audio recordings, allowing you to create multimedia-rich entries. You can also highlight significant moments.
Security-wise, the app is protected with both a passcode and Face ID, ensuring that only authorized users can access it. All suggestions are generated locally on your device, and the entries are end-to-end encrypted, prioritizing your data privacy.
"Hey" Siri on iOS 17
Summoning Siri in iOS 17 no longer requires saying "Hey" each time. Additionally, you can issue multiple requests within a single command for a more streamlined experience.
iOS 17 Updates for Airpods
In iOS 17, Apple is enriching the capabilities of AirPods, introducing fresh features designed to operate iOS 17-enabled devices. iOS 17 lets you unlock the Adaptive Audio feature for your second-generation Airpods. Adaptive audio blends transparency and notice cancellation to automatically adapt your Airpods' noise control and cancellation based on your surroundings and interactions throughout the day.
In the same upgrade, you get a Personalized Volume feature that fine-tunes audio output volume based on your preferences and the ambient noise, with your iPhone learning your volume preferences over time.
Conversation Awareness is another perk, intuitively reducing media volume and background noise while enhancing voices in front of you when someone is speaking.
Keep in mind that all these capabilities are exclusively available in the latest version of the AirPods Pro.
Privacy and Security on iOS 17
iOS 17 introduces Sensitive Content Warnings to enhance privacy and security.
This feature automatically blurs photos and videos containing nudity before you receive them, so you don't receive unwanted explicit content. It will be effective across Messages, AirDrop, Contact Posters, FaceTime messages, and third-party apps.
Additionally, iOS 17 brings several other privacy and security enhancements:
Passcode Recovery: You now have a 72-hour window to enter your old passcode if you forget your updated one, preventing lockouts if you remember your prior passcode.
App Photo Access: You can selectively share specific photos with apps while safeguarding the rest of your photo library from access.
Calendar Access: Apps can add events to your Calendar without viewing your personal information.
Communication Safety: Warnings regarding unwanted explicit content now extend to AirDrop, systemwide photo picker, FaceTime messages, Contact Posters in the Phone app, and third-party apps. This feature is now available globally.
Lockdown Mode: Expanded to cover all devices, including Apple Watch.
Apple ID Sign-In: You can sign into your iPhone using a nearby device or your Apple ID-associated email address or phone number.
Apple Wallet and Apple Pay on iOS 17
Apple Pay's order tracking in iOS 17 introduces several enhancements:
Integration with Apple Maps for tracking orders.
Transaction receipts are now available for your records.
You can conveniently add orders to the Wallet app directly from email attachments.
Apps and websites can now feature a "track with Apple Wallet" button.
Later this year, iPhone users can utilize their Wallet app to present a stored driver's license or ID at participating businesses and venues, serving as proof of age and identity for alcohol purchases, rental cars, and more.
For parents, the Wallet app enables the setup of recurring Apple Cash payments for children, offering flexibility with weekly, biweekly, or monthly schedules.
In the Shortcuts app, a new "Transaction" option allows you to trigger actions when a Wallet Card or Pass is tapped. This includes creating triggers for payment taps, transit usage, access cards, or ID card taps.
Accessibility on iOS 17
iOS 17 incorporates a range of accessibility features to enhance usability:
Assistive Access streamlines the interfaces of iPhone and iPad apps, focusing on core functionalities. Instead, custom experiences are tailored for Phone, FaceTime, Photos, and more.
Live Speech empowers users to type messages, which are then spoken during phone calls, FaceTime calls, and in-person conversations on iPhones, iPads, and Macs.
Personal Voice enables users to create a personalized digital voice that closely resembles their own, generated through a series of text prompts. This can be combined with Live Speech.
Magnifier Point and Speak, a feature in the Magnifier app, facilitates text reading on objects like household appliances.
Voice Control introduces phonetic suggestions for text editing, assisting users who type via voice recognition to select the correct word from similar-sounding options.
Pause Images grants users control over pausing images with dynamic elements in apps like Messages and Safari, catering to those sensitive to rapid animations.
Siri's speaking speed can now be personalized, offering adjustable rates ranging from 0.8x to 2x to enhance user comfort and hearing legibility.
Which iPhones will be able to run iOS 17?
iOS 17 will not be compatible with the iPhone 8 and iPhone X, both released in the same year. However, they will continue receiving iOS 16 security updates for at least another year.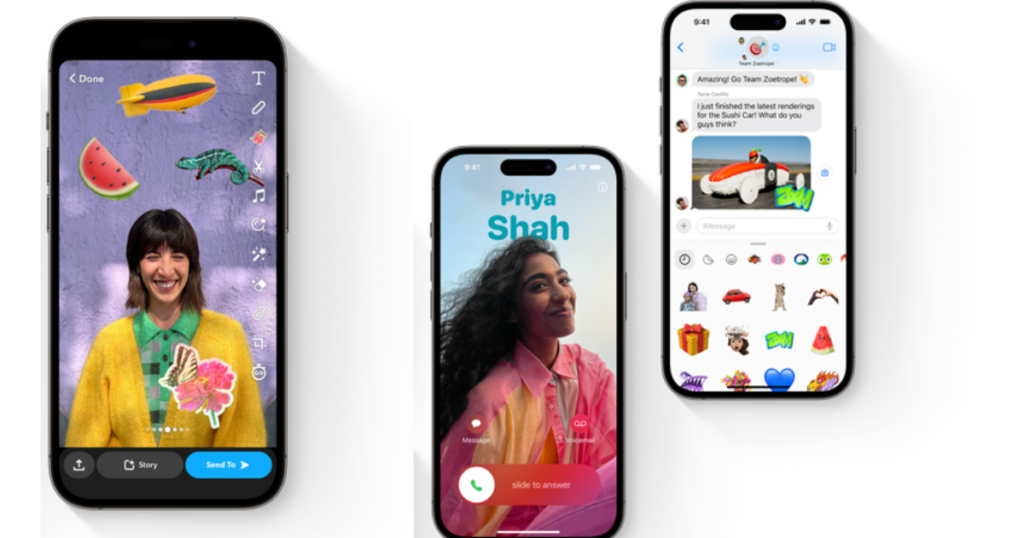 As for iOS 17 support, iPhones from XR upward are slated to support the upgrade.
iPhone 14
iPhone 14 Plus
iPhone 14 Pro
iPhone 14 Pro Max
iPhone 13
iPhone 13 mini
iPhone 13 Pro
iPhone 13 Pro Max
iPhone 12
iPhone 12 mini
iPhone 12 Pro
iPhone 12 Pro Max
iPhone 11
iPhone 11 Pro
iPhone 11 Pro Max
iPhone XS
iPhone XS Max
iPhone XR
iPhone SE (2nd gen or later)
Although iOS 17 will be available for all these iPhones, it's worth noting that not all of them will support all the new features it offers, as is the case with previous iOS upgrades.
Frequently Asked Questions
Which phones get iOS 17?
iOS 17 is compatible with iPhone XS and later models. While the update ensures smoother experiences across all iPhones, certain features truly excel on newer devices, such as the iPhone 14 Pro.
What phones won't support iOS 17?
With the launch of iOS 17, three additional iPhone models won't be compatible with Apple's latest mobile operating system: iPhone 8, iPhone 8 Plus, and iPhone X. It's worth noting that Apple ceased feature updates for the iPhone 6 and iPhone 7 series when iOS 16 was released last year. These older phones continue to run on iOS 15.
When can I download iOS 17?
The upcoming iOS version is set to roll out to all compatible iPhones on Monday, September 18. However, if you're eager to get a feel of the new operating system, you don't need to wait until Monday. Apple's public beta is open to all iPhone users who wish to install it right away.