Smart security tools are now common as a mode of 24/7 home surveillance for indoor, outdoor, and even for monitoring. These smart gadgets do not only provide security but also remote monitoring when you are not at home. Common smart security camera products that are reliable in 2023 include Ring, Blink, and Wyze. They are built in different ways and some of the latest ones come as portable, sensitive, intelligent, and remotely operatable.
The features you get depend on the products and third-party requirements. For instance, you might require a control hub like the Amazon Echo or Google Home to use voice control for some security tools.
This hub will be used to connect and operate the security appliance via voice control. Another example is the WIFI, and for common security cameras like Ring, they are important. However, the question lies, Do these ring cameras work only with WIFI? Or can still work perfectly without one? Let's dive in…
How Does the Ring Security Camera Work?
The ring security system comes in different formats. Some at complete equipment like sensors, while some come with the average sized camera for both indoors and indoors.
They could be wireless or wired and they can both be operated via apps. However, the Ring security cameras generally employ high-definition lenses with a broad field of view to capture video and audio in some models.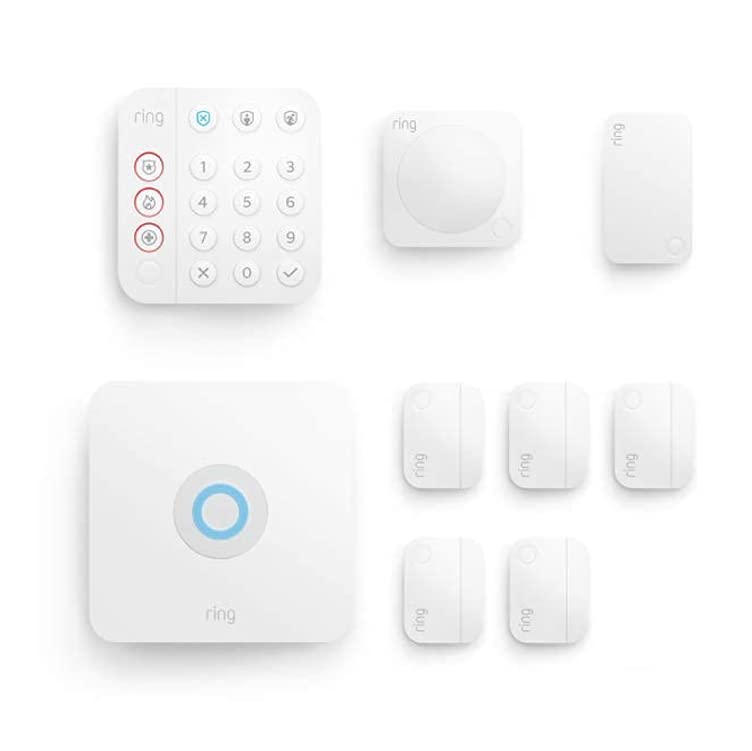 These cameras have motion sensors built into them that alert them to movement and cause them to turn on and begin recording.
Real-time monitoring is possible thanks to the live stream from the camera that users may access via a computer or smartphone app. Users may see the captured video footage whenever they want because it is safely saved in the cloud.
Some Ring cameras provide built-in speakers and microphones for two-way conversation. With this feature, users may use the app to communicate with others close to the camera, improving convenience and security.
Many Ring devices have infrared night vision technology for clear footage in low light, and they may be powered by batteries or attached to a cable power supply.
When motion is detected, ring cameras also transmit alerts and messages to the user's smartphone, ensuring rapid knowledge of possible security occurrences. They can cooperate with other gadgets like smart locks and doorbells to become part of a larger smart home ecosystem.
Wired vs. Wireless Ring Security Camera: Which should you choose in 2023?
Opt for a wired security camera when you prioritize the utmost reliability in your surveillance setup. Wired Ring cameras exhibit fewer problems related to signal drops or recording interruptions caused by weak internet connections.
Additionally, their physical connection to your home makes them less susceptible to theft. If you've ever experienced a sudden Netflix interruption due to Wi-Fi instability, you understand the potential unpredictability of wireless connections.
Wired systems, in contrast, do not rely on over-the-air links like Wi-Fi, ensuring more dependable video recording compared to their wireless counterparts.
Conversely, opt for a wireless security camera when you possess a robust Wi-Fi network and seek a simpler installation process than that required by wired cameras.
Nevertheless, wireless security camera systems may encounter connectivity challenges. Instances like Wi-Fi outages or signal interference from other sources can impact the camera's performance.
How important is WIFI in making the Ring Security Camera Work?
Before you know the effect of not having wifi, especially on wireless ring security camera devices, you need to know what role WIFI plays in the operations of the Ring wireless cameras. This includes the Configuration of a wireless ring device, Remote monitoring, Cloud storage, remote configuration, and notifications
Setting up a wireless ring device
Simple wiring is not required because wireless Ring devices are set up to work with your home's Wi-Fi network. This makes setup easier and makes it easier for you to install and place the devices around your home.
Remote Watching
You may remotely monitor your property in real time with Wi-Fi access. You can see the live stream from your Ring cameras using a computer or smartphone app, keeping you informed of what's occurring at home, whether at work or on vacation.
Online Storage
Ring cameras can safely transfer recorded video footage to the cloud thanks to Wi-Fi. Your video recordings will be protected thanks to its cloud storage, even if the camera is damaged or taken. Access and viewing of these recordings are available at your convenience
Setting up remotely
Wi-Fi enables you to remotely configure and personalize your Ring devices. By using the app, you can customize your devices to your tastes by changing settings, setting up motion detection zones, and scheduling recording times from anywhere with an internet connection.
Notifications
Wi-Fi is used by Ring devices to instantly alert and notify you on your smartphone when motion is detected. Thanks to these notifications, you may respond immediately or look into any interruptions, which give real-time updates regarding potential security occurrences.
Can Ring Camera Work without Wi-Fi?
Yes, it can work in both wired and wireless Ring security cameras, especially for recording and home monitoring However, the absence of wifi, or weak connections will limit the security camera function in some ways. Certainly, Ring security cameras are designed to rely on a Wi-Fi connection for their full functionality. However, they often come with built-in batteries to provide limited operation in case the Wi-Fi connection is temporarily lost.
For instance, the Ring Stick Up Cam Battery can function for up to six months on a single charge. During this time, it can still detect motion and record events even without a Wi-Fi connection. However, once the battery is depleted, the camera won't operate until it's recharged and reconnected to Wi-Fi.
So, while Ring cameras offer some functionality without Wi-Fi, their complete range of features and remote access depend on a stable Wi-Fi connection.
Uses and Tips of the Ring App
Straight from work, you may control them at home with Ring Mobile applications that let you monitor what's occurring and talk with the person at the door. also alerts you when a knock is made on your door at home.
The ring is an HD video doorbell with Wi-Fi that may be connected or powered by batteries. Convenience, monitoring, and security are all combined into one doorbell with the sleek, uncomplicated, and powerful Ring Video Doorbell.
There are many uses for them outside only using them as security or alerting devices for events occurring at home. Here are a few recommendations to improve your home's security that may be used with any ring video doorbell.
Other FAQs on the Ring Security Camera System
Can Ring cameras work without Wi-Fi?
Ring cameras rely on a Wi-Fi connection for full functionality. However, they may have limited functionality on battery power when the Wi-Fi connection is temporarily lost.
How do I install a Ring security camera?
Ring cameras are typically easy to install. They come with step-by-step instructions; you can use the Ring app for guidance. Mounting options include wired and battery-powered cameras.
Are Ring security cameras compatible with smart home platforms like Alexa?
Ring devices are often compatible with popular smart home platforms like Amazon Alexa. This allows you to control your Ring camera using voice commands.
Conclusions.
In conclusion, Ring Security Cameras uses advanced technology to enhance home security. They capture video and audio, offer real-time monitoring through a user-friendly app, and include features like two-way communication and night vision. Choosing between wired and wireless models depends on personal preferences and connectivity considerations.
Ring cameras primarily rely on Wi-Fi for full functionality, but they can work with limited capabilities when Wi-Fi is temporarily unavailable, thanks to built-in batteries. These cameras seamlessly integrate into smart home setups, providing added convenience and security.