Virtual reality gadgets are a combination of different amazing technologies. Techs that include graphics, gaming, augmented and virtual reality, and artificial intelligence. With the previous Oculus Quest 2, it's no new what these virtual reality gadgets could do, and how much their environment feels real. These technologies are not only useful for playing games but also for other things. Other things they are used for inclusive education in the military and medical field, business virtual meetings, and even mental health treatments.
Related: What is Virtual Reality Explained?
In terms of advancement, the Oculus, which is a Meta company, is currently on its way to 3rd version of the hardware. This will incorporate new features, and let's not forget the latest Apple vision pro. Though they are not much similar, it serves as a challenge to Meta Quest's future productions. However, let's have a look at what the upcoming meta quest 3 has in the pack for its users. The specifications, improvements, expected price, release date, and the latest news on any changes about the Meta Quest 3. Walk with me…
Meta Quest 3: Specifications
Design
The Meta Quest 3 is thoughtfully designed with a combination of lightweight materials, including plastic, foam, and fabric, making it comfortable and lightweight. With dimensions of 10.5 x 11.5 x 1.5 inches (27 x 29 x 3.8 cm), it is compact and portable.
Weighing just 1.1 pounds (500 grams), it is one of the lightest VR headsets available. The adjustable head strap and removable face interface ensure a comfortable and secure fit. Additionally, its IPX4 rating makes it resistant to water and dust, allowing for versatile use in various environments.
See Also: 8 latest VR games available for Oculus Quest
Display
The Meta Quest 3 features a high-resolution display with 2064 X 2208 pixels per eye LCD screen. This means that each eye sees a sharp and detailed image, resulting in a more immersive VR experience. With a smooth 120 -144Hz refresh rate, the display refreshes 90 times per second, ensuring smooth motion and reducing motion sickness.
Processor
Powering the Meta Quest 3 is the Qualcomm Snapdragon XR2 chip. This advanced chip is specifically designed for virtual reality applications, delivering enhanced graphics processing power and overall performance. It enables realistic visuals, smooth gameplay, and efficient multitasking, ensuring an immersive and enjoyable VR experience.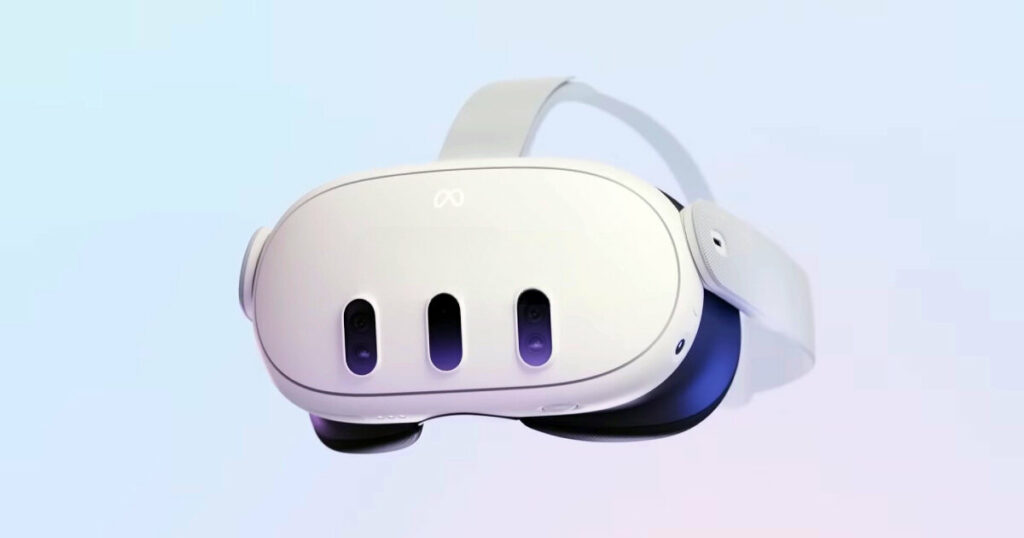 Storage Capacity
The Meta Quest 3 boasts 12GB of RAM storage and offers a choice of 128GB or 256GB of ROM storage capacity. Both provide ample memory for running demanding VR applications. This allows for seamless multitasking, quick app loading times, and smooth overall performance. The ROM's generous storage space allows you to store a vast library of VR games, apps, and media. You can easily switch between multiple VR experiences without any lag or slowdown.
Related: Apple WWDC top 10 announcements
Battery Life
The Meta Quest 3 is equipped with a battery that provides up to 3 hours of usage on a single charge. This allows for extended VR gaming and app usage without the need for frequent recharging. You can enjoy immersive experiences, complete missions, and explore virtual environments without interruptions.
Connectivity
The Meta Quest 3 supports Wi-Fi 6 and Bluetooth 5.0 connectivity. With Wi-Fi 6, you can enjoy faster and more stable internet connections, ensuring smooth online multiplayer experiences and quick access to VR content. Bluetooth 5.0 enables seamless pairing with compatible devices, such as headphones or game controllers, expanding the possibilities for your VR adventures.
Meta Quest 3 Vs Meta Quest 2: New Features to Expect
| | | |
| --- | --- | --- |
| Feature | Meta Quest 3 | Meta Quest 2 |
| Display | 2064 X 2208 per eye at 120 – 144Hz refresh rate | 1832 x 1920 per eye at 90Hz refresh rate |
| Processor | Qualcomm Snapdragon XR2 | Qualcomm Snapdragon XR1 |
| RAM | 12GB | 6GB |
| Storage | 128GB or 256GB | 64GB or 256GB |
| Weight | 1.1 pounds (500 grams) | 1.2 pounds (544 grams) |
| Battery life | Up to 3 hours | Up to 2 hours |
| Connectivity | Wi-Fi 6, Bluetooth 5.0 | Wi-Fi 5, Bluetooth 4.2 |
The Meta Quest 3 surpasses the Meta Quest 2 in terms of design, display quality, performance, tracking accuracy, battery life, connectivity, user interface, and social VR features. It offers an unparalleled virtual reality experience, immersing users in a world of limitless possibilities.
The Meta Quest 3 takes virtual reality to new heights, outshining its predecessor, the Meta Quest 2, in several key areas. First and foremost, it boasts a lighter and more compact design, ensuring a comfortable and hassle-free VR experience. The upgraded display offers a higher resolution, resulting in stunning visuals that truly transport you to another world.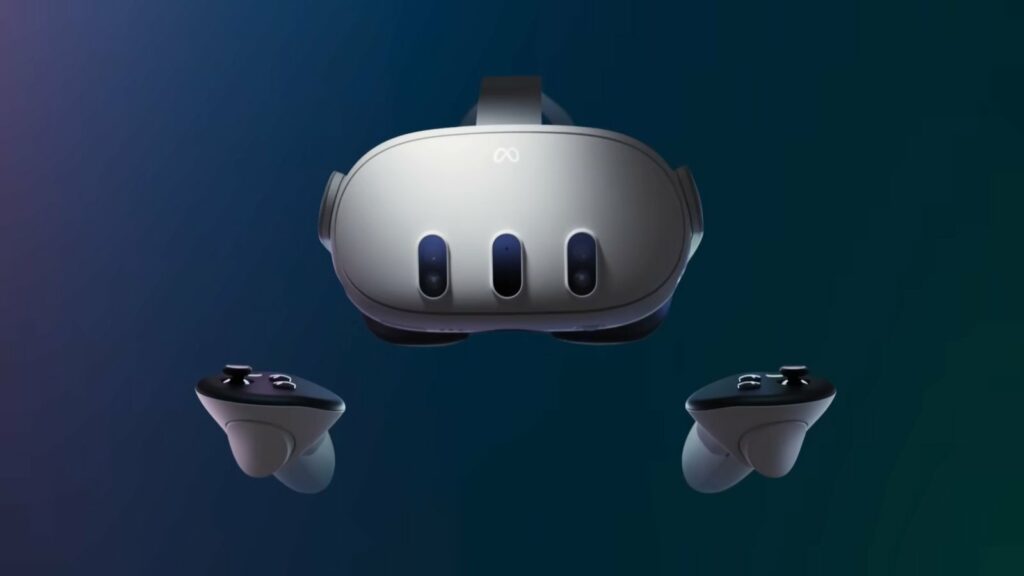 Under the hood, the Meta Quest 3 is equipped with a faster processor, enabling seamless multitasking and delivering smooth and responsive performance for even the most demanding VR applications. The improved tracking capabilities ensure precise and accurate movement, further enhancing the sense of immersion.
One of the notable improvements is the extended battery life, allowing for longer and uninterrupted VR sessions. Additionally, the Meta Quest 3 supports Wi-Fi 6, enabling faster and more reliable internet connectivity for seamless online experiences.
The user interface has also received a revamp, making it more intuitive and user-friendly. Navigating through menus and accessing content has never been easier. Moreover, the Meta Quest 3 introduces exciting new features for social VR, fostering connections and interactions with fellow VR enthusiasts in virtual environments.
Meta Quest 3: Price and Release Date
The anticipated price of the Meta Quest 3 is set at $499.99, which includes 128 GB of storage. According to the latest information, the headset is scheduled for release in fall 2023. The company plans to share more detailed specifications during Meta Connect on September 27. It's worth noting that this price represents a $100 increase compared to the current Quest 2 price. Despite the price bump, the Meta Quest 3 remains competitive and accessible for those looking to dive into the world of virtual reality.
Meta Quest 3: Latest News
Starting June 4, Meta has announced a price reduction for the Quest 2, making it more accessible to a wider audience. The 128GB SKU will be priced at $299.99 USD, while the 256GB SKU will be available for $349.99 USD. This move aims to enable more people to experience the immersive world of all-in-one VR and explore the extensive content library.
Furthermore, Meta has revealed upcoming software updates that will enhance the performance of both the Quest 2 and the upcoming Quest Pro. The Quest 2 will receive a CPU performance increase of up to 26% and a GPU speed increase of up to 19%, while the Quest Pro will see an 11% GPU speed increase. These updates will further enhance the gaming and immersive capabilities of both headsets.
While the Quest 3 sets a new standard for mixed reality and immersive gaming, Meta has emphasized that the Quest 2 will remain their most affordable entry point to VR. Additionally, the Quest Pro is optimized for work-related use cases, providing users with versatile options to cater to their specific needs.
Meta has assured users that the Quest 3 will be compatible with the existing catalog of over 500 VR games, apps, and experiences available for the Quest 2. This ensures that users can continue to enjoy their favorite titles while looking forward to the release of exciting new VR and mixed-reality experiences in the future.
Conclusions
In conclusion, the Meta Quest 3 brings several notable improvements over its predecessor, the Quest 2. With a lighter and more compact design, higher-resolution display, faster processor, improved tracking, longer battery life, support for Wi-Fi 6, a new user interface, and new features for social VR, the gadget offers an enhanced and immersive virtual reality experience. Additionally, with a price of $499.99 and a fall 2023 release window, this remains competitive and accessible for VR enthusiasts. It represents a significant advancement in VR technology and promises to deliver a compelling and immersive gaming and entertainment experience.